JOHN CASSADAY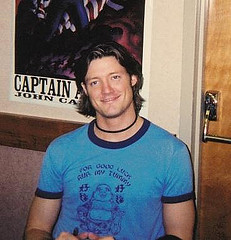 John Cassaday (born 1971) is an American comic book artist and writer, born in Fort Worth, Texas and currently residing in New York City. He is known for having a high level of precision and realism in his work.
A self-taught illustrator, Cassaday studied filmmaking and directed TV news before leaving Texas to pursue a career in comics. His influences include NC Wyeth, classic pulp magazine-culture iconography, and popular music.
Cassaday bears a physical resemblance to the character known as The Drummer from the Planetary comic-book series
Cassaday's professional career commenced in 1995 with a story in Caliber Comics' Negative Burn. However, he wasn't really 'discovered' until the following year, when he showed his portfolio to Mark Waid at Comic-Con International: San Diego; soon after the convention, Cassaday began to receive job offers. In December 1996 he began to provide art for Dark Horse Comics's Ghost. Less than 12 months later, he became the main artist on Desperadoes. He started getting work with DC and Marvel at the end of 1997, on publications such as theTeen Titans and Flash annuals, X-Men: Alpha Flight, and Union Jack.
He is best known for his work on the critically acclaimed Planetary with writer Warren Ellis, Astonishing X-Men with Joss Whedon and Captain America with John Ney Rieber. The Captain America series was a re-launch under the Marvel Knights banner. Cassaday based the covers on World War II propaganda posters; they were popular with fans and critics alike. He revisited Captain America in 2007, illustrating an issue of Fallen Son: The Death of Captain America, written by Jeph Loeb. He has also created several covers for comic books featuring The Phantom, both for US publisher Moonstone Books and the European Egmont, as well as covers for Joss Whedon's Firefly spinoff comic Serenity: Those Left Behind, and Guy Ritchie's Gamekeeper.
From 2004 to 2008, Cassaday illustrated the graphic novel trilogy Je suis légion by Fabien Nury from Les Humanoïdes Associés. In July 2006, Humanoïdes announced a co-production deal with Pierre Spengler which includes a screen adaptation of I am Legion AKA Je Suis Legion.
Cassaday is slated to direct the feature film which is in development. The three books will be published in eight issues as I am Legion by Devil's Due Publishing.
In 2008, he is handling covers and art direction on Dynamite Entertainment's The Lone Ranger comic-book series.
Renowned as a perfectionist, Cassaday personally inks his own work manually, it is then often colored by Laura Martin.
o 2000: Nominated for "Best Cover Artist" Eisner Award for Planetary
o 2004:
o Won Best Penciller/Inker Eisner Award for Planetary and stories in Hellboy: Weird Tales
o Nominated Favourite Comics Artist: Pencils Eagle Award
o 2005: Won Best Penciller/Inker Eisner Award for Astonishing X-Men, Planetary, and I Am Legion: The Dancing Faun in a tie with illustrator Frank Quitely
o 2006:
o Won Best Penciller/Inker Eisner Award for Astonishing X-Men and Planetary
o Won Best Ongoing Series Eisner Award for Astonishing X-Men with Joss Whedon
o Won Favourite Comics Artist: Pencils Eagle Award
o 2007: Won Best Comic-Book Artist in the Spike TV Scream Awards
o 2008: Nominated for "Best Cover Artist" Eisner Award for Astonishing X-Men and Lone Ranger.
This article uses material from Wikipedia and is licensed under the GNU Free Documentation License.
All material is compiled from numerous sources and may not be accurate. Dynamite Entertainment cannot guarantee the validity of the content.