JIM ZUB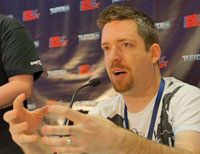 Jim Zub is a writer, artist and art instructor based in Toronto, Canada. Over the past ten years he's worked for a diverse array of publishing, movie and video game clients including Disney, Warner Bros., Capcom, Hasbro, Bandai-Namco and Mattel.
His current comic projects include Samurai Jack, a new comic series continuing the award-winning cartoon, Skullkickers, a sword & sorcery action-comedy, and Pathfinder, a comic series based on the best selling tabletop RPG.
This article uses material from Wikipedia and is licensed under the GNU Free Documentation License.
All material is compiled from numerous sources and may not be accurate. Dynamite Entertainment cannot guarantee the validity of the content.