RE-ANIMATOR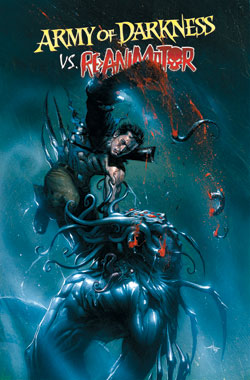 Re-Animator is inspired by H. P. Lovecraft from his short story "Herbert West-Reanimator", first published in 1922.
History
Herbert West is the inventor of a special solution that when injected into a main artery of a recently deceased person causes the body's mechanical, living functions to return. However, most subjects that have undergone the "re-animation" process have turned violent and, after failed attempts to return to their own graves, have terrorized the communities into which they were reanimated.
In Lovecraft's tale, Herbert West was ostracized by his fellow medical students because he believed he could overcome death and had only one friend: the unnamed narrator of the story. After a series of successful experiments Herbert West is eventually torn to pieces by his own experiments.
Current
Re-animator has appeared in the Dynamite cross-ver event Army of Darkness versus Re-animator.
This article uses material from Wikipedia and is licensed under the GNU Free Documentation License.
All material is compiled from numerous sources and may not be accurate. Dynamite Entertainment cannot guarantee the validity of the content.