BILL WILLINGHAM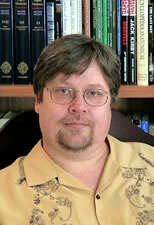 Bill Willingham, in the late 1970s to early 1980s he drew fantasy ink pictures for the Dungeons & Dragons Basic and Expert game rulebooks. In the late 1990s Willingham reestablished himself as a prolific writer. He produced the 13-issue Pantheon for Lone Star Press and wrote a pair of short novels about the modern adventures of the hero Beowulf, published by the writer's collective, Clockwork Storybook, of which Willingham was a founding member. In the early 2000s he began writing extensively for DC Comics, including the limited series Proposition Player, a pair of limited series about the Greek witch Thessaly from The Sandman, and most notably the popular series Fables.
This article uses material from Wikipedia and is licensed under the GNU Free Documentation License.
All material is compiled from numerous sources and may not be accurate. Dynamite Entertainment cannot guarantee the validity of the content.