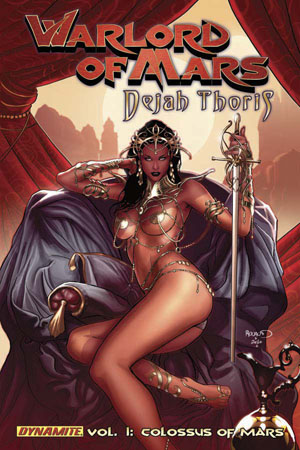 Price: $16.99
Shipping: In-Stock!

Related Products:

SKU: C1606902458
Rating: Mature
Cover: Paul Renaud
Writer: Arvid Nelson
Artist: Carlos Rafael
Colorist: Carlos Lopez
Genre: Fantasy, Sci Fi, Action Adventure
Awards: N/A
Publication Date: Oct 2011
Format: soft cover trade paperback
Page Count: 128
Martians live forever - everyone knows that. So what was Dejah Thoris doing all those hundreds of years before John Carter arrived? Four hundred years before the events of Warlord of Mars took place, Dejah's nation of Helium was divided into two warring city-states. An unscrupulous overlord from afar encouraged that rivalry to his own advantage, until he discovers a terrible secret from Mars's ancient past beneath Dejah Thoris' capital. A secret to kill for!
Collecting the first five issues of the hit'series in one volume, with bonus material and a complete cover gallery from artists such as Art Adams, Joe Jusko, Paul Renaud, Sean Chen, and Ale Garza.
John Carter of Mars film in development from Pixar, set for a March 9, 2012 release in theaters worldwide.

ISBN-10: 1-60690-245-8
ISBN-13: 978-1-60690-245-5

This product is not authorized by Edgar Rice Burroughs, Inc.