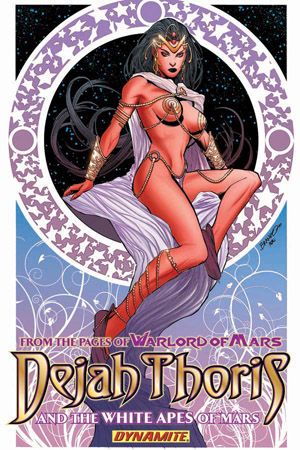 Price: $16.99
Shipping: In-Stock!

Related Products:

SKU: C1606903632
Rating: Mature
Cover: Brandon Peterson
Writer: Mark Rahner
Artists: Lui Antonio
Colorist: Arison Aguiar
Genre: Sci-Fi, Fantasy, Super-Hero
Publication Date: Nov 2012
Format: soft cover trade paperback
Page Count: 96 pages
The most harrowing survival-horror tale in the annals of Barsoom! Dejah Thoris, Princess of Helium, leads an archeological field trip to unearth the dark secret of the ancient battle site beneath the fabled "face of Mars" formation. Without John Carter or Tars Tarkas, Dejah Thoris must call upon all her nerve, cleverness and endurance in a relentless chase and horrifying bloodbath. You've never seen a Mars epic like this! No swashbuckling. No swordplay. it's like a white-knuckle '70s horror flick - on steroids!
Collecting one of the most harrowing horror stories in the annals of Barsoom, this trade paperback features the 4-issue mini-series, complete with a cover gallery by Brandon Peterson and Ale Garza.

ISBN-10: 1606903632
ISBN-13: 978-1-60690-363-6

This product is not authorized by Edgar Rice Burroughs, Inc.