News from the coalface guys! Into it!
THE BOYS #7 SOLD OUT FROM DYNAMITE!
Second Printing Alternate Cover ON THE WAY!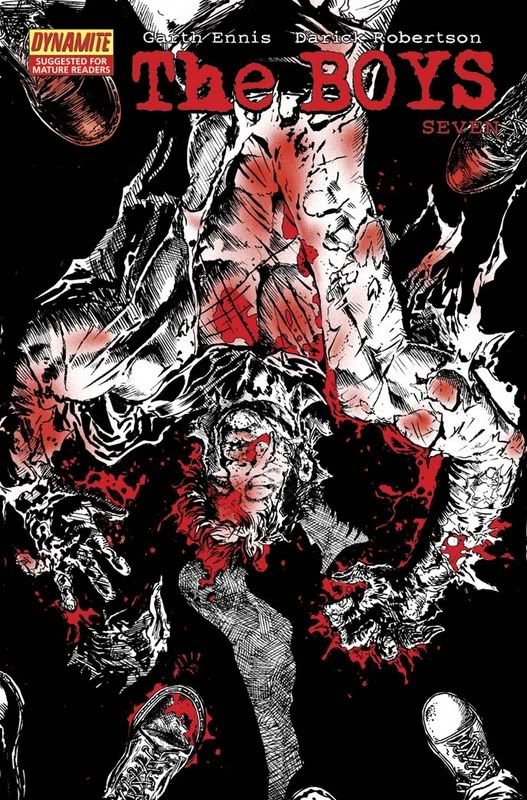 June 19, 2007, Runnemede, NJ
- DYNAMITE ENTERTAINMENT announced today that a second printing alternate cover of The Boys #7 will soon be on the way featuring a new, blood-soaked version of the 1-in-4 issue #7 alternate cover by Darick Robertson and colorist Tony Avina! The Boys #7 second printing alternate cover is scheduled for an early July release and will give fans who missed the Dynamite launch of The Boys a chance to check out the most talked about comic of the year. Please note that Copies of the first printing may be available at your local retailer.
Dynamite stated. "It's great news to welcome Garth Ennis and Darick Robertson's The Boys to such a strong response, and we're very happy to present this second printing alternate cover as fans have devoured this first Dynamite issue! Retailers and industry professionals have been discussing the issue and our good friend Cliff Biggers had summed up their feelings by saying he wanted to keep #7 on the racks as long as he could. And we're happy to oblige, as keeping The Boys in print is an important goal. We're also near out of the first print of the TPB and keeping our eye towards a new printing in the near future! "
In The Boys #7, Butcher takes Wee Hughie to meet the Boys' greatest weapon against the Supes: a man called "The Legend." Plus, meet the troubled hero Tek-Knight - a man with a problem so unusual you'll have to read this comic to believe it! Recommended for Mature Readers!
"[THE BOYS] #7 is particularly delicious, inventing a somewhat new and different problem for a superhero to suffer from. It's great, perverse stuff."
-- Comic Book Galaxy
Due to the overwhelming demand and strong praise in the form of reviews and comments from fans both new and old, DYNAMITE requests specialty retailers review and review their orders for issue #8 (MAY07 3337) still available for advance re-order and as well as the upcoming issue #9 (JUN073396) available for initial orders.
For any fans who may have perhaps been living, as they say, under a rock for the last several months, The Boys was originally published by DC/Wildstorm until being cancelled with issue #6. After much outcry and speculation, the series was announced as being picked up by Dynamite Entertainment -- the new publishers beginning with issue #7, as well as the Trade Paperback collection of the Six DC/Wildstorm Issues. And now you know, the rest of the story…
DYNAMITE ENTERTAINMENT was founded in 2004 and is home to several best-selling titles and properties. Beginning with their Army of Darkness comic book series - launching as the #1 independent comic in July of '04 - and recently ranked the #1 selling Independent Horror comic -- and continuing to their best-selling Red Sonja series - issue #0 alone selling over 240,000 copies and ongoing issues and one-shots recently ranked among the best-selling titles in unit sales and dollar volume - and not only has Dynamite consistently released Red Sonja as THE top selling single comic outside of Marvel and DC Comics, Dynamite successfully places more titles in the Top 100 than most non-Marvel, non-DC publishers. Dynamite's new monthly Battlestar Galactica series is the company's first major launch of '06, debuting with an impressive 175,000 copies in initial orders sold for the introductory #0 issue. Dynamite's ongoing Highlander comic book series launched to excess of 100,000 copies sold for issue #0. The recently released The Lone Ranger #1 sold out on its first day in comic shops and is scheduled for a second print.
Now, in addition to the ongoing Red Sonja and AOD series, DYNAMITE has released the all-new Battlestar Galactica comic by Greg Pak and Nigel Raynor - launching with a specially priced #0 issue, having sold in excess of 175,000 copies and recently featured in the pages of TV Guide, A classic Battlestar Galactica comic book series, Xena by John Layman and Fabiano Neves, a Darkman vs. the Army of Darkness mini-series and is preparing the Lone Ranger with Brett Matthews and John Cassaday - and Dynamite has more on the horizon!
In addition to the creators mentioned - Dynamite works with some of the most high profile creators in comics, including Alex (Justice) Ross, John (Astonishing X-Men) Cassaday, Michael (Superman/Batman, Aspen Comics) Turner, Jim (All-Star Batman) Lee, Michael (Red Sonja) Avon Oeming, Mike (Red Sonja/X-Men) Carey, Jim (Justice) Kruegar, Greg (The Incredible Hulk) Pak, Brett (Serenity, The Lone Ranger) Matthews - as well as working with up and coming new talent and enhancing strong creators!
The company also produces new and classic material from such creators as Paul Gulacy and Doug Moench's Six from Sirius, Tim Truman's Scout, Carlos Trillo and Eduardo Risso's Borderline and other titles including Jim Starlin's Dreadstar, in addition to reprint editions of classic Red Sonja material and more.
Tommy.