I love Suydam's artwork and unknowingly I have loved it even before I knew his name!!
But his profile went berzerk when he did those amazing "Marvel Zombies" hommage covers!!!
I love what he did and created a fansite
(
HTTP://SUYDAM.BOOMVAVAVOOM.COM
)
for that specific Zombie work. I let him and Nicole know that and well...
They liked it so much they send me a goodiebag with cool HC-artbooks (Art of the Barbarian, Fantastic Art of Suydam), a signed MZvAOD #1 variant, limited and signed!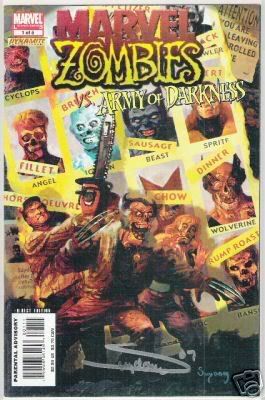 and this amazing sketch....this is way way way more then I ever thought of...I did the fansite sheer for myself but this...this is just amazingly kinda and generous. ROCK!!!
A couple of days later I also recieved a tube with three posters.
"The Mammoth"
CLICK
An Atlanta comicon (Secret wars zombies) poster
and
a Pittsburg comicon poster