This just in from Dynamite...
DYNAMITE UNELASHES THE SAVAGE IN RED SONJA!

Frank Cho Leads The Pack in August!
May 30, 2006, Runnemede, NJ
– DYNAMITE ENTERTAINMENT today released images and information concerning their newest RED SONJA mini-series event!
Featuring covers and a story co-written by Frank (Shanna, Spider-Man, Avengers) Cho, joined by co-writer Doug (The 'Nam) Murray and newest Dynamite artistic sensation Homs, the SAVAGE RED SONJA battles THE QUEEN OF THE FROZEN WASTES!
"Of course, Frank's been at the top of our "want" list from the get-go, but he's been so busy with Marvel and his own Liberty Meadows we never thought we could get him, so we never asked," explained DYNAMITE SPOKESPERSON J. ALLEN. "Turns out, we didn't have to, he asked us! And he brought Doug Murray with him – who's ready to burst back into the comics scene and this is just the mini to do it! We added Homs to the mix and we've got the SAVAGE RED SONJA mini-series event!"
DYNAMITE will be adding their trademark multiple incentive covers to the mix as well, though with a slight twist, "We're going with three cover artists across the series, each one doing one cover on each issue. Cho's on board and Homs will be providing covers, but we've also got the Red Sonja debut of Mark Texeira – fully painted pieces, and they are BEAUTIFUL!"
It all begins in JULY, reserve your copy today!
Cho Cover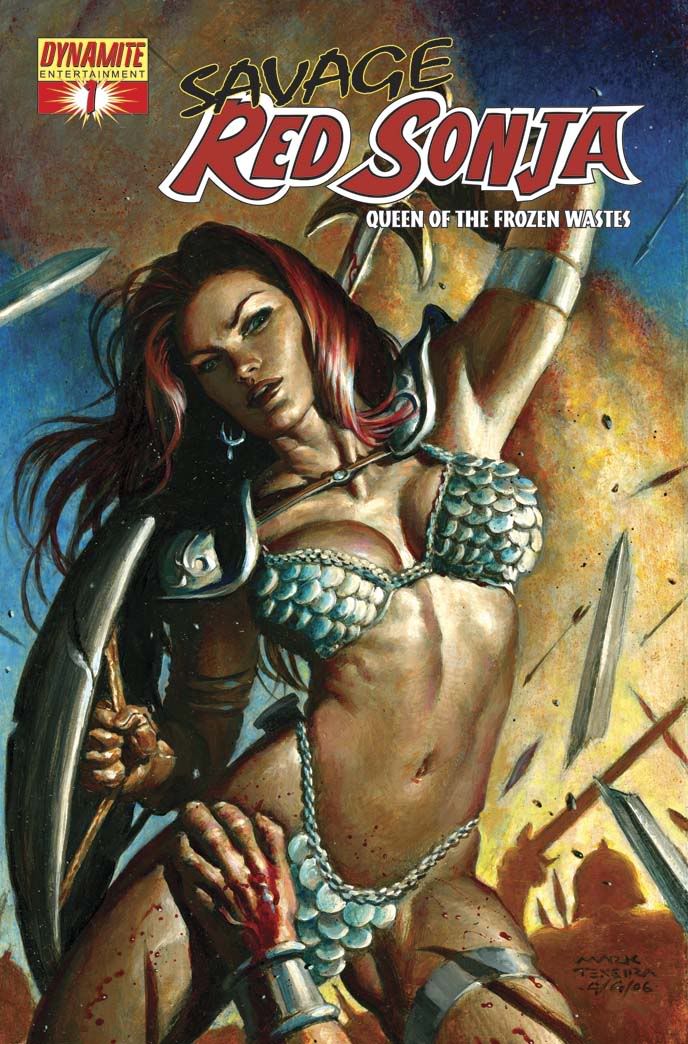 Texiera Cover
SAVAGE RED SONJA: QUEEN OF THE FROZEN WASTES #1 (JUN06 3009) By Frank Cho And Doug Murray, Art By Homs; Covers By Frank (Shanna//New Avengers) Cho (50%), And Mark (Wolverine: Origins And Endings/Ghost Rider) Texeira (25%), And Homs (25%)!
Dynamite debuts a new Red Sonja mini-series -- The four issue "QUEEN OF THE FROZEN WASTES" mini-series features a story from Marvel Exclusive creator Frank Cho who is joined by veteran comics writer Doug (The 'Nam) Murray for this special series event! The two co-writers are joined by artistic sensation Homs, making his Hyborian debut.
Sonja heads to the frozen north in a stunning first issue filled with action, drama and special cover artists (all three of whom will be providing covers for each issue of this mini-series event): Frank Cho, Mark Texeira and Homs!
It all starts in August! Don't miss out and don't forget to ask your local retailer about the special incentive covers!
Note: Dynamite plans to support this release with house ads, online ads through Newsarama, and prints ads in Comic Shop News!
Comic Fans, Be Sure To Ask Your Local Retailer About The Red Sonja: Queen Of The Frozen Wastes #1 Negative Art Frank Cho Cover -- This Is The First Time That A Frank Cho Cover Has Been Offered As A Negative Art Cover!

Comic Fans, Be Sure To Ask Your Local Retailer About The Red Sonja: Queen Of The Frozen Wastes #1 RRP Edition!

ALSO AVAILABLE: RED SONJA: QUEEN OF THE FROZEN WASTES #1 FRANK CHO FOIL COVER AT THE MSRP OF $24.99!
For art and more information, please visit:
http://www.dynamicforces.com/htmlfiles/p-C105202.html
ABOUT DYNAMITE ENTERTAINMENT
DYNAMITE ENTERTAINMENT was founded in 2004 and is home to several best-selling titles and properties. Beginning with their Army of Darkness comic book series – launching as the #1 independent comic in July of '04 – and recently ranked the #1 selling Independent Horror comic -- and continuing to their best-selling Red Sonja series – issue #0 alone selling over 240,000 copies and ongoing issues and one-shots recently ranked among the best-selling titles in unit sales and dollar volume – and not only has Dynamite consistently released Red Sonja as THE top selling single comic outside of Marvel and DC Comics, Dynamite successfully places more titles in the Top 100 than most non-Marvel, non-DC publishers. Dynamite's new monthly Battlestar Galactica series is the company's first major launch of '06, debuting with an impressive 175,000 copies in initial orders sold for the introductory #0 issue.
Now, in addition to the ongoing Red Sonja and AOD series, DYNAMITE has released the all-new Battlestar Galactica comic by Greg Pak and Nigel Raynor – launching with a specially priced #0 issue, having sold in excess of 175,000 copies and recently featured in the pages of TV Guide, A classic Battlestar Galactica comic book series, Xena by John Layman and Fabiano Neves, a Darkman vs. the Army of Darkness mini-series and is preparing the Lone Ranger with Brett Matthews and John Cassaday – and Dynamite has more on the horizon!
In addition to the creators mentioned - Dynamite works with some of the most high profile creators in comics, including Alex (Justice) Ross, John (Astonishing X-Men) Cassaday, Michael (Superman/Batman, Aspen Comics) Turner, Jim (All-Star Batman) Lee, Michael (Red Sonja) Avon Oeming, Mike (Red Sonja/X-Men) Carey, Jim (Justice) Kruegar, Greg (The Incredible Hulk) Pak, Brett (Serenity, The Lone Ranger) Matthews - as well as working with up and coming new talent and enhancing strong creators!
The company also produces new and classic material from such creators as Paul Gulacy and Doug Moench's Six from Sirius, Tim Truman's Scout, Carlos Trillo and Eduardo Risso's Borderline and other titles including Jim Starlin's Dreadstar, in addition to reprint editions of classic Red Sonja material and more.
Tommy.