ALEX ROSS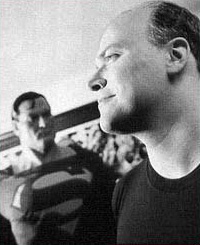 Nelson Alexander "Alex" Ross is a comic book painter, illustrator and plotter, acclaimed for the photorealism of his work.
From the late 1990s, Ross has done much work for the industry's two largest and most historically important publishing houses, Marvel and DC Comics, but Ross is also the co-creator of Astro City, an original series that explores superhero mythology.
Although he is a prominent figure for both DC and Marvel, he is better known as a DC artist, as much of his work (such as Kingdom Come) was created for DC. Due to the time and effort required to render his complex paintings, he is often hired to craft covers rather than interiors. Almost all of his Marvel work since 1994 has been as a plotter or cover artist.
Career
Ross' first published work was the 1990 five issue miniseries, Terminator: The Burning Earth, which was written by Ron Fortier. Ross created all of the art, from pencils through coloring for the series. He performed similar work on a variety of titles over the next few years. In 1993, he completed his first painted superhero assignment, the cover of a Superman novel: Superman: Doomsday & Beyond.
During this time, Ross met writer Kurt Busiek and the two began submitting proposals for series that would feature paintings as their internal art. Marvel agreed to a project that would tell much of the history of the Marvel Universe from the perspective of an ordinary person. That limited series, Marvels, was released in 1994, and chronicled the life of a photojournalist, as he reacted to living in a world of superheroes and villains.
Busiek, Ross, and penciller Brent Anderson went on to create Astro City, first published by Image Comics in 1995 and later by Homage Comics. The series features an original superhero world and continues the theme of Marvels, exploring how ordinary people, and superheroes and villains too, react to a world where the fantastic is commonplace. Ross paints the covers and helps set the costumes and the general look and feel for the series, which has been published sporadically in recent years due to Busiek's health problems.
In 1996, Ross teamed up with writer Mark Waid for the DC Comics limited series Kingdom Come, which unveils a possible future for the DC universe, in which Superman and several other classic superheroes return from retirement to tame a generation of brutal anti-heroes. Ross redesigned several important superheroes, such as Superman, Batman, Wonder Woman, Green Lantern, The Flash, Hawkman and Captain Marvel for the series.
Ross followed Kingdom Come with Uncle Sam, a non-superhero work. A project of DC's Vertigo line, it was an experimental work that examined the dark side of American history.
In the early 2000s, with writer Jim Krueger, Ross plotted and designed characters for a trilogy of Marvel limited series, Earth X, Universe X and Paradise X, which combined dozens of Marvel characters from various time periods in one galaxy-spanning epic.
Between 1998 and 2003, writer Paul Dini and Ross produced annual tabloid-sized editions celebrating the 60th anniversaries of DC Comics' Superman (Peace on Earth), Batman ('War on Crime'), Shazam (Power of Hope), and Wonder Woman (Spirit of Truth), as well as two specials featuring the Justice League, Secret Origins and Liberty and Justice.
In 2001, Ross won acclaim for his work on special comic books benefiting the families of those killed in the September 11, 2001 attacks, including his portraits of paramedics, police and firefighters.
In early 2002, Ross designed the promotional poster for the 2002 Academy Awards, which depicted Oscar perched atop the First National Building. The Academy loaned Ross an actual Oscar statuette for a week for him to use as reference for the painting. Ross stated that he photographed members of his family as if they were receiving it.
In 2004, DC compiled the coffee table book Mythology: The DC Comics Art of Alex Ross, written and designed by Chip Kidd. In late 2005, a paperback version of the book was published to include new artwork by Ross, including sketches for his "Justice" mini-series.
Also in 2004, Ross designed 15 paintings for the opening credits of the film Spider-Man 2. The paintings presented key elements from the first film, including a rendition of the classic upside-down kiss between Tobey Maguire and Kirsten Dunst. Ross later donated the paintings to be auctioned off on ebay to benefit the United Cancer Front (UCF).
In August 2005, Ross reunited with writer Jim Kreuger and penciller Doug Braithwaite to begin the epic 12-issue, bi-monthly limited series Justice for DC Comics. The series focuses on the enemies of the Justice League of America banding together to defeat the League.
After Justice he started on projects showcasing his love for Golden Age characters: Project Superpowers with Jim Krueger for Dynamite Entertainment and, starting in 2008, Ross launched Avengers/Invaders featuring Marvel characters but published by Dynamite Entertainment. The story will pit World War II versions of Captain America, Namor, and other classic war characters against the modern Avengers groups. He has not stated what will happen in the series, but he has stated the recent death of Captain America has improved the story, since it was conceived a year before his death. He also collaborates on DC's Justice Society of America. Ross is also set to draw the covers of Dynamite Entertainment's comic book series featuring The Phantom. He will also redesign the hero's costume.
Awards
His numerous awards include a 1997 Will Eisner Award for the limited series Kingdom Come (with Mark Waid) and a 1998 National Cartoonists Society Comic Book Award for Superman: Peace on Earth.