EMANUEL SANTANA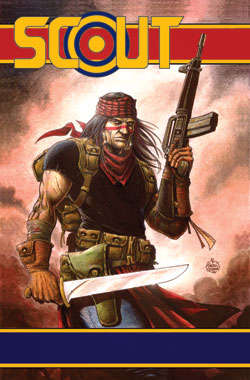 Emanuel Santana, Scout, is a comic book series starting in 1987 by American writer, artist and musician Timothy Truman. It was initially published by Eclipse Comics and collected by Dynamite Entertainment into a trade paperback series.
The story stars a Native American Apache named Emanuel Santana. The setting of the series was a chaotic, post-apocalyptic United States.
Publication history
Twenty-four issues of the first series were published.
After the series ended, a short comic featuring Santana's marriage ceremony was published inside Timothy Truman's first album release entitled Marauder by his band The Dixie Pistols.
Two brief mini-series were published that 'bridged the gap' between the two Scout series: New America and Swords of Texas, each 4 issues long. While Truman oversaw them, others wrote and drew them. A one-shot 'Scout Handbook' was also published.
A new series entitled Scout: War Shaman continued Santana's adventures after having two children and being widowed. The series ended with issue #16, after Scout is killed.
Plot
Relatively eco-political and also with a semi-mythical element (due to Emanuel Santana's Apache origin), both series had a gritty and violent portrayal of the future. One interesting facet of this fiction was the underdog position of the USA on the world political stage. The story posited that a history of past ecological excesses had led other nations to levy vast sanctions against the USA. The situation was similar to that of Germany after WW1, but instead of having lost a war of invasion, this was due to responsibility for "stealing" world resources.
Collected editions
Eclipse did two trade paperback collections of the comic: Scout: Four Monsters (#1-7), and Scout: Mount Fire (#8-14).
Currently, Dynamite Entertainment is doing a new series of reprints, which are 'remastered' and recolored:
*Volume 1 (collects Scout #1-7, 136 pages, November 2006, ISBN 1-933305-95-9)
* Volume 2 (collects Scout #8-16, 140 pages, August 2008, ISBN 1-933305-60-6)