SCOTT BEATTY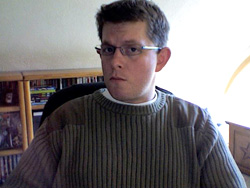 Scott Beatty has authored adventures for many of comics' most iconic characters, including Batman and Robin tales for DC Comics, as well as The Phantom and Buck Rogers for Dynamite Entertainment. He has also contributed comics stories to IDW (G.I. Joe), Dark Horse Comics (Star Wars Tales), and Crossgen Comics (Ruse). With collaborator Chuck Dixon, Scott wrote BATGIRL YEAR ONE, named Best Miniseries of 2003 by WIZARD Magazine, as well as the bookending minis ROBIN YEAR ONE and NIGHTWING YEAR ONE. Scott also revamped the classic Charlton Comics character SON OF VULCAN for DC, co-engineered the epic JOKER'S LAST LAUGH crossover event, and wrote BATMAN: GOTHAM KNIGHTS for 17 issues.
At DC's WILDSTORM imprint, Scott wrote WILDSTORM: REVELATIONS, NUMBER OF THE BEAST, and GEN13. Outside of comics, Scott has written G.I. Joe and Transformers animation, as well as more than a dozen books about superheroes, including the best-selling "How To Be" BATMAN HANDBOOK from Quirk Books. Scott's other works for Dynamite include THE BIONIC MAN ANNUAL #1, RED SONJA ANNUAL #4, THE SHADOW SPECIAL #1, MERCILESS: THE RISE OF MING #1-4, SHERLOCK HOLMES YEAR ONE #1-6, the latter of which was adapted into a digital prose novel. Scott also writes a popular action figure blog (
http://plasticmemorial.blogspot.com
). His latest projects can be found at
http://scottbeatty.blogspot.com
.