BLACK TERROR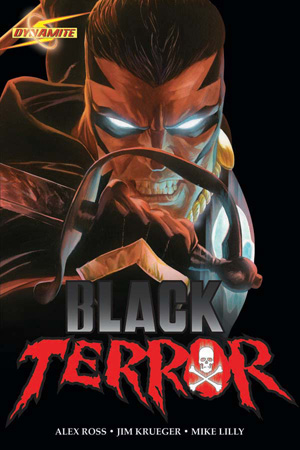 The Black Terror is a superhero who originally appeared in Exciting Comics #9, published by Nedor Comics in January 1941. Some Black Terror stories were written by Patricia Highsmith before she became an acclaimed novelist.
History
The character first appeared in the Golden Age of Comic Books in Exciting Comics #9, published in January 1941 by Nedor Comics. He was one of that publisher's most popular superhero characters, operating until at least 1949.
His secret identity was pharmacist Bob Benton who formulated a chemical he called 'formic ethers' which gave him various superpowers. He used these powers to fight crime with his sidekick Tim Roland, together known as the Terror Twins.
Current
Black Terror is part of the comic-book series Project Superpowers, by writer Jim Krueger and artist Alex Ross. He is also the first in the series to get a spin-off limited series, written by Krueger with art by Mike Lilly.In the Black Terror miniseries, which began in November 2008, the Terror leads a one-man assault on the White House in search of his lost partner Tim.