DEATH DEFYING 'DEVIL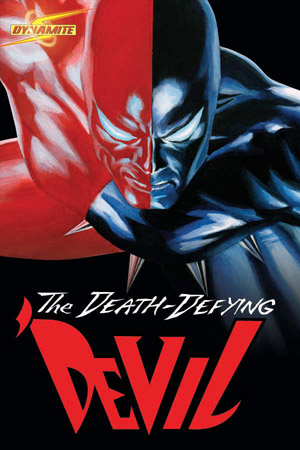 Death Defying Devil is a superhero that starred in popular comics from Lev Gleason Publications during the 1930s-1940s , he has also been known as Daredevil.
History
Created by Jack Binder for an eight-page backup feature in Lev Gleason Publications' Silver Streak #6 (Sept. 1940). Editor Jack Cole, who would create the classic Plastic Man a year later, revamped the character in the next issue and pitted him against Silver Streak's lead character, the villainous Claw, for a five-issue battle that made Daredevil a star. The final installment was written by Don Rico, who would write the character through Silver Streak #17 (Dec. 1941).
By this time, publisher Lev Gleason had already launched him in his own comic in which the character and other Silver Streak heroes fought Der Fuehrer. As with Captain America #1 (March 1941), in which Hitler gets an ignominious sock in the jaw, the comic anticipated U.S. involvement in World War II. It was written and partially drawn by Charles Biro, who continued on the book when its title changed with issue #2, and who in his 16-year run would make the character one of the most acclaimed of the Golden Age. Biro rewrote his origin in #18 (August 1943), now depicting his real identity, Bart Hill as having been raised by aborigines in the Australian Outback. The series lasted through #134 (Sept. 1956).
Current
Death Defying 'Devil has appeared in the comic-book series Project Superpowers, by writer Jim Krueger and artist Alex Ross. In 2008, Dynamite Entertainment spun off a solo miniseries for the character, written by Joe Casey with art by Edgar Salazar. In this series, someone from 'Devil's past - wearing a green version of 'Devil's costume and calling himself "Dragon" - believes that the returned hero is an impostor, and is determined to expose him. The Dragon turns out to be Curly, who reveals that the actual 'Devil died in 1987.