MASQUERADE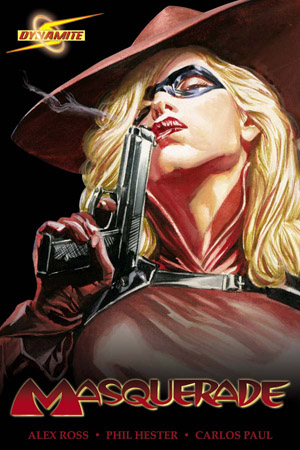 Masquerade is a masked crime-fighter. She originally appeared in comic books published by Nedor Comics. She has also been known as Miss Masque.
History
First appearance in Nedor Comics' Exciting Comics #51 (September 1946).
Diana Adams, a young socialite who decides to fight crime and injustice in disguise. She has no super powers but relies on her wit and a pair of pistols.
Current
Masquerade currently appears in Alex Ross and Jim Krueger's new series from Dynamite Entertainment entitled Project Superpowers. This series features many Golden Age characters, revamped and updated for today in a story that shows Ross and Krueger's vision for the fate of these heroes.
Masquerade was one of the superheroes who had appeared after World War II, and was then trapped and imprisoned in the Urn of Pandora by the misguided Fighting Yank. When the Urn is broken decades later, she reappears (in Project Superpowers #3) in Japan. Her outfit has been drastically altered from when she first entered the Urn; she now wears a long red overcoat and wide-brimmed hat with a domino mask and two gun halters, and is suffering from amnesia. She finds another hero, V-Man, and the two of them are taken to New York - now New Shangri-La - along with other heroes who were freed from the Urn.
Her time in the Urn has given her literal masking powers - she can now replicate another person's appearance (although the seventh issue of the series shows her actually possessing the other person's body). In addition to a person's appearance, Masquerade also gains all their knowledge, including memories and skill sets. Unfortunately, she also tends to briefly believe she is the person whose identity she is copying. It also caused her to fall in love with her teammate V-Man, having learned all about him.
In 2009, Dynamite Entertainment gave Masquerade her own mini-series tied in with the Project Superpowers storyline.