02/17/17 @ 2:29 pm EST
Dynamite has published the comic book,
The Misadventures of Grumpy Cat
, featuring "The World's Grumpiest Cat" and her brother Pokey since 2015, selling over one half million copies and winning the hearts of readers of all ages! With her ever-present pout and sassy disposition, Grumpy Cat has become one of the world's most famous felines. Now, her unbearable cuteness and infectious sourpuss comes face to face with the original cartoon cat, Garfield!
An exclusive partnership between Dynamite Entertainment and BOOM! Studios' award-winning imprint, KaBOOM!, will bring Jim Davis' iconic comic strip cat Garfield together with internet sensation Grumpy Cat in a limited series, with a story written by Jim Davis himself!
"Teaming up with Garfield for a comic series is a real honor," says Grumpy Cat. "I hate it."
Nick Barrucci, CEO and Publisher of Dynamite says, "Working with the fine folks at Grumpy Cat has been absolutely wonderful. We've had tremendous success bringing Grumpy to our fans, and helped to grow the comics market with record breaking sales through the comics industry's direct market, book stores, Scholastic, and our Free Comic Book Day Sales giveaways where tens of thousands of new fans went to comic stores for the firs time. Meeting Mr. Davis has been a highlight of my career and working with him and our friends Ross, Filip and everyone at Boom! Studios to bring her into the world of Jim Davis' beloved comic strip is a once in a lifetime opportunity. These are the two most famous felines in the world. I can't wait to see what trouble these two get into!"
"Jim Davis approached us years ago asking us to publish the
Garfield
comic books and it's been a tremendous honor to work with one of the greatest cartoonists of all time and the entire team at PAWS," said Ross Richie, Founder and CEO of BOOM! Studios. "When I met with him at San Diego Comic-Con International this year to discuss this crossover, he was brimming with delight at the idea of these two felines getting together. His enthusiasm and affection for this crossover is infectious! This is going to be terrific fun!
Look for more news about the comic book crossover event of the year in the coming months, with a release targeted for summer 2017!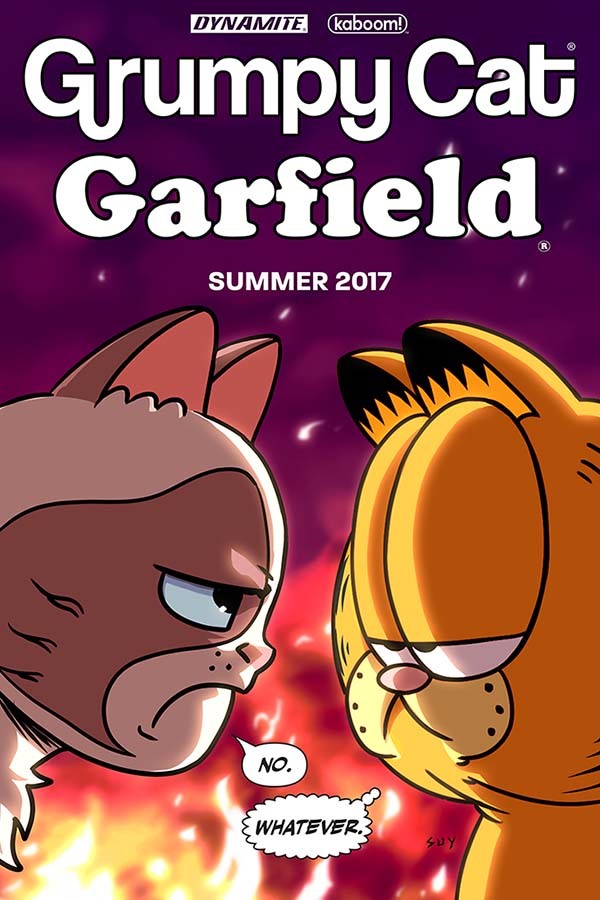 11/26/19 @ 4:09 pm EST
Dynamite announces a new original James Bond graphic novel for release in February, incorporating contributions from a cavalcade of writers and artists to celebrate the timelessness of the character and the countless talented creators who have brought him to comics.
James Bond in "Reflections of Death" is a 128 page hardcover of nonstop thrills and intrigue. Several Dynamite Bond veterans return for this tapestry, including Benjamin Percy (Wolverine, X-Force), Andy Diggle (Daredevil, Green Arrow) and Greg Pak (Star Wars, Agents of Atlas) and the writers of the December-launching new ongoing series, Vita Ayala (Morbius, Xena) & Danny Lore (Queen of Bad Dreams). Stars of both Dynamite and comics at large Gail Simone (Deadpool, Wonder Woman) and Mark Russell (Red Sonja, The Flintstones) join the team as well. Artists enlisted for the mission include Luca Casalanguida (Hammerhead, Kill Chain, The Body), Robert Carey (James Bond 007), Jordi Perez (Xena), Dean Kotz (Warlord of Mars Attacks), Eoin Marron (Killer Groove) and Kewber Baal (KISS). All wrapped up in another beautiful noir and pulp flavored cover by Fay Dalton (Casino Royale, Vampirella).

With a framing story Ayala and Lore, over 20 total creators will collaborate to contribute stories that both stand on their own and tie into an overarching narrative. The central figure through the anthology of case files is Moneypenny. She's been kidnapped. and the mystery of her captors and their demands will only be revealed when, or if, 007 is able to complete his missions. While Moneypenny herself may have some surprises up her sleeve.

"We're incredibly fortunate to work with so many talented creators, and of course they all want to write one of the most crucial characters in modern fiction!," said Nick Barrucci, Dynamite CEO and Publisher. "Just in time for the new ...
11/26/19 @ 4:07 pm EST
Vampirella's anniversary celebration continues with a hotly anticipated deluxe art book honoring her recent history and portrayals.
This breathtaking tome reproduces countless already and soon-to-be classic portrayals of the Daughter of Drakulon on beautiful oversized pages. Picking up right where ART OF VAMPIRELLA: THE DYNAMITE YEARS left off, this brand-new hardcover volume features hundreds of covers, including well over 40 from 2019's smash hit Vampirella #1. Plus covers from the critically acclaimed 2014 run by Nancy Collins, the Linsners' masterpiece Roses for the Dead, and much more from the Vampi archives.
Superstar artists included within these pages include Artgerm, J. Scott Campbell, Lucio Parrillo, Alex Ross, Jenny Frison, Terry Dodson, Joe Jusko, and many, many more.
"It's always a pleasure to see so many talented artists, such as Fay Dalton, Jenny Frison and Ben Oliver come in with their contributions every month portraying our favorite vampiress," said Cathleen Heard, Dynamite Art Director. "Many of these pieces are so impressive that we know fans will appreciate them compiled and presented in different ways to truly celebrate this anniversary. Our production and design team always strives to put together books that reflect the prestige of our characters and properties."

Vampirella debuted 50 years ago in the first issue of her self-titled magazine. Originally put out through Warren Publishing as a horror, sci-fi and fantasy anthology alongside sister titles Creepy and Eerie. Intended as a campy hostess, the heroine built up by James Warren, Forrest J. Ackerman, Trina Robbins and Frank Frazetta became a quick fan-favorite in her own right. Especially once comics legend Archie Goodwin and a young Spanish artist named Jose "Pepe" Gonzalez got their chance on ...
11/26/19 @ 4:05 pm EST
Starting in February, Dynamite is proud to announce the Eisner-nominated Mark Russell is kicking off his second full year on the She-Devil with a Sword in the flagship Red Sonja, joined once more by the masterful Bob Q and the return of Jae Lee to Dynamite!




Following 12 issues and two tie-in one-shots, Red Sonja #13 starts with Sonja the Red in a an unfamiliar position. In the beginning of this epic, she was crowned Queen of Hyrkania, pitting her in battle against Dragan the Magnificent. As the two leaders pushed and pulled on the map, one must come out victorious. This glory is short-lived, as now in a time of relative peace and still on the throne of her conquered kingdom, Sonja must deal with the impossible part... ruling. With no food, infrastructure or plan, she must make some extremely difficult choices, compromises and alliances, lest her reign come to an anticlimactic end.

Mark Rusell details where the saga has been and where it's going, "The first year was about telling the story of Sonja leading her people against the world's most powerful emperor, as adapted into fantasy from the historical story of Queen Tomyris and Cyrus the Great. Being a huge fan of ancient history, it was an amazing opportunity to get to tell a longform and pretty freeform story adapted from the history books, which back then, were almost works of fantasy themselves."

"This next one is going to be different in that it's less about adapting stories from ancient history and more ...
11/27/19 @ 9:10 am EST
In collaboration with Dynamite, Christopher Priest is celebrating Black History Month and paying tribute to the contributions of creators of color on his Vampirella run.


As Christopher Priest's acclaimed run on Vampirella has continued on, the veteran writer and editor is constantly working closely with Dynamite brewing new ideas to engage the comic book community of fans, retailers and press. For February's VAMPIRELLA #8, Priest thought of a symbolic way to pay tribute to an underrecognized and underutilized portion of creators and fans.

"It is a significant and unique gesture on Dynamite's part to work with me to acknowledge the contributions of African American artists in this industry with a set of covers exclusively developed by artists of color," said Priest. "Both my veteran buddies and inspiring boundary breakers creating their own unique expressions of our favorite Vampiri."

Priest and editor Matt Idelson carefully assembled a team comprised of Denys Cowan, Alitha Martinez, Mark Beachum and Afua Richardson to contribute covers inspired by a simple premise. They were asked to imagine creating the Daughter of Drakulon back in 1969 as if her appearance was inspired by African American women rather than the Bettie Page and Barbarella vein that James Warren, Forrest J. Ackerman, Frank Frazetta and Trina Robbins ended up tapping into. They are also joined by returning cosplayer Mai (Maidenhellxo).
11/22/19 @ 7:33 pm EST
11/21/19 @ 3:33 pm EST
11/21/19 @ 3:30 pm EST
11/21/19 @ 3:14 pm EST
11/21/19 @ 10:35 am EST
11/15/19 @ 5:16 pm EST