05/23/17 @ 2:50 pm EST
Dynamite Entertainment is proud to announce that the classic pulp comic book series Turok returns with an all-new interpretation of the iconic character courtesy of writer Chuck Wendig (Star Wars: Aftermath, Hyperion) and artist Álvaro Sarraseca (Witchblade). With the debut issue set for release in August 2, 2017, Turok #1 also features a bonus Doc Spektor back-up story by Aubrey Sitterson (Street Fighter X, G.I. Joe) and Dylan Burnett (Weavers), a continuation of the serial in the Turok sister titles, The Sovereigns and Magnus.

In the latest Turok adventure, the fascist Saurian soldiers of the Varanid Empire-part dinosaur, part man, all bad-news-have seized control of the Lost Valley, and only the mysterious dinosaur hunter Turok is willing or able to stand against them! But right now, Turok only cares about one thing: tracking down a mysterious missing girl that could hold all of the clues as to how the Lost Valley has changed from the fantastical prehistoric land readers know and love.

Writer Chuck Wendig says, "I wasn't sure initially about tackling Turok because I wanted to do such a weird and wonderful story world justice -- but then, while talking with Dynamite Senior Editor Matt Idelson about all the stuff going on in the real world, an idea hit me in the chest like one of Turok's arrows. I'm excited to come on board and to hopefully bring something different to the story and to the character, while also keeping the spirit of what makes Turok awesome. And I'm hoping everyone enjoys reading it as much as I've enjoyed writing it!"

Chuck Wendig, comic book writer, screenwriter, and blogger, is best known for his popular website Terribleminds.com, as well as for his 2015 novel Star Wars: Aftermath, which debuted at #4 on The New York Times Best Seller list, and #4 on USA Today's best seller list. In 2013, he was a finalist for the John W. Campbell Award for Best New Writer.

Artist Álvaro Sarraseca says, "I love drawing Turok. I made some character designs of him and finally we chose the wildest. As hunters usually wear the skins of their prey, I asked myself why Turok could not do the same thing? There are no limits for creativity here! This new version of Turok tears apart anything we saw before. I think it will attract new readers who didn't have any previous interest in the character."

"I knew Chuck was both incredibly creative and could bring great depth to his characters, and he's really managed to capture everything that's great about Turok while reinventing the character in a fun and mysterious way," says Matt Idelson, Senior Editor with Dynamite Entertainment. "Álvaro was the miraculous result of a loooong search for the perfect artist for this character and more importantly, Chuck's story. They make a hell of a team, and their work on the first issue already outshines the serial backup we've been running to set up the series."

"When Dynamite launched the Gold Key line in 2014, we were able to introduce new readers to a now reestablished universe, which has since served as the foundation for further series that we have continued to build upon," says Nick Barrucci, CEO and Publisher of Dynamite Entertainment. "With the recent success of our series, The Sovereigns, these legendary characters have taken on a new life of their own, and we're excited to bring the world's first and foremost dinosaur hunter back to the pages of comics!"

The debut issue of Turok features a wide selection of cover variants, providing fans and retailers with the freedom of choice! The cover artwork features the talents of Aaron Lopresti (Captain Marvel, Wonder Woman), interior artist Álvaro Sarraseca, Aaron Conley (Rocket Raccoon & Groot), and Andy Belanger (Southern Cross), respectively. Limited variant editions in "Black & White" and "Virgin Art" formats are also available as retailer incentives for comic shops that support the launch issue by achieving stocking thresholds.

Originally published by Gold Key Comics from 1954 through 1982, Turok, Son of Stone chronicled the adventures of a young Native American man in the 18th century, who finds himself deep in the Carlsbad canyons where he must confront "ancient forms of life which have disappeared from all other parts of the world." Since the original comic book run, Turok continued at several comic publishers before finding its home at Dynamite Entertainment in 2014. In additional to the 2014 and now 2017 eponymous series, the character has also appeared in Dynamite's Doctor Spektor: Master of the Occult, Gold Key: Alliance, and The Sovereigns.

Turok #1 will be solicited in Diamond Comic Distributors' June 2017 Previews catalog, the premier source of merchandise for the comic book specialty market, and slated for release in August. Comic book fans are encouraged to reserve copies of Turok #1 with their local comic book retailers. Turok #1 will also be available for individual customer purchase through digital platforms courtesy of Comixology, Kindle, iBooks, Google Play,Dynamite Digital, iVerse, Madefire, and Dark Horse Digital.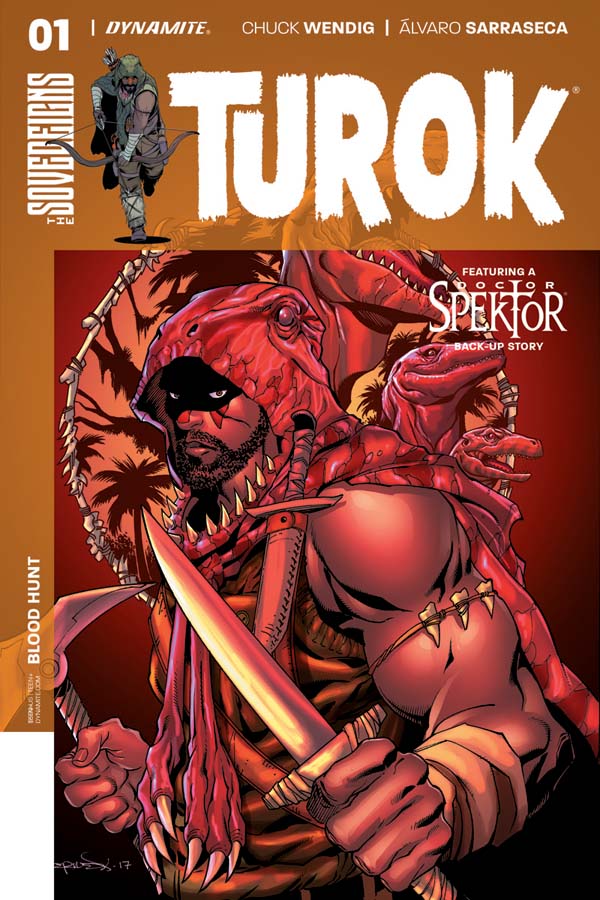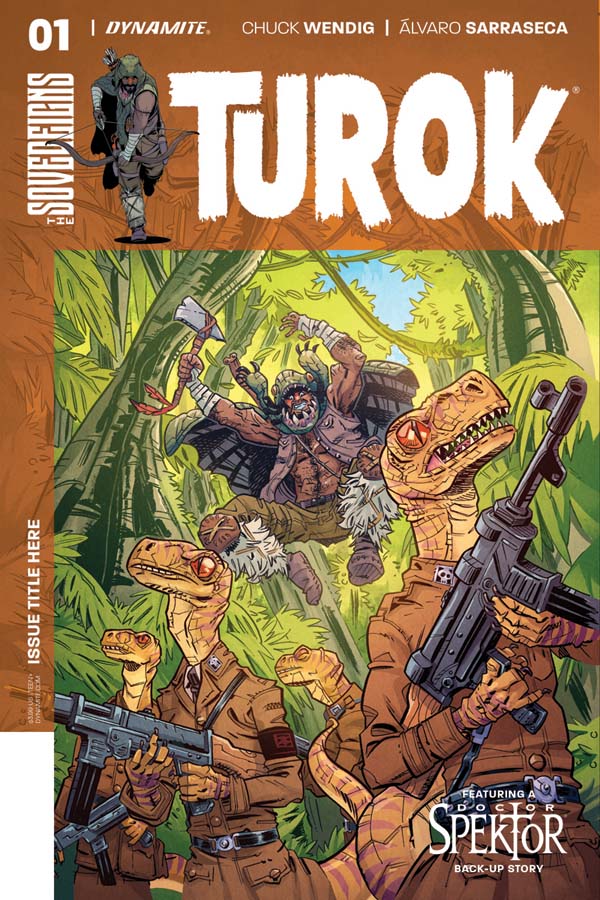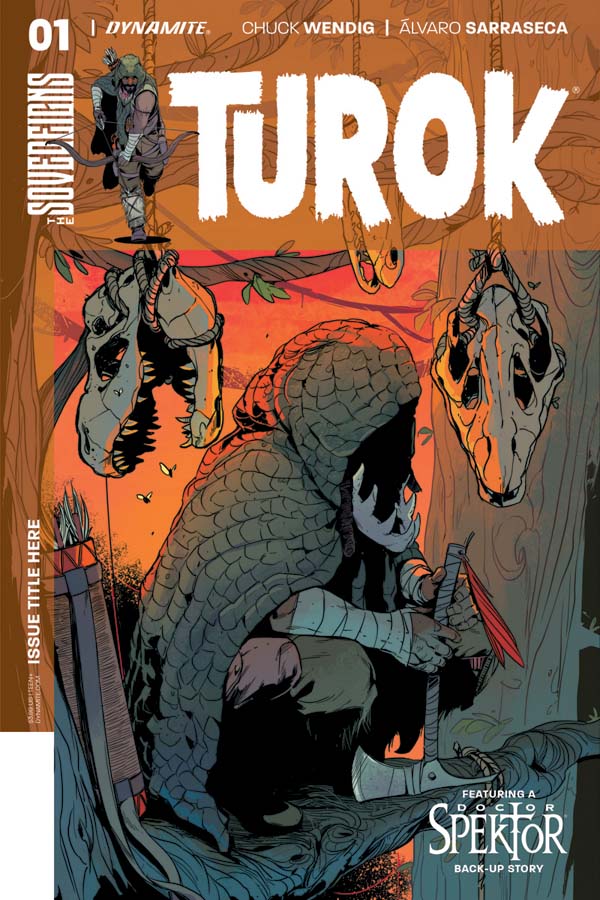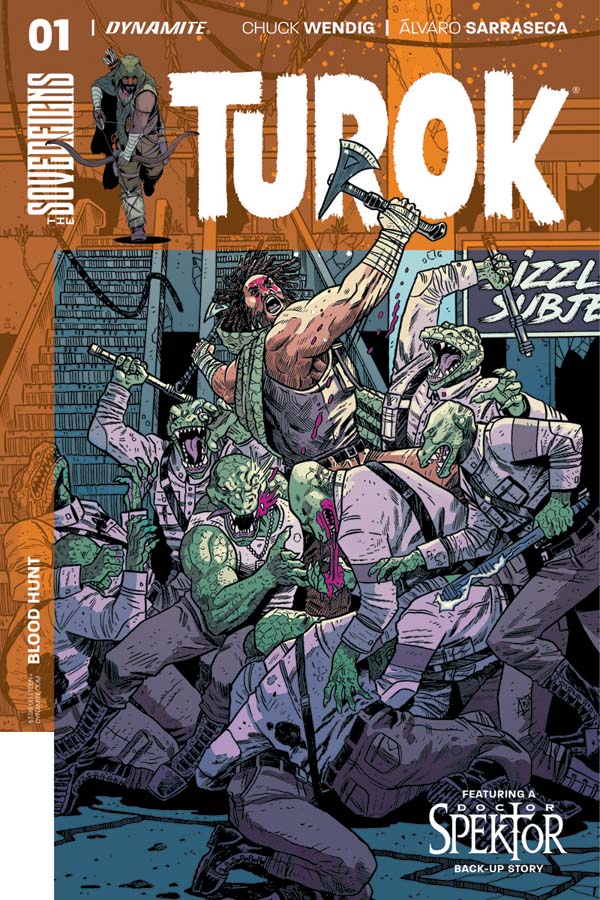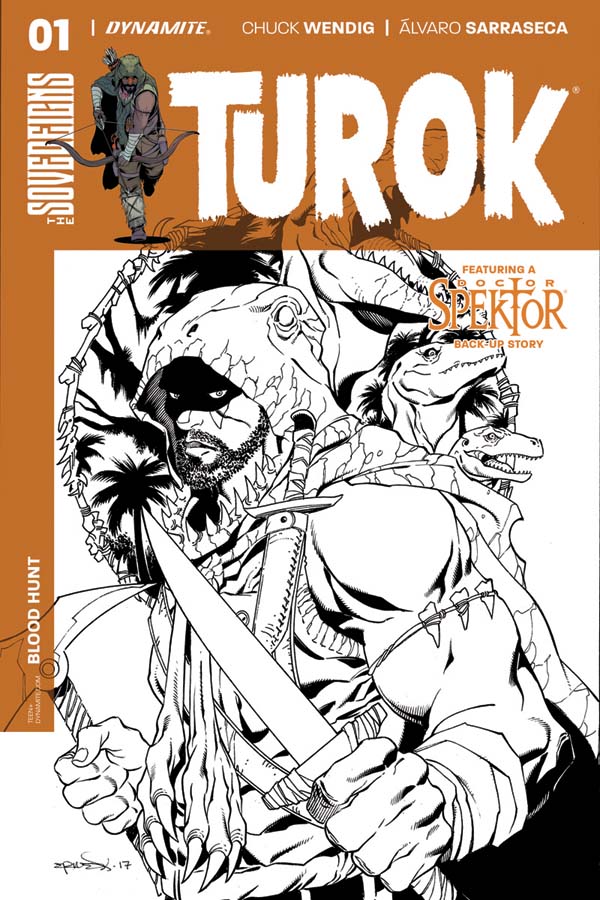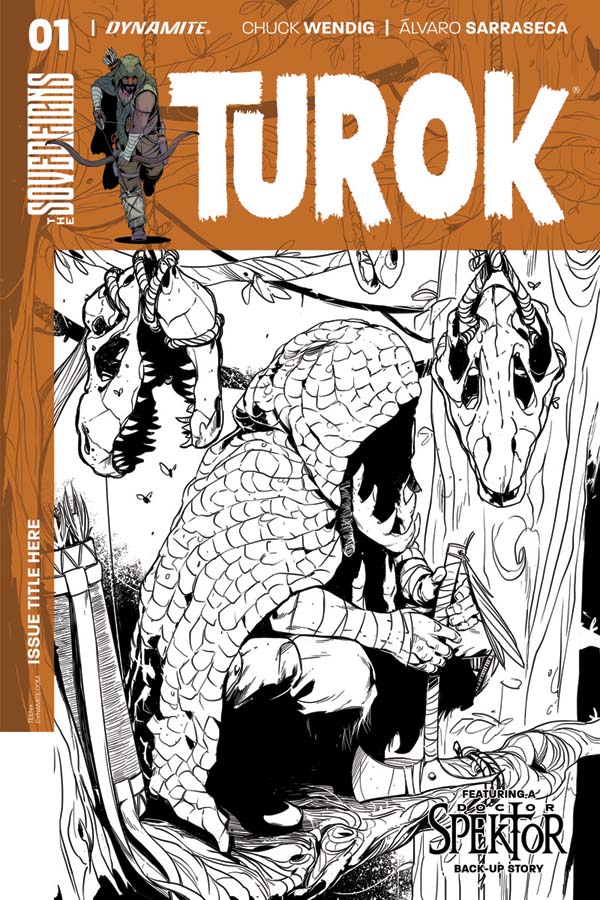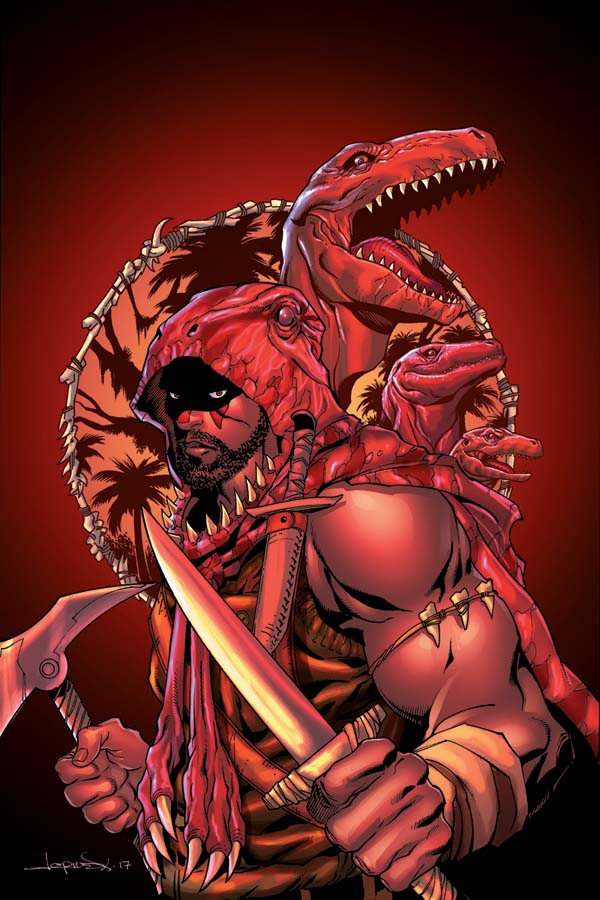 05/17/19 @ 1:31 pm EST
Dynamite is making a giant splash in July 2019 with a new Vampirella series by top tier creators like Christopher Priest, as well as reprints and collections of highly sought after recent and classic material, and lots of special items for fans. But in addition to celebrating the 50 years of Vampi, Dynamite looks to the future of Vampirella comics with a blank comic for aspiring creators!
Dynamite is offering the Vampirella Blank Comic Book. This standard length comic book sports sketch-quality blank interior pages and a cover with just logo treatment. Dynamite is embracing the extraordinary talents of their fanbase and the comics community to experiment and produce their own Vampi stories.
People can take on the project solo or collaborate with friends to write, draw, ink, color and letter a full length story. Or split up the pages for an anthology in the vein of the original magazine. Another challenge would be to follow the famous 24-hour comic challenge. An artist drawing in this book could be the next José González, Amanda Conner, Mike Mayhew or Ergün Gündüz, finding themselves professionally drawing the Daughter of Drakulon someday. Or writing, in the footsteps of Archie Goodwin, Kurt Busiek, Mark Millar or Christopher Priest.
05/17/19 @ 1:26 pm EST
Dynamite Entertainment announces its Editorial and Sales team will embark once more on a journey to the Diamond Retailer Summit and that special covers will be available to retailers.
Joseph Rybandt, Executive Editor and Patrick O'Connell, Sales Manager will be at the summit to present to and speak with retailers about all of Dynamite's exciting recent and upcoming releases and initiatives. Including discussion of the upcoming Vampirella #1 written by Christopher Priest, the crossover with Archie Comics and an upcoming series by Gail Simone!
At the Dynamite booth, participating retailers will be able to receive four limited edition covers for Red Sonja & Vampirella Meet Betty & Veronica. Upcoming Vampirella ongoing artist Ergün Gündüz illustrated a cover with the four fan-favorite heroines taking a selfie together. Dressed and virgin versions of the cover will be available. In addition to high-end premium $50 virgin cover editions of the Fay Dalton and Cat Staggs variants.

"We love our retail partners in the industry. The ones attending the Diamond Seminar are taking time out of being in their stores and investing their time and money to be at the show. Dynamite is honored to be able to present our upcoming publishing schedule and all the exciting projects we have for the rest of this year, going into 2020! We want to thank them for coming by in giving away multiple items to help them recoup some of their expenses," said Nick Barrucci, Dynamite CEO and Publisher.



05/16/19 @ 2:28 pm EST
Fwoosh! What sound effect does a boomerang make? Find out this August when Dynamite releases THE DEATH-DEFYING 'DEVIL #1 by Gail Simone and Walter Geovani! The Master of Courage returns!
The nearly 80-year-old legendary superhero returns in a miniseries from Eisner-nominated writer Gail Simone (Birds of Prey, Wonder Woman, Domino) and her longtime artistic collaborator Walter Geovani (Red Sonja, Clean Room). Colorist Adriano Augusto (Red Sonja/Tarzan, KISS: Blood & Stardust) and prolific letterer Simon Bowland (Red Sonja, The Boys) round out the cast.

In this yarn inspired by Rod Serling, Bronze Age horror/mystery anthologies, and modern street-level heroics, the 'Devil finds himself beaten and bloodied in the backyard of a ramshackle apartment building. The diverse cast of tenants take him in and across each issue they are explored in-depth. Each has their own unique problems, while a strange force also menaces the building as a whole. The 'Devil makes it his mission to solve all of these puzzles, even when he learns that one of his new neighbors is a traitor.

A whole legion of painterly artists are contributing covers to this blockbuster series. Riccardo Federici (Aquaman, Dark Nights Metal: Dark Knights Rising) leads the pack, Tyler Kirkham (Deathstroke, Green Lantern, Teen Titans) has some fun with a spray effect, Ben Oliver (American Carnage) turns in a playing card-inspired cover featuring the villain Deadly Dreaded Dragon, while fan-favorites Lucio Parillo (Vampirella, Red Sonja) and In-Hyuk Lee (Black Order, Spider-Geddon) strike iconic heroic poses. As a throwback for Project Superpowers fans, a special incentive "Carve Out" cover features Alex Ross's history-making depiction.
05/16/19 @ 1:53 pm EST
Tick! Tick! Tick! Tock! The Jose Gonzalez Vampirella statue Kickstarter celebrating the iconic heroine's 50th Anniversary ends tonight! You have just hours left to support the campaign or increase your pledge to get even more awesome rewards!
The campaign ends at 11 PM EST!
Pledge Now!
Thanks to all who have pledged already and continued to unlock stretch goal after stretch goal! Last night tons of new backers joined in and now every statue box will include a promo trading card depicting how the original Gonzalez/Torres masterpiece has translated to the third dimension!
Don't forget all the amazing options for rewards beyond the central statue! Enamel pins, deluxe art books, graphic novels, the hardcover Vampirella archives! And any combination - message us on Kickstarter and we can arrange add-ons and special personalized reward packages!
05/14/19 @ 10:37 pm EST
We need to express a HUGE thanks to all the passionate Vampirella fans and backers who have supported this Kickstarter! Your continued support has floored us at Dynamite and we've continued to upgrade and expand the campaign for you! We've got a 3rd stretch goal to announce early today! Maybe the last? Never say never!
Once we pass the current - and so close! - stretch goal of $25,000, the new stretch goal will be set at $30,000. For unlocking this level, a special premium promo trading card will be included in every statue box! The card, celebrating Vampi's 50th year, will depict a final photographed statue on one side and the original Jose Gonzalez and Enrich Torres painting on the reverse. Pledge now and don't wait until the last second!
Help Unlock the 3rd (!) Stretch Goal! The campaign ends this Thursday, May 16th at 11 PM EST.


Front Back
Support the 50th Anniversary Jose Gonzalez Vampirella statue Kickstarter to get your rewards early and with added value. Statue collectors are also guaranteed lower numbers in the production run. In addition to the previously unlocked stretch goals of a bonus digital Vampirella: Feary Tales graphic novel and the limited edition Gonzalez Vampi print.

To support the campaign, visit: Jose Gonzalez Vampirella Statue!!
05/14/19 @ 9:52 pm EST
There are just a couple days left on the 50th Anniversary Jose Gonzalez Vampirella statue Kickstarter! We have a few updates to share with backers and those still on the fence! Pledge now!
Check out these new photos of the statue! We want to get the final 3D piece as close to Gonzalez's original piece as possible and have been comparing and listening to feedback. With a few tweaks, this is what Vampi looks like right now! The final final version may differ with even more improvements!
05/14/19 @ 2:24 pm EST
We are blown away every day as we watch the Kickstarter campaign rise and rise! We got funded, then blew past the first stretch goal! Now we are sooo close to passing the second stretch goal and we have a way for you to help!

For a chance to win the J. Scott Campbell Women of Dynamite Vampi statue, share a post on social media (Twitter, Instagram, Facebook) with your friends and followers using the hashtag #VampiStatueKS, tagging @DynamiteComics and sharing this link http://bit.ly/2JfyxJX to show everyone the current Jose Gonzalez statue Kickstarter! You can send out the message once a day until this Thursday at 10 PM EST.

Here's a suggested sample post: Check out the @DynamiteComics Jose Gonzalez Vampirella statue on @kickstarter right now!

Head to their page to see how to enter the #VampiStatueKS contest too!
http://bit.ly/2JfyxJX

More rules and details can be found on our website here.

Help make the final push to the stretch goal on Kickstarter now!


We're so close to passing the $25,000 stretch goal - pledge now! The current goal is for a limited edition 8.5" by 11" print of a gorgeous Jose Gonzalez Vampi piece. It is a color version of the frontispiece used in Vampirella #39 from 1975. Add this jaw dropping work of art to your collection!

To support the campaign, visit: Vampirella 50th Anniversary Statue by Jose Gonzalez!


05/10/19 @ 12:45 pm EST
We did it, first stretch goal unlocked! *Sound effect* All backers of the Jose Gonzalez Vampirella Kickstarter will now receive the digital graphic novel Vampirella: Feary Tales. Thanks to support from fans like you! Or you specifically! Thanks, you! Let's keep the fun rolling! It's time for another stretch goal! You ready?

At a not-so-far benchmark of $25,000, every pledge receiving physical items will also get a bonus Jose Gonzalez Vampirella print. This 8.5" by 11" Limited Edition Print on a high quality heavy stock paper is a full color masterpiece done as a recreation of his black and white frontispiece pinup for Vampirella #39. The classic pose captures Vampi's timeless beauty as well as her radiating confidence. Check it out below! Also see the original piece. More details on Pepe's legendary pinups and later Vampirella pieces can be found in the 250-page deluxe hardcover The Art of Jose Gonzalez,which is available in multiple tiers on the Kickstarter. Including the rare model photo used as reference for this print!

Check Out the Campaign to Help Unlock this Special Print! Go go go!



05/09/19 @ 12:58 pm EST

The first stretch goal for the Vampirella Gonzalez statue Kickstarter is just inches away - and you can be the one to unlock it for everyone! If you've been waiting to pledge, jump on board now and tell all your friends to push us over and unlock a bonus digital graphic novel for all backers!

Check Out the Statue & Other Rewards Now!

Once we blast past the stretch goal, all backers will get the Vampirella: Feary Tales collection. The critically acclaimed anthology includes multiple Vampi stories in each issue, evoking the feel of the classic Warren years when Gonzalez reined supreme as the definitive artist on the character. Legendary creators who contributed to Fear Tales include Gail Simone, Joe R. Lansdale, Steve Niles and Steve Bissette.


Let's take a peak at some of Gonzalez's classic work on the character! All of these jaw dropping pages can be found reprinted in the Vampirella Archives volumes, available in bundle sets of 5 volumes or the whole 15 on the Kickstarter right now.

And don't forget about the star of the show! The 1/6 scale, foot tall resin Vampirella statue modeled on Jose Gonzalez's character defining illustration. Sculpted by Steve Kiwus and ready to make its home in your collection!

To support the campaign, visit: Vampirella 50th Anniversary Statue by Jose Gonzalez!


05/03/19 @ 6:01 pm EST
The Vampirella fanbase never fails to impress us at Dynamite! The Jose Gonzalez statue was funded in less than 24 hours! Dynamite thanks everyone who has supported the campaign and we have our first stretch goal to announce. There's still plenty of time to preorder your statue and other goodies.
Check Out the Statue & Other Rewards Now!

For the first stretch goal, once the campaign passes $21,000 all backers of the campaign will receive a digital copy of the Vampirella: Feary Tales graphic novel. This anthology title replicates the feel of the original Warren magazine in its heyday, with a bounty of Vampi tales in each issue. The series was created to celebrate the 45th anniversary of Vampirella, and now here we are 5 years later! Fan favorite horror and comics writer Nancy A. Collins leads the pack, as this miniseries serves as a perfect companion to her run on the 2014 ongoing series. Also contributing stories to Feary Tales are Gail Simone (Red Sonja, Wonder Woman), Joe R. Lansdale (Bubba Ho-Tep, Jonah Hex), Steve Bissette (Swamp Thing), Steve Niles (30 Days of Night), and Devin Grayson (Batman, Nightwing).


In other graphic novel greatness, the painstakingly restored and remastered deluxe hardcover Vampirella Archives are available in multiple reward tiers, with statues and separately. A starter set of the first 5 volumes includes all the prime era of Jose Gonzalez, such as his collaborations with the legendary writer/editor Archie Goodwin (Batman, Iron Man) and the introduction of most major supporting characters. Beyond the gorgeous Gonzalez Vampi within, also included are countless timeless tales from some of the greatest comic ...