This summer, the world's foremost finicky felines will come face-to-face in the epic crossover,
Grumpy Cat/Garfield
, as three-time Emmy Award nominee Mark Evanier (
Garfield and Friends
) steps back into the paws of the most iconic cat in comics for this three-part mini-series worthy of more than just nine lives! Joined by artist Steve Uy (
Avengers: The Initiative
),
Grumpy Cat/Garfield
will pounce its way into stores August 2, 2017!
Thanks to an exclusive partnership between Dynamite Entertainment and BOOM! Studios' award-winning imprint, KaBOOM!, Jim Davis' iconic comic strip cat Garfield will meet internet sensation Grumpy Cat in a limited series with a story inspired and approved by icon Jim Davis, himself!
It's the inevitable meeting of these two loveable sourpusses! Garfield, the reigning cynical cat of newspapers and TV will cross paths with internet sensation Grumpy Cat, whose memorable scowl endeared herself to the world. Who's the most sarcastic? Well, he hates Mondays...and she hates any day ending in "y!" Is there enough room to accommodate both truculent tabbies within the pages of the same comic book, let alone the same universe? You'll find out in this three-issue mini-series that will have you purring that it's the cat's meow!
Artist Steve Uy says, "Garfield was my favorite comic strip growing up in the '80s. When I was doing the art for
Grumpy Cat
last year, there was a Halloween special where I decided to dress Grumpy up as Garfield, and her brother Pokey as Heathcliff in a panel. That didn't make it to print, and ended up being revised to a Star Wars theme instead, so when I found out there was going to be a
Grumpy/Garfield
crossover, it seemed like fate had stepped in and given me another chance to draw them all together again!"
Steve Uy is the artist of such Marvel/ DC series as
Uncanny X-Men, Avengers Initiative, Legion of Superheroes Animated, JSA Classified,
and many more. He is the artist/creator of his very own creator-owned series,
Feather and Jova's Harvest
, currently available on Comixology, and has most recently released his mobile games Oasis: Path to Redemption and Evil Brown Eggs.
Writer Mark Evanier met the legendary Jack Kirby in 1969, and began working as his assistant only one week after graduating high school, eventually going on to become his official biographer. A writer and historian, Evanier has written over 500 comics for Gold Key, DC, and Marvel Comics, several hundred hours of television (most notably
Garfield and Friends
and
Groo the Wanderer
) and is the author of several books including
Mad Art
. He has received three Emmy Award nominations, and received the Lifetime Achievement Award for animation from the Writers Guild of America.
"When we first began toying with the idea of a crossover between Grumpy Cat and Garfield, the entire team thought there could not be a more perfect fit," says Nick Barrucci, CEO and Publisher of Dynamite Entertainment. "As the idea grew, so did our excitement. When we reached out to our dear friends at BOOM! we were delighted to find they were as excited by the idea as we were. Once we received the blessing of Grumpy Limited, Jim Davis and his team at PAWS, we knew this would be a successful project thanks to the passion of everyone involved!"
"We've been honored to publish the adventures of Garfield for many years now and are excited to be partnering with our friends at Dynamite Entertainment to bring Jim Davis' creation together with another heavyweight of the cat world - Grumpy Cat," says Filip Sablik, President of Publishing and Marketing for BOOM! "Mark Evanier is crafting a hilarious, fun-filled story that's sure to please fans of both of these feline franchises."
Grumpy Cat found her adopted home with Dynamite in 2015 with her comic book debut,
The Misadventures of Grumpy Cat
. Selling more than a half million copies and winning the hearts of readers of all ages, the ever-griping Grumpy has become one of the world's most recognized felines. Now, her infectious charm and witty quips come face-to-face with the original cartoon cat, Garfield!
The debut issue of
Grumpy Cat/Garfield
features a wide selection of exciting cover variants, providing fans and retailers with the freedom of options! The cover artwork features the talents of Andy Hirsch (
Garfield, Adventure Time, Regular Show
)
,
interior artist Steve Uy, Fernando Ruiz (
Animal Jam
), Tony Fleecs (
Postcards: True Stories That Never Happened
), and Phil Murphy (
Regular Show
), respectively. Limited variant editions in "Black & White," "Virgin Art," "Coloring Book," and "Comic Strip" formats are also available as retailer incentives for comic shops that support the launch issue by achieving stocking thresholds.
Grumpy Cat/Garfield #1
will be solicited in Diamond Comic Distributors' June 2017
Previews
catalog, the premier source of merchandise for the comic book specialty market, and slated for release in August. Comic book fans are encouraged to reserve copies of
Grumpy Cat/Garfield #1
with their local comic book retailers.
Grumpy Cat/Garfield #1
will also be available for individual customer purchase through digital platforms courtesy of Comixology, Kindle, iBooks, Google Play, Dynamite Digital, iVerse, Madefire, and Dark Horse Digital.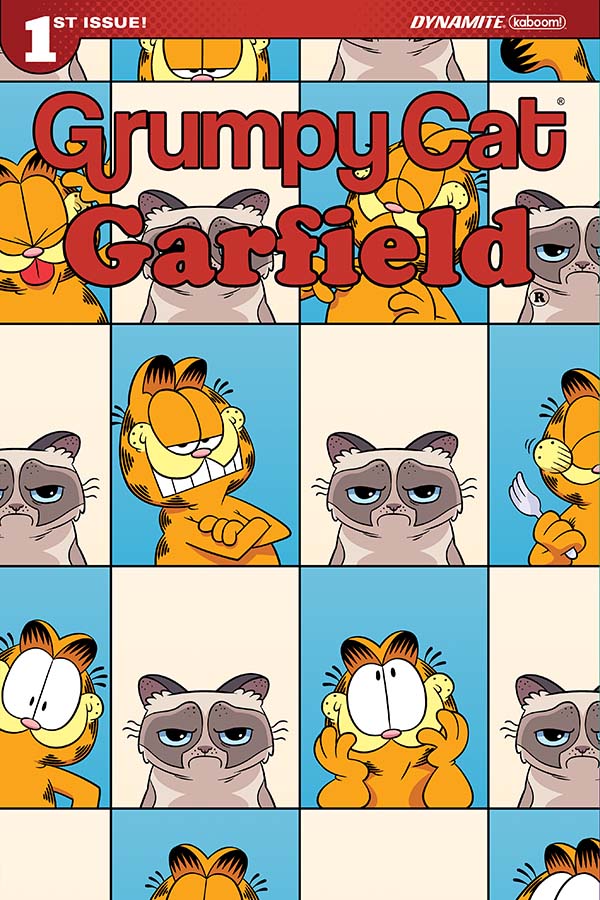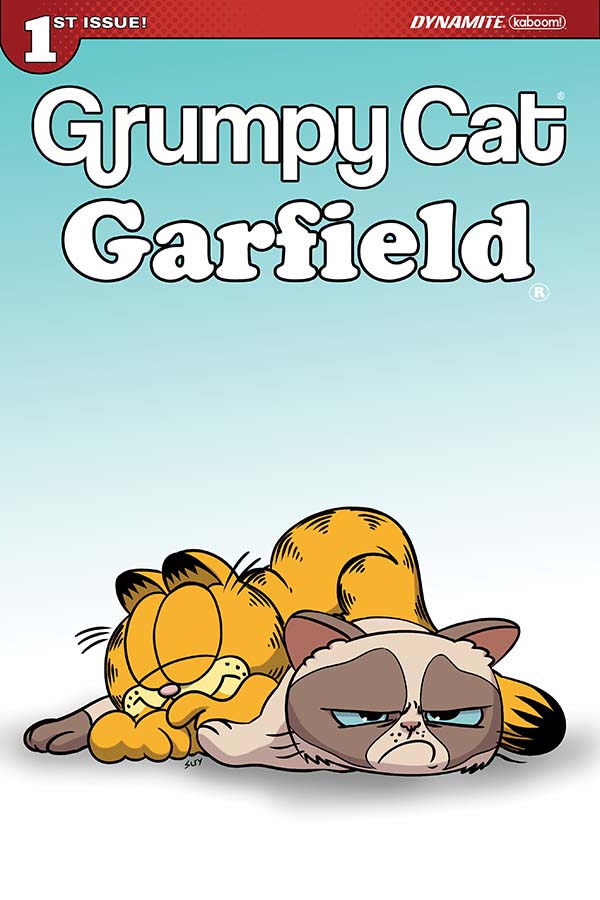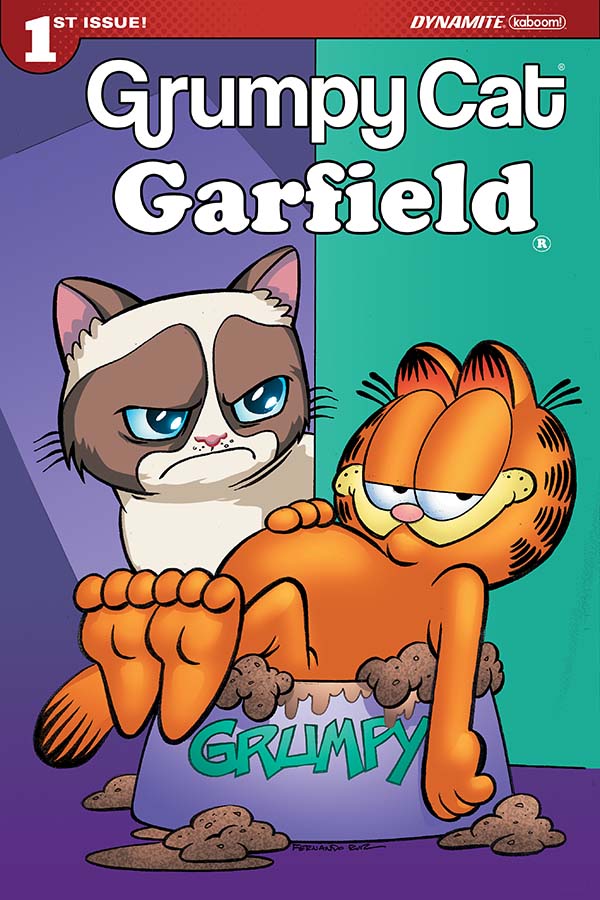 Dynamite announces a new original James Bond graphic novel for release in February, incorporating contributions from a cavalcade of writers and artists to celebrate the timelessness of the character and the countless talented creators who have brought him to comics.
James Bond in "Reflections of Death" is a 128 page hardcover of nonstop thrills and intrigue. Several Dynamite Bond veterans return for this tapestry, including Benjamin Percy (Wolverine, X-Force), Andy Diggle (Daredevil, Green Arrow) and Greg Pak (Star Wars, Agents of Atlas) and the writers of the December-launching new ongoing series, Vita Ayala (Morbius, Xena) & Danny Lore (Queen of Bad Dreams). Stars of both Dynamite and comics at large Gail Simone (Deadpool, Wonder Woman) and Mark Russell (Red Sonja, The Flintstones) join the team as well. Artists enlisted for the mission include Luca Casalanguida (Hammerhead, Kill Chain, The Body), Robert Carey (James Bond 007), Jordi Perez (Xena), Dean Kotz (Warlord of Mars Attacks), Eoin Marron (Killer Groove) and Kewber Baal (KISS). All wrapped up in another beautiful noir and pulp flavored cover by Fay Dalton (Casino Royale, Vampirella).

With a framing story Ayala and Lore, over 20 total creators will collaborate to contribute stories that both stand on their own and tie into an overarching narrative. The central figure through the anthology of case files is Moneypenny. She's been kidnapped. and the mystery of her captors and their demands will only be revealed when, or if, 007 is able to complete his missions. While Moneypenny herself may have some surprises up her sleeve.

"We're incredibly fortunate to work with so many talented creators, and of course they all want to write one of the most crucial characters in modern fiction!," said Nick Barrucci, Dynamite CEO and Publisher. "Just in time for the new ...
Vampirella's anniversary celebration continues with a hotly anticipated deluxe art book honoring her recent history and portrayals.
This breathtaking tome reproduces countless already and soon-to-be classic portrayals of the Daughter of Drakulon on beautiful oversized pages. Picking up right where ART OF VAMPIRELLA: THE DYNAMITE YEARS left off, this brand-new hardcover volume features hundreds of covers, including well over 40 from 2019's smash hit Vampirella #1. Plus covers from the critically acclaimed 2014 run by Nancy Collins, the Linsners' masterpiece Roses for the Dead, and much more from the Vampi archives.
Superstar artists included within these pages include Artgerm, J. Scott Campbell, Lucio Parrillo, Alex Ross, Jenny Frison, Terry Dodson, Joe Jusko, and many, many more.
"It's always a pleasure to see so many talented artists, such as Fay Dalton, Jenny Frison and Ben Oliver come in with their contributions every month portraying our favorite vampiress," said Cathleen Heard, Dynamite Art Director. "Many of these pieces are so impressive that we know fans will appreciate them compiled and presented in different ways to truly celebrate this anniversary. Our production and design team always strives to put together books that reflect the prestige of our characters and properties."

Vampirella debuted 50 years ago in the first issue of her self-titled magazine. Originally put out through Warren Publishing as a horror, sci-fi and fantasy anthology alongside sister titles Creepy and Eerie. Intended as a campy hostess, the heroine built up by James Warren, Forrest J. Ackerman, Trina Robbins and Frank Frazetta became a quick fan-favorite in her own right. Especially once comics legend Archie Goodwin and a young Spanish artist named Jose "Pepe" Gonzalez got their chance on ...