This summer, the world's foremost finicky felines will come face-to-face in the epic crossover,
Grumpy Cat/Garfield
, as three-time Emmy Award nominee Mark Evanier (
Garfield and Friends
) steps back into the paws of the most iconic cat in comics for this three-part mini-series worthy of more than just nine lives! Joined by artist Steve Uy (
Avengers: The Initiative
),
Grumpy Cat/Garfield
will pounce its way into stores August 2, 2017!
Thanks to an exclusive partnership between Dynamite Entertainment and BOOM! Studios' award-winning imprint, KaBOOM!, Jim Davis' iconic comic strip cat Garfield will meet internet sensation Grumpy Cat in a limited series with a story inspired and approved by icon Jim Davis, himself!
It's the inevitable meeting of these two loveable sourpusses! Garfield, the reigning cynical cat of newspapers and TV will cross paths with internet sensation Grumpy Cat, whose memorable scowl endeared herself to the world. Who's the most sarcastic? Well, he hates Mondays...and she hates any day ending in "y!" Is there enough room to accommodate both truculent tabbies within the pages of the same comic book, let alone the same universe? You'll find out in this three-issue mini-series that will have you purring that it's the cat's meow!
Artist Steve Uy says, "Garfield was my favorite comic strip growing up in the '80s. When I was doing the art for
Grumpy Cat
last year, there was a Halloween special where I decided to dress Grumpy up as Garfield, and her brother Pokey as Heathcliff in a panel. That didn't make it to print, and ended up being revised to a Star Wars theme instead, so when I found out there was going to be a
Grumpy/Garfield
crossover, it seemed like fate had stepped in and given me another chance to draw them all together again!"
Steve Uy is the artist of such Marvel/ DC series as
Uncanny X-Men, Avengers Initiative, Legion of Superheroes Animated, JSA Classified,
and many more. He is the artist/creator of his very own creator-owned series,
Feather and Jova's Harvest
, currently available on Comixology, and has most recently released his mobile games Oasis: Path to Redemption and Evil Brown Eggs.
Writer Mark Evanier met the legendary Jack Kirby in 1969, and began working as his assistant only one week after graduating high school, eventually going on to become his official biographer. A writer and historian, Evanier has written over 500 comics for Gold Key, DC, and Marvel Comics, several hundred hours of television (most notably
Garfield and Friends
and
Groo the Wanderer
) and is the author of several books including
Mad Art
. He has received three Emmy Award nominations, and received the Lifetime Achievement Award for animation from the Writers Guild of America.
"When we first began toying with the idea of a crossover between Grumpy Cat and Garfield, the entire team thought there could not be a more perfect fit," says Nick Barrucci, CEO and Publisher of Dynamite Entertainment. "As the idea grew, so did our excitement. When we reached out to our dear friends at BOOM! we were delighted to find they were as excited by the idea as we were. Once we received the blessing of Grumpy Limited, Jim Davis and his team at PAWS, we knew this would be a successful project thanks to the passion of everyone involved!"
"We've been honored to publish the adventures of Garfield for many years now and are excited to be partnering with our friends at Dynamite Entertainment to bring Jim Davis' creation together with another heavyweight of the cat world - Grumpy Cat," says Filip Sablik, President of Publishing and Marketing for BOOM! "Mark Evanier is crafting a hilarious, fun-filled story that's sure to please fans of both of these feline franchises."
Grumpy Cat found her adopted home with Dynamite in 2015 with her comic book debut,
The Misadventures of Grumpy Cat
. Selling more than a half million copies and winning the hearts of readers of all ages, the ever-griping Grumpy has become one of the world's most recognized felines. Now, her infectious charm and witty quips come face-to-face with the original cartoon cat, Garfield!
The debut issue of
Grumpy Cat/Garfield
features a wide selection of exciting cover variants, providing fans and retailers with the freedom of options! The cover artwork features the talents of Andy Hirsch (
Garfield, Adventure Time, Regular Show
)
,
interior artist Steve Uy, Fernando Ruiz (
Animal Jam
), Tony Fleecs (
Postcards: True Stories That Never Happened
), and Phil Murphy (
Regular Show
), respectively. Limited variant editions in "Black & White," "Virgin Art," "Coloring Book," and "Comic Strip" formats are also available as retailer incentives for comic shops that support the launch issue by achieving stocking thresholds.
Grumpy Cat/Garfield #1
will be solicited in Diamond Comic Distributors' June 2017
Previews
catalog, the premier source of merchandise for the comic book specialty market, and slated for release in August. Comic book fans are encouraged to reserve copies of
Grumpy Cat/Garfield #1
with their local comic book retailers.
Grumpy Cat/Garfield #1
will also be available for individual customer purchase through digital platforms courtesy of Comixology, Kindle, iBooks, Google Play, Dynamite Digital, iVerse, Madefire, and Dark Horse Digital.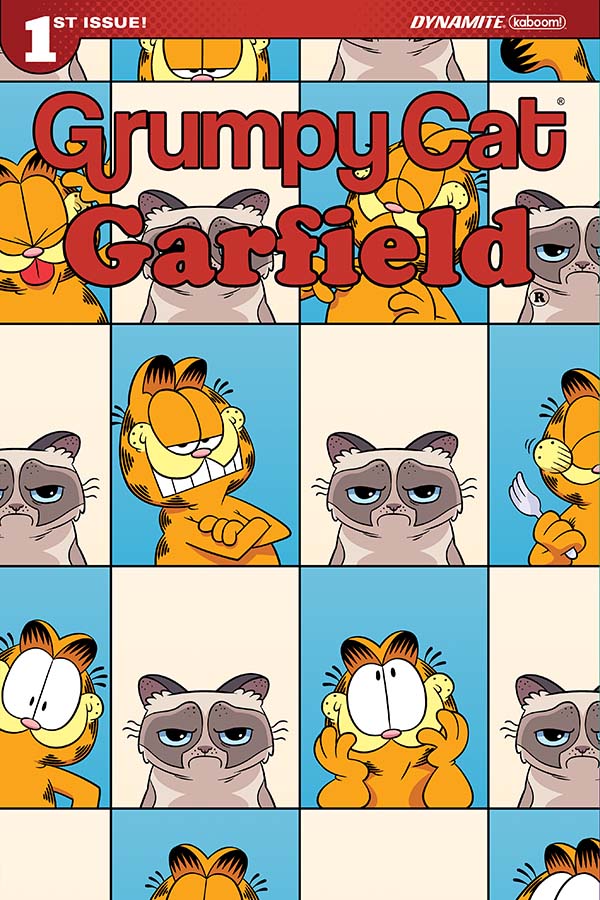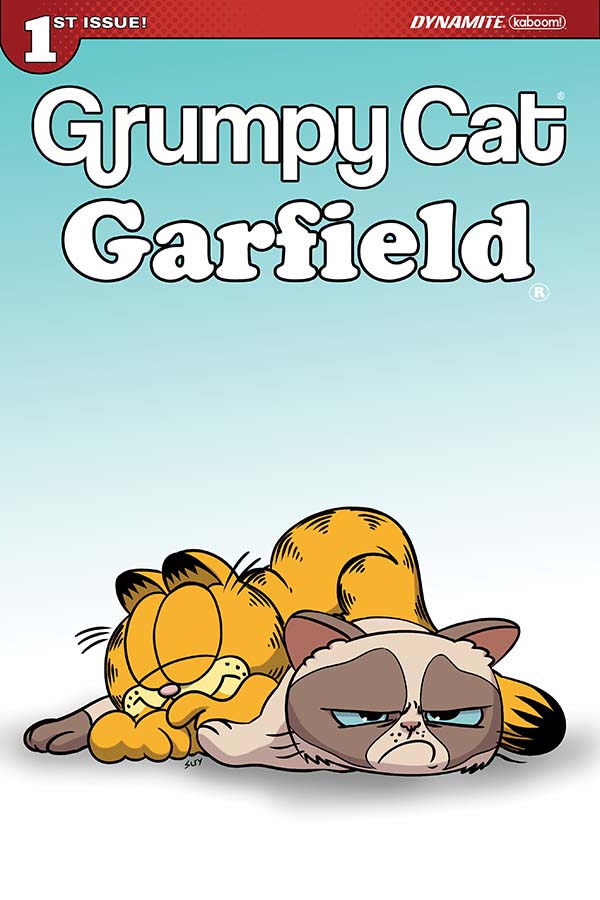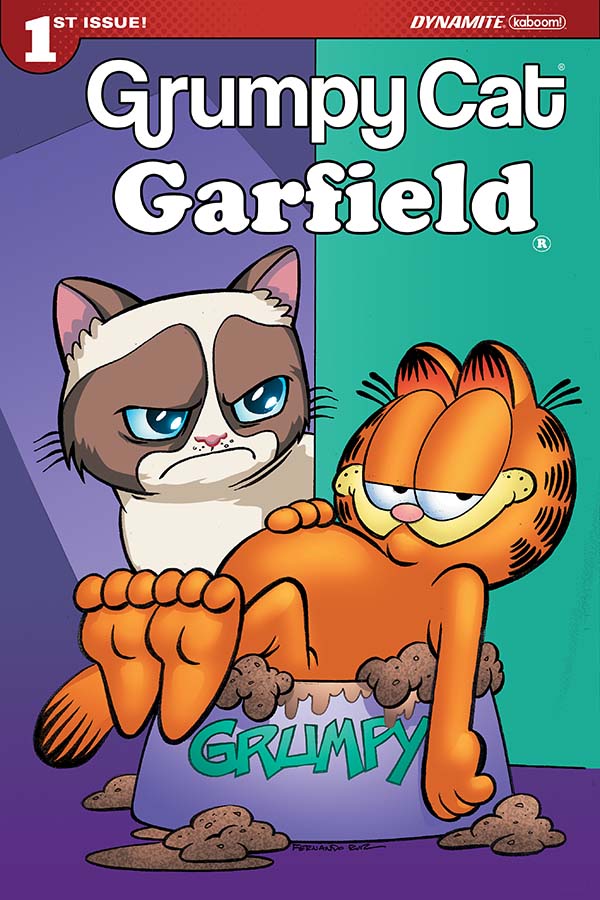 Dynamite is making a giant splash in July 2019 with a new Vampirella series by top tier creators like Christopher Priest, as well as reprints and collections of highly sought after recent and classic material, and lots of special items for fans. But in addition to celebrating the 50 years of Vampi, Dynamite looks to the future of Vampirella comics with a blank comic for aspiring creators!
Dynamite is offering the Vampirella Blank Comic Book. This standard length comic book sports sketch-quality blank interior pages and a cover with just logo treatment. Dynamite is embracing the extraordinary talents of their fanbase and the comics community to experiment and produce their own Vampi stories.
People can take on the project solo or collaborate with friends to write, draw, ink, color and letter a full length story. Or split up the pages for an anthology in the vein of the original magazine. Another challenge would be to follow the famous 24-hour comic challenge. An artist drawing in this book could be the next José González, Amanda Conner, Mike Mayhew or Ergün Gündüz, finding themselves professionally drawing the Daughter of Drakulon someday. Or writing, in the footsteps of Archie Goodwin, Kurt Busiek, Mark Millar or Christopher Priest.
05/17/19 @ 1:26 pm EST
Dynamite Entertainment announces its Editorial and Sales team will embark once more on a journey to the Diamond Retailer Summit and that special covers will be available to retailers.
Joseph Rybandt, Executive Editor and Patrick O'Connell, Sales Manager will be at the summit to present to and speak with retailers about all of Dynamite's exciting recent and upcoming releases and initiatives. Including discussion of the upcoming Vampirella #1 written by Christopher Priest, the crossover with Archie Comics and an upcoming series by Gail Simone!
At the Dynamite booth, participating retailers will be able to receive four limited edition covers for Red Sonja & Vampirella Meet Betty & Veronica. Upcoming Vampirella ongoing artist Ergün Gündüz illustrated a cover with the four fan-favorite heroines taking a selfie together. Dressed and virgin versions of the cover will be available. In addition to high-end premium $50 virgin cover editions of the Fay Dalton and Cat Staggs variants.

"We love our retail partners in the industry. The ones attending the Diamond Seminar are taking time out of being in their stores and investing their time and money to be at the show. Dynamite is honored to be able to present our upcoming publishing schedule and all the exciting projects we have for the rest of this year, going into 2020! We want to thank them for coming by in giving away multiple items to help them recoup some of their expenses," said Nick Barrucci, Dynamite CEO and Publisher.



05/16/19 @ 2:28 pm EST
Fwoosh! What sound effect does a boomerang make? Find out this August when Dynamite releases THE DEATH-DEFYING 'DEVIL #1 by Gail Simone and Walter Geovani! The Master of Courage returns!
The nearly 80-year-old legendary superhero returns in a miniseries from Eisner-nominated writer Gail Simone (Birds of Prey, Wonder Woman, Domino) and her longtime artistic collaborator Walter Geovani (Red Sonja, Clean Room). Colorist Adriano Augusto (Red Sonja/Tarzan, KISS: Blood & Stardust) and prolific letterer Simon Bowland (Red Sonja, The Boys) round out the cast.

In this yarn inspired by Rod Serling, Bronze Age horror/mystery anthologies, and modern street-level heroics, the 'Devil finds himself beaten and bloodied in the backyard of a ramshackle apartment building. The diverse cast of tenants take him in and across each issue they are explored in-depth. Each has their own unique problems, while a strange force also menaces the building as a whole. The 'Devil makes it his mission to solve all of these puzzles, even when he learns that one of his new neighbors is a traitor.

A whole legion of painterly artists are contributing covers to this blockbuster series. Riccardo Federici (Aquaman, Dark Nights Metal: Dark Knights Rising) leads the pack, Tyler Kirkham (Deathstroke, Green Lantern, Teen Titans) has some fun with a spray effect, Ben Oliver (American Carnage) turns in a playing card-inspired cover featuring the villain Deadly Dreaded Dragon, while fan-favorites Lucio Parillo (Vampirella, Red Sonja) and In-Hyuk Lee (Black Order, Spider-Geddon) strike iconic heroic poses. As a throwback for Project Superpowers fans, a special incentive "Carve Out" cover features Alex Ross's history-making depiction.