Award-winning writer Greg Pak (
Planet Hulk
,
Code Monkey Save World
), and artist Giovanni Valletta (
Dark Horse Presents
) have been tapped as the creative team to bring the world of the hit-film franchise
John Wick
to the pages of comics, thanks to a new partnership between Dynamite Entertainment and Lionsgate Films. Slated to launch on September 6th, the new series will offer fans of the massively popular character the opportunity to discover his thrilling origin story for the very first time!
When a young
John Wick
emerges from prison and embarks upon his first epic vendetta, he comes up against a strange, powerful community of assassins and must learn how to master the Book of Rules that guides their lethal business. What are the Three Bills? Who is Calamity? And who was
John Wick
before he became the Baba Yaga?
Writer Greg Pak says, "I was on board pretty much as soon as I got the call and heard '
John Wick
.' I'm a huge Keanu Reeves fan and loved the
John Wick
movies, which had the kind of kinetic action and intriguing mythology that seemed like a perfect fit for comics. I'm also always happy to work with my friends at Dynamite, who are always a pleasure to make comics with. And the art I saw from Giovanni Valletta blew my mind -- he's totally nailing Keanu Reeves' likeness while creating emotional, dynamic, exciting action. This book is going be BEAUTIFUL. But what really sealed the deal was when Dynamite Editor Anthony Marques said we had the greenlight to tell a John Wick origin story. That was astounding to me -- we're not just telling another fun adventure with the character; we're actually going to be able to add to this character's and world's tremendous mythology by telling an origin story! What could be cooler than that?"
Greg Pak is a Korean-American filmmaker and comic book writer best known for his award-winning feature film
Robot Stories
, his blockbuster comic book series like
Planet Hulk
and World
War Hulk
, and his record-breaking Kickstarter publishing projects with Jonathan Coulton, including
Code Monkey Save World
, Kickstarter's highest grossing original graphic novel of all time. Pak's recent comics projects include the creator-owned series
Kingsway West
,
Big Trouble in Little China
,
Escape from New York
, and
The Totally Awesome Hulk
and
Weapon X
for Marvel. Pak's feature film
Robot Stories
played in 75 festivals, won 35 awards, screened theatrically across the country, and is now available on DVD from Kino. Pak's feature screenplay
Rio Chino
won the Pipedream Screenwriting Award at the IFP Market and a Rockefeller Media Arts Fellowship. Pak also wrote the screenplay for the feature film
MVP
, which premiered at the 2004 Sundance Film Festival.
Artist Giovanni Valletta says, "When Dynamite Editor Anthony Marques asked me if I would like to do some tryouts for this project, I immediately jumped at the opportunity. I loved the
John Wick
film so much, and have been a fan of Keanu Reeves and his work for as long as I can remember. I couldn't be happier to have been picked to work on this project, and I hope the love I have for this movie shines through in my work."
Giovanni Valletta was raised in Caracas, Venezuela and studied Illustration at the Caracas Institute of Design before continuing his studies with Jesus Pastore at the Art Center School of Design. Once Valletta decided to turn his career towards the comic book industry, he attend the Kubert School of Cartooning and Graphic Art, from which he graduated in 2010. Shortly after graduation, Valletta began working for Tell A Graphics alongside owner Joe Kubert, and became a member of the teaching staff at the Kubert School in 2012. His artwork has been featured by a number of top-tier publishers, and is best known for his work on
Dark Horse Presents
and
Pathfinder: Worldscape
.
"
John Wick
is an incredible character - he and the world he inhabits are mysterious, thrilling, sexy, and contagious," says Anthony Marques, Editor for Dynamite Entertainment. "The series that we are doing develops that world even further by delving into his official origin story for the first time. We couldn't have been more fortunate than to have Greg Pak come on board to craft this tale. He has such a great understanding of the characters, their world, and their voices. The artwork Giovanni Valletta is creating is going to leave people breathless. He's found a way to truly immerse the readers into the world of
John Wick
in a way that I don't think any other artist would have been able to. The thrills, speed, and action are all there on the page!
Marques continued, "This whole process has been an amazing ride - almost as thrilling at the films! We've received the blessings from all of the creators involved with the films, every step of the way. That includes the writer/creator of
John Wick
Derek Kolstad, as well as Thunder Road, Lionsgate, and even Keanu Reeves. This book is the real deal and people are not going to be disappointed."
"I have been a huge fan of the
John Wick
franchise since it was first released in 2014," says Dynamite CEO and Publisher, Nick Barrucci. "When I broached the idea in our editorial meeting, it was unanimously agreed upon! The entire Dynamite team is thrilled to have the opportunity to work on such a great property, and we're excited to work with the amazing team at Lionsgate Films to make this new hit comic book series happen!"
The action-adventure film franchise
John Wick
launched in 2014 and follows the titular hero, a deadly hitman, as he seeks vengeance for the death of a loved one. Directed by Chad Stahelski and David Leitch, and written by Derek Kolstad, the critically-acclaimed first installment starred Keanu Reeves and grossed close to $90 million worldwide. Based on the box office success of the first film, the series was greenlit for a sequel, and
John Wick 2
opened in February 2017, grossing $165 million worldwide to date. The new partnership between Dynamite Entertainment and Lionsgate Films marks the first time the series will be published in comic book form.
John Wick
will be solicited in Diamond Comic Distributors' July 2017
Previews
catalog, the premier source of merchandise for the comic book specialty market, and slated for release in September. Comic book fans are encouraged to reserve copies of
John Wick #1
with their local comic book retailers.
John Wick #1
will also be available for individual customer purchase through digital platforms courtesy of Comixology, Kindle, iBooks, Google Play, Dynamite Digital, iVerse, Madefire, and Dark Horse Digital.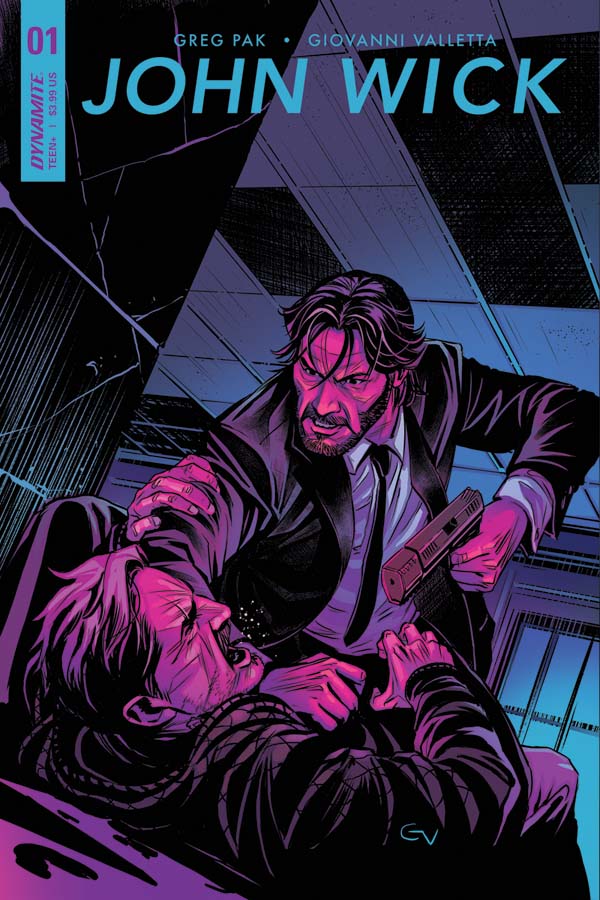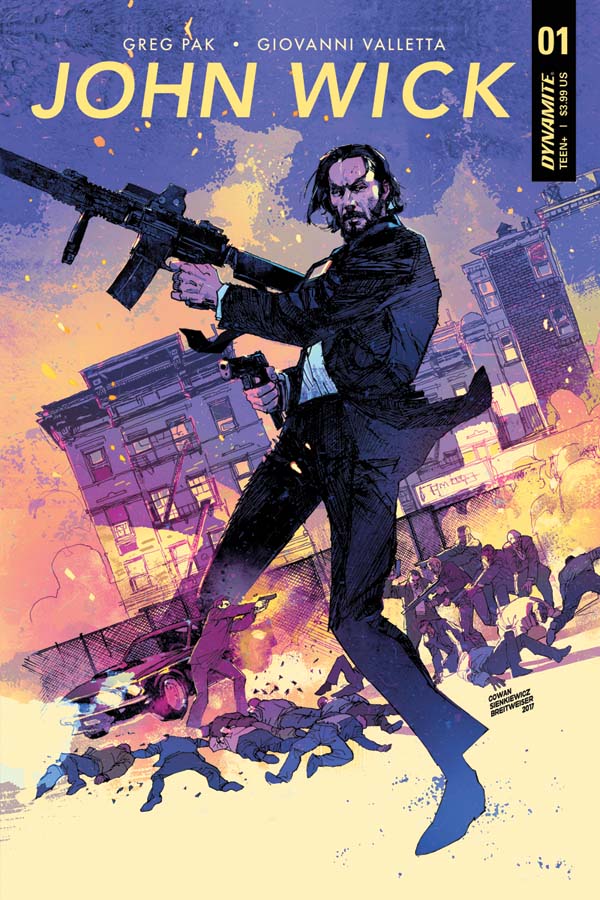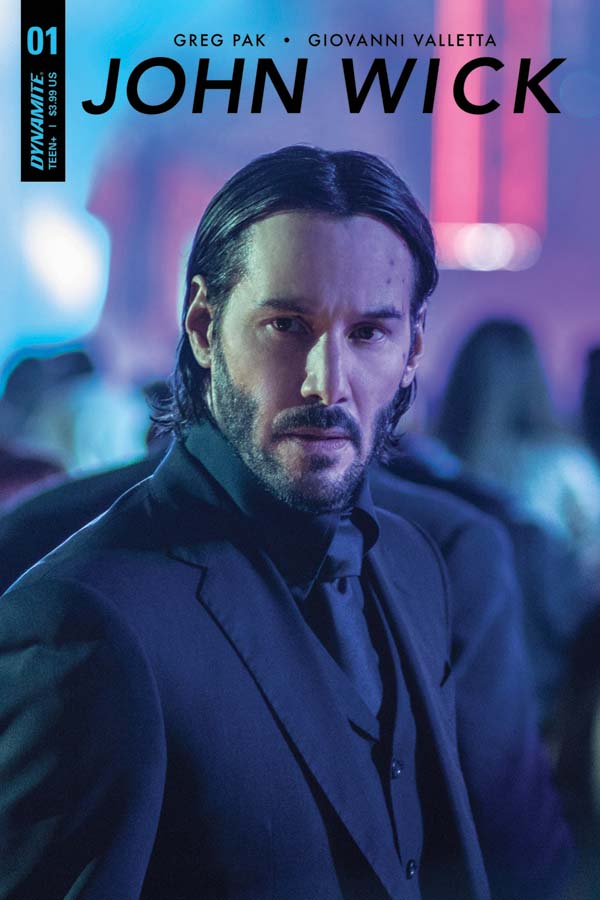 Dynamite is making a giant splash in July 2019 with a new Vampirella series by top tier creators like Christopher Priest, as well as reprints and collections of highly sought after recent and classic material, and lots of special items for fans. But in addition to celebrating the 50 years of Vampi, Dynamite looks to the future of Vampirella comics with a blank comic for aspiring creators!
Dynamite is offering the Vampirella Blank Comic Book. This standard length comic book sports sketch-quality blank interior pages and a cover with just logo treatment. Dynamite is embracing the extraordinary talents of their fanbase and the comics community to experiment and produce their own Vampi stories.
People can take on the project solo or collaborate with friends to write, draw, ink, color and letter a full length story. Or split up the pages for an anthology in the vein of the original magazine. Another challenge would be to follow the famous 24-hour comic challenge. An artist drawing in this book could be the next José González, Amanda Conner, Mike Mayhew or Ergün Gündüz, finding themselves professionally drawing the Daughter of Drakulon someday. Or writing, in the footsteps of Archie Goodwin, Kurt Busiek, Mark Millar or Christopher Priest.
05/17/19 @ 1:26 pm EST
Dynamite Entertainment announces its Editorial and Sales team will embark once more on a journey to the Diamond Retailer Summit and that special covers will be available to retailers.
Joseph Rybandt, Executive Editor and Patrick O'Connell, Sales Manager will be at the summit to present to and speak with retailers about all of Dynamite's exciting recent and upcoming releases and initiatives. Including discussion of the upcoming Vampirella #1 written by Christopher Priest, the crossover with Archie Comics and an upcoming series by Gail Simone!
At the Dynamite booth, participating retailers will be able to receive four limited edition covers for Red Sonja & Vampirella Meet Betty & Veronica. Upcoming Vampirella ongoing artist Ergün Gündüz illustrated a cover with the four fan-favorite heroines taking a selfie together. Dressed and virgin versions of the cover will be available. In addition to high-end premium $50 virgin cover editions of the Fay Dalton and Cat Staggs variants.

"We love our retail partners in the industry. The ones attending the Diamond Seminar are taking time out of being in their stores and investing their time and money to be at the show. Dynamite is honored to be able to present our upcoming publishing schedule and all the exciting projects we have for the rest of this year, going into 2020! We want to thank them for coming by in giving away multiple items to help them recoup some of their expenses," said Nick Barrucci, Dynamite CEO and Publisher.



05/16/19 @ 2:28 pm EST
Fwoosh! What sound effect does a boomerang make? Find out this August when Dynamite releases THE DEATH-DEFYING 'DEVIL #1 by Gail Simone and Walter Geovani! The Master of Courage returns!
The nearly 80-year-old legendary superhero returns in a miniseries from Eisner-nominated writer Gail Simone (Birds of Prey, Wonder Woman, Domino) and her longtime artistic collaborator Walter Geovani (Red Sonja, Clean Room). Colorist Adriano Augusto (Red Sonja/Tarzan, KISS: Blood & Stardust) and prolific letterer Simon Bowland (Red Sonja, The Boys) round out the cast.

In this yarn inspired by Rod Serling, Bronze Age horror/mystery anthologies, and modern street-level heroics, the 'Devil finds himself beaten and bloodied in the backyard of a ramshackle apartment building. The diverse cast of tenants take him in and across each issue they are explored in-depth. Each has their own unique problems, while a strange force also menaces the building as a whole. The 'Devil makes it his mission to solve all of these puzzles, even when he learns that one of his new neighbors is a traitor.

A whole legion of painterly artists are contributing covers to this blockbuster series. Riccardo Federici (Aquaman, Dark Nights Metal: Dark Knights Rising) leads the pack, Tyler Kirkham (Deathstroke, Green Lantern, Teen Titans) has some fun with a spray effect, Ben Oliver (American Carnage) turns in a playing card-inspired cover featuring the villain Deadly Dreaded Dragon, while fan-favorites Lucio Parillo (Vampirella, Red Sonja) and In-Hyuk Lee (Black Order, Spider-Geddon) strike iconic heroic poses. As a throwback for Project Superpowers fans, a special incentive "Carve Out" cover features Alex Ross's history-making depiction.