Dynamite Entertainment, in response to the public's overly positive reaction to Gail Simone's
Swords of Sorrow
crossover event, is proud to build upon the enthusiasm with an all-new one-shot special entitled
Swords of Sorrow: Miss Fury / Lady Rawhide
, bringing together two iconic comic book heroines. Dynamite is also announcing that a special cover variant of
Swords of Sorrow
#3 has been created to celebrate the cosplay phenomenon, featuring four cosplayers in a reenactment of J. Scott Campbell's cover from issue #1.
The photograph featured as the Cosplay Edition of
Swords of Sorrow
#3 was the brainchild of cosplayer Tabitha Lyons, who approached photographer Andrew Dobell of Creative Edge Studios with the idea to reenact the cover to
Swords of Sorrow
#1, as illustrated by industry superstar J. Scott Campbell. The original cover depicts four stars of the series: Red Sonja and Vampirella (two characters with long traditions of comic book adventuring), as well as literary heroine Dejah Thoris (from the
Warlord of Mars
novels and comics) and Jana from Frank Cho's
Jungle Girl
. The photo reenactment features four lovely cosplayers: Tabitha Lyons as Red Sonja, Tasha Mackenzie as Dejah Thoris, Chiquitita Cosplay as Jungle Girl, and Mojo Jones as Vampirella. Fans and cosplay enthusiasts everywhere can look for this cover edition to hit stores on July 8th.
Gail Simone was especially excited by the creation of this photo edition, and the dedication of Creative Edge and the cosplayers themselves. "This is kind of a dream come true for me," says Simone. "So many times, at conventions, I've seen magnificent cosplayers beautifully photographed in these incredible poses, and I've often thought, 'Wow, that should be a cover.' But it never seems to happen! Then I saw this shot, just as a thumbnail, on social media, and it was so perfectly realized, with cosplayers so spot-on and just so all-around gorgeous, at first I was convinced it was a painting of the cover of our first issue. It took a moment to realize the depth of their remarkable re-creation. I love it, and I'm thrilled to have this be our first cosplay cover. I hope it's the first of many. Incredible work to everyone involved, the cosplayers, photographer and costume maker all are astounding!"
Slated for release in September, the
Swords of Sorrow: Miss Fury / Lady Rawhide
special unites the rebellious Western heroine of yesteryear with the unpredictable -- perhaps dangerously so -- costumed crime-fighter, whether they like it or not. Written by Mikki Kendall and illustrated by Ronilson Freire, the one-shot comes with a cover by artist Mirka Andolfo.
Regarding
Swords of Sorrow
and her contribution to the event, Kendall says, "Any time you get a chance to fulfill a childhood dream of writing comic books, it is of course very exciting. To be able to do it as part of the
Swords of Sorrow
event with such an amazing group of women writers is unreal. When this project first came up, I was afraid to get my hopes up, and I have been pinching myself throughout this process because I get to work with such fabulous writers. Between Gail Simone, Nancy Marguerite Bennett, Leah Moore, Mairghread Scott, Emma Beeby, Mikki Kendall, Nancy A. Collins, and G. Willow Wilson, it's like a master class in being a woman in comics. I love being able to take a cheesecake character like Lady Rawhide and show her really getting her hands dirty, and taking Miss Fury on a wild ride right alongside her. Getting to play in a shared world and really let my imagination run wild for the story was so much fun. And the villains...you have to really love being able to set up such wonderful conflicts for characters that don't get as much love as they deserve."
Swords of Sorrow
and related titles are solicited in Diamond Comic Distributors'
Previews
catalog, the premiere source of merchandise for the comic book specialty market. Comic book fans are encouraged to reserve
Swords of Sorrow
with their local comic book retailers. All
Swords of Sorrow
titles are also available for individual customer purchase through digital platforms courtesy of Comixology, Dynamite Digital, iVerse, and Dark Horse Digital.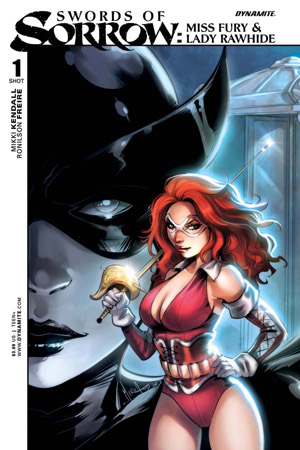 Dynamite Entertainment announces a Kickstarter for upgraded packaging and contents for the Bettie Page Deluxe Ultra-Premium Sketch Card Collection. Adorers of Bettie's timeless beauty and sketch card fanatics can check out the campaign for great value on packs and boxes, including one-of-a-kind sketch cards and other bonuses! Famed wrestler, commentator, artist and Bettie superfan Jerry "The King" Lawler will not only be featured as an additional card premiering via Kickstarter, but will also be contributing signed and exclusive sketch cards to the set with a unique design!

The Bettie Page Sketch Cards Kickstarter is live now, visit here: BETTIE PAGE DELUXE ULTRA-PREMIUM SKETCH CARD COLLECTION

Following successful and fan-favorite comic book series, Dynamite is bringing Bettie to trading cards! Bettie's timeless All-American sensuality and playfulness is captured expertly by top-of-the-line artists included in this set including Joseph Michael Linsner, David Williams, John Royle, Scott Chantler and more! Also included are some of the most iconic photographs of the beauty legend. Dynamite will also be bringing in the hottest sketch card artists for thousands of one-of-a-kind exclusive pieces.

The special Jerry Lawler promo card is inspired by the iconic work of 1980s painter Patrick Nagel. This uniquely designed chase card as well as signed versions will be included in a limited number of packs. Including ultra rare Gold Elite Signature Series cards! Backers on Kickstarter for one or more packs are guaranteed one of these cards!


"I've been a Bettie Page fan for a long, long time," said Jerry Lawler. "As an artist myself, I've always been a huge fan of pinup art from models and legends like Gil Elvgren and Olivia. Bettie and I are both from the beautiful state of Tennessee. There was a kind of connection. I was ...
Dynamite is making a giant splash in July 2019 with a new Vampirella series by top tier creators like Christopher Priest, as well as reprints and collections of highly sought after recent and classic material, and lots of special items for fans. But in addition to celebrating the 50 years of Vampi, Dynamite looks to the future of Vampirella comics with a blank comic for aspiring creators!
Dynamite is offering the Vampirella Blank Comic Book. This standard length comic book sports sketch-quality blank interior pages and a cover with just logo treatment. Dynamite is embracing the extraordinary talents of their fanbase and the comics community to experiment and produce their own Vampi stories.
People can take on the project solo or collaborate with friends to write, draw, ink, color and letter a full length story. Or split up the pages for an anthology in the vein of the original magazine. Another challenge would be to follow the famous 24-hour comic challenge. An artist drawing in this book could be the next José González, Amanda Conner, Mike Mayhew or Ergün Gündüz, finding themselves professionally drawing the Daughter of Drakulon someday. Or writing, in the footsteps of Archie Goodwin, Kurt Busiek, Mark Millar or Christopher Priest.
05/17/19 @ 1:26 pm EST
Dynamite Entertainment announces its Editorial and Sales team will embark once more on a journey to the Diamond Retailer Summit and that special covers will be available to retailers.
Joseph Rybandt, Executive Editor and Patrick O'Connell, Sales Manager will be at the summit to present to and speak with retailers about all of Dynamite's exciting recent and upcoming releases and initiatives. Including discussion of the upcoming Vampirella #1 written by Christopher Priest, the crossover with Archie Comics and an upcoming series by Gail Simone!
At the Dynamite booth, participating retailers will be able to receive four limited edition covers for Red Sonja & Vampirella Meet Betty & Veronica. Upcoming Vampirella ongoing artist Ergün Gündüz illustrated a cover with the four fan-favorite heroines taking a selfie together. Dressed and virgin versions of the cover will be available. In addition to high-end premium $50 virgin cover editions of the Fay Dalton and Cat Staggs variants.

"We love our retail partners in the industry. The ones attending the Diamond Seminar are taking time out of being in their stores and investing their time and money to be at the show. Dynamite is honored to be able to present our upcoming publishing schedule and all the exciting projects we have for the rest of this year, going into 2020! We want to thank them for coming by in giving away multiple items to help them recoup some of their expenses," said Nick Barrucci, Dynamite CEO and Publisher.



05/16/19 @ 2:28 pm EST
Fwoosh! What sound effect does a boomerang make? Find out this August when Dynamite releases THE DEATH-DEFYING 'DEVIL #1 by Gail Simone and Walter Geovani! The Master of Courage returns!
The nearly 80-year-old legendary superhero returns in a miniseries from Eisner-nominated writer Gail Simone (Birds of Prey, Wonder Woman, Domino) and her longtime artistic collaborator Walter Geovani (Red Sonja, Clean Room). Colorist Adriano Augusto (Red Sonja/Tarzan, KISS: Blood & Stardust) and prolific letterer Simon Bowland (Red Sonja, The Boys) round out the cast.

In this yarn inspired by Rod Serling, Bronze Age horror/mystery anthologies, and modern street-level heroics, the 'Devil finds himself beaten and bloodied in the backyard of a ramshackle apartment building. The diverse cast of tenants take him in and across each issue they are explored in-depth. Each has their own unique problems, while a strange force also menaces the building as a whole. The 'Devil makes it his mission to solve all of these puzzles, even when he learns that one of his new neighbors is a traitor.

A whole legion of painterly artists are contributing covers to this blockbuster series. Riccardo Federici (Aquaman, Dark Nights Metal: Dark Knights Rising) leads the pack, Tyler Kirkham (Deathstroke, Green Lantern, Teen Titans) has some fun with a spray effect, Ben Oliver (American Carnage) turns in a playing card-inspired cover featuring the villain Deadly Dreaded Dragon, while fan-favorites Lucio Parillo (Vampirella, Red Sonja) and In-Hyuk Lee (Black Order, Spider-Geddon) strike iconic heroic poses. As a throwback for Project Superpowers fans, a special incentive "Carve Out" cover features Alex Ross's history-making depiction.