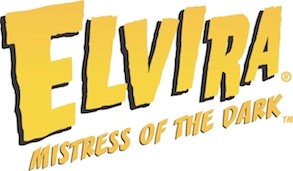 Dynamite Entertainment is proud to announce that
Elvira
, Mistress of the Dark - the beloved horror icon brought to (after)life by actress Cassandra Peterson - will join their line of licensed pop culture properties courtesy of a new licensing agreement with Queen "B" Productions and DevlinAgency. The publisher will develop and manufacture a wide variety of product categories including comic books, trading cards, posters, lithographs, card games, and board games.
With her signature blend of sex appeal, fearlessness, sarcasm, and smarts,
Elvira
rose to stardom in 1981 as the nationally syndicated hostess of
Elvira's Movie Macabre
. Her distinct personality a hit with audiences everywhere, she evolved quickly into a cultural icon and film star (including two motion pictures,
Elvira,
Mistress of the Dark
and
Elvira's Haunted Hills
). Becoming a universally recognized brand,
Elvira
is a hallmark of Halloween costumes, action figures, pinball machines, Halloween decor, model kits, calendars, perfume, and dolls, and over the course of thirty-plus years, has served as a spokesperson for global brands including Coors and Pepsi.
Cassandra Peterson says, "Where better to find 'Yours Cruelly' then with my fellow freaks and fiends of the comic book scene? Nooo….of corpse I'm not talkin' about you, darling, but the ghouls and goblins in the pages of my very own Dynamite comic book! I can't wait to light this powderkeg!!"
Scott D. Marcus, President of DevlinAgency says, "We are thrilled to be working with Dynamite on new ELVIRA comic books, and many other exciting consumer products. We took our time to find the right company to carry on the tradition of ELVIRA comic books and ultimately chose Dynamite because of their talent, marketing, and distribution....and they are cool dudes!"
Nick Barrucci, CEO and publisher of Dynamite Entertainment, says, "
Elvira
is timeless. Who else straddles the line between camp and class like Cassandra Peterson's adored alter-ego? Her image is blazoned in the mind's eye of a generation, a fierce and feminine figure as fresh on October 31st, 2017, as she was when she appeared on October 31st, 1981. It's a delight to bring her fans (and her fiends) a wickedly wide array of brand-new comics, games, and merchandise, as we expand our merchandising categories."
"I think we're all pretty excited to bring
Elvira
back to comics," says Kevin Ketner, Assistant Editor at Dynamite. "Just taking a look at how people consume media and have embraced horror movies and camp, it's a perfect time! Plus, she's absolutely iconic. She's the horror host that is currently missing from our lives and our comic shops… or digital outlets."
Fans are encouraged to subscribe to Dynamite's social media for the latest news and updates on product development and release. Dynamite Entertainment products are available at comic book stores worldwide, and digital comics are available through Comixology, Kindle, iBooks, Google Play, Dynamite Digital, iVerse, Madefire, and Dark Horse Digital.
The critically acclaimed creative team of The Lone Ranger are back together for special sequences in issues 3 and 4 of the new hit Red Sonja series, Dynamite announces.
Bob Q will join Russell (The Flintstones), artist Mirko Colak (Conan), colorist Dearbhla Kelly (The Wild Storm: Michael Cray) and letterer Hassan Ostmane-Elhaou (Peter Cannon: Thunderbolt) to illustrate special pages revealing episodes from Sonja's adventuring past. These short flashbacks will inform her actions in the present as Queen of Hyrkania and even foreshadow coming events. Fans of their previous collaboration should be especially happy to see Bob drawing horses again!


These new story pages are in addition to Bob's existing "Seduction" variant covers on each issue depicting Red Sonja encountering classic mythical creatures and legends.

The man of the hour himself, Bob, Q, shares, "I'm incredibly excited to team up with Mark again on Sonja. I've loved sword and sorcery tales since I was a kid, so this is a dream come true. Alongside Mark's deep appreciation and knowledge of history, I'm pulling inspiration from ancient, real-world sources which will hopefully give the series a unique feel while still remaining true to its roots."

"I loved working with Bob on The Lone Ranger and he brings a really good kinetic energy to his art which will be fantastic for Red Sonja," said Mark Russell. "Where Mirko has excelled creating a highly detailed and realistic world, Bob will complement it with his energy and humor."

Editor Nate Cosby adds, "We're stupefyingly lucky to bring in Bob to illustrate a story-within-a-story for these two issues, where we see Sonja at different points in her life."

Red Sonja #3 & #4 are solicited ...
Dynamite Entertainment has some awesome announcements just in time for Toy Fair 2019!

Dynamite is producing their first ever crossover enamel pins in collaboration with Archie Comics. Due for release in May to coincide with the launch of the bombastic Red Sonja and Vampirella Meet Betty and Veronica crossover, the four limited edition pins feature the eponymous stars of the comic in iconic headshot form. Each 1.5" diameter pin is designed by award-winning artist Francesco Francavilla, based on his amazing cover artwork from the first issue.

Enamel pins have blown up in popularity the last several years, fueled by unique inspiring artists like Francavilla and collectors sharing their finds on social media. Dynamite has fulfilled rabid fans so far with pins featuring Red Sonja, Vampirella and the Chaos! Universe. The pins will be available as a discounted set as well as separately for super fans of the characters. Dynamite encourages everyone to collect them all!
"I've been working for both Dynamite and Archie Comics for a decade now, so when I was approached with the first crossover between these two favorite publishers of mine, I was ecstatic," said Francesco Francavilla. "Not only was I asked to do a cover featuring four of the best, strongest female characters in comics, but I also got to do pins for each character. Best. Crossover. Ever!"
"Francesco's vision of Archie is iconic and legendary, so when it came time to bring this crossover to life in pin form, having his take made perfect sense," said Archie Comics Co-President Alex Segura. "Dynamite did a fantastic job putting these together and we're happy to be a part of it.
"I can't express how happy I am to not only have a great crossover with our friends at Archie, but also to take it ...