11/21/17 @ 3:46 pm EST
Dynamite Entertainment proudly brings together two of its bestselling brands for a horror/music extravaganza in KISS/Army of Darkness #1, the debut issue in a new comic book series uniting the legendary rock 'n' roll band with the comic industry's grooviest of character! Written by Chad Bowers and Chris Sims (X-Men '92, Deadpool) and illustrated by Ruairi Coleman (Star Wars: Rebels, TMNT Amazing Adventures), the KISS/Army of Darkness miniseries event is set to launch in February 2018.

KISS is on top of the world and rocking faces until the night disciples of The Destroyer show up and the band disappears. With the tour canceled, a young Ash misses one of the most important events of his life that will change his destiny. Now the Chosen One has to get back on the right path and join the KISS ARMY OF DARKNESS.

Co-writer Chad Bowers says, "With Ash vs. The Army or Darkness, Chris and I were given kind of carte blanche to do whatever we wanted to the world of AOD, and we went for broke. We introduced some new characters and concepts, and built a legacy for Ash's comics adventures that I'm immensely proud of, but not in a million years could I have guessed we'd get to continue that momentum with the added bonus of tossing the world's greatest rock n' roll band into the mix! I've been in the tank for KISS since I was in middle school. I remember buying the KISS tribute album, KISS My Ass for the Lemonheads (they covered Plaster Caster), which lead to me picking up Greatest Hits, and so on. But when I found out there was a KISS comic with blood in it, I signed up for life! Of course, I adore the songs (literally listening to Do You Love Me right now), but I'm just as obsessed with the way KISS transcends the music to become something of a genre themselves. It's something I think about a lot, honestly, so no surprise, it's a big part of our story too!"

Co-writer Chris Sims says, "When it comes to Army of Darkness, I guess you could say that Ash is a bit of a gambler, but he's nobody's fool. And since our first story was set back at Alan Shepard High, we're looking forward to showing him some things that you can't learn in school. Okay, okay, I'll stop with the deep-cut lyrics now, but for real -- if you thought Deadites at Homecoming and the Supernatural Military-Adjacent Response Team were taking Ash in a new direction, just wait until you see how we team him up with the Starchild, Space Ace, the Demon, and the Catman. In the grand tradition of the film, we're tearing up the entire space-time continuum and if you think you know how weird this is gonna get... well, you sure know somethin'!"

Artist Ruairi Coleman says, "Having done some work for Dynamite in the past, I've really been wanting to get my foot in the door here for a long time so I can play in the sandbox of the amazing licenses they have. Chief among those, and high up on my bucket list, is Army of Darkness: Hail to the king, baby! So, when I was offered the job of drawing the KISS/Army of Darkness crossover, I couldn't believe my luck! The concept is totally bonkers, but in a way, that would make complete sense in the world of Army of Darkness. Thinking about it, I'm surprised it hasn't been done already and I'm honored (and more than a little intimidated) to be the guy who draws it."

"After a more than 40-year career, KISS continues to be one of rock's most celebrated bands, while Army of Darkness continues to be a staple in the comic book industry. We're both honored to have the opportunity to work so closely with Gene and Paul to bring their world-renowned alter-egos to comics alongside our very own Ashy Slashy," says Nick Barrucci, CEO and Publisher of Dynamite Entertainment. "The raging guitar chords and pyrotechnic spectacle of their stage shows could have come straight from the pages of the Necronomicon, and this epic battle between The Demon and Deadites will appeal to the hellions in all of us!"

As America's #1 Gold Record Award winning group of all time (and that's in every category), KISS can easily be named one of rock's most influential bands. The Rock N Roll Hall of Famers have released 44 albums and sold more than 100 million albums worldwide. The origins of KISS comic books date almost as far back as the inception as the band itself, having been an integral part of comics culture since their 1977 appearance in Howard the Duck #12 and 1978's Marvel Comics Super Special: Kiss. Today, nearly 40 years later, Dynamite Entertainment is the proud home to the comic book series KISS, KISS: The Demon, KISS/Vampirella, and now KISS/Army of Darkness.



Army of Darkness is a 1992 fantasy/comedy film with strong horror elements starring Bruce Campbell (Burn Notice), the third installment in a trilogy featuring reluctant hero Ash Williams. Directed by Sam Raimi (Spider-Man), the film saw its tough-as-nails, wise-cracking protagonist transported from the modern era to the Dark Ages in his continuing war against demonic evil. Army of Darkness generated a dedicated fan following for its premise and lead actor. Since 2004, Dynamite Entertainment has been the proud home to Army of Darkness comic books.

The debut issue of KISS/Army of Darkness features a wide selection of cover variants, providing fans and retailers with the freedom of choice! Three art covers feature the talents of Kyle Strahm (KISS: the Demon, Army of Darkness/Xena Warrior Princess: Forever….and a Day), Goni Montes (KISS, SwordQuest, Mighty Morphin Power Rangers), and Ken Haeser (KISS: the Demon, Ash vs the Army of Darkness, Hatchet), respectively. XXX limited variant editions in "Black & White" and "Virgin Art" formats are also available as retailer incentives for comic shops that support the launch issue by achieving stocking thresholds.



KISS/Army of Darkness #1 will be solicited in Diamond Comic Distributors' December 2017 Previews catalog, the premier source of merchandise for the comic book specialty market, and slated for release in February 2018. Comic book fans are encouraged to reserve copies of KISS/Army of Darkness #1 with their local comic book retailers. KISS/Army of Darkness #1 will also be available for individual customer purchase through digital platforms courtesy of Comixology, Kindle, iBooks, Google Play, Dynamite Digital, iVerse, Madefire, and Dark Horse Digital.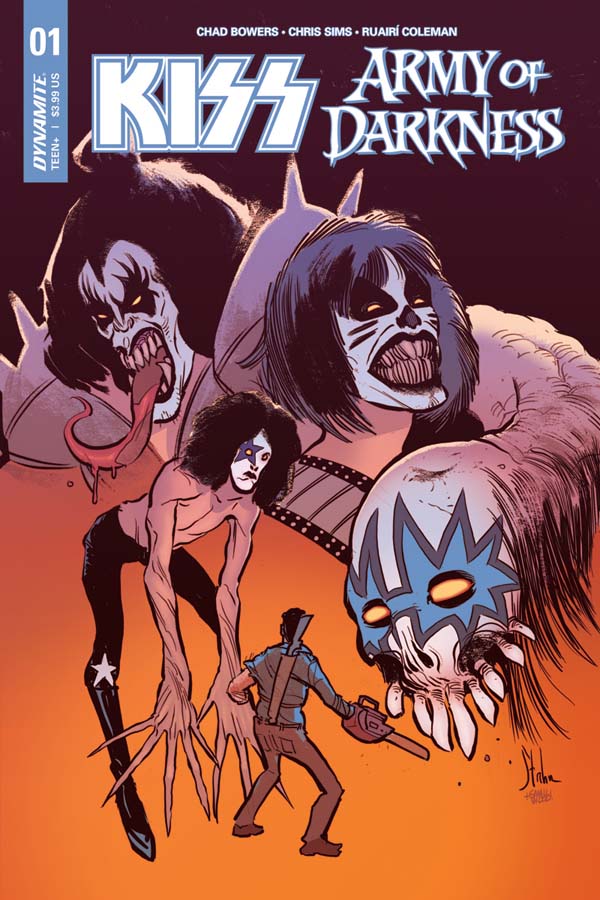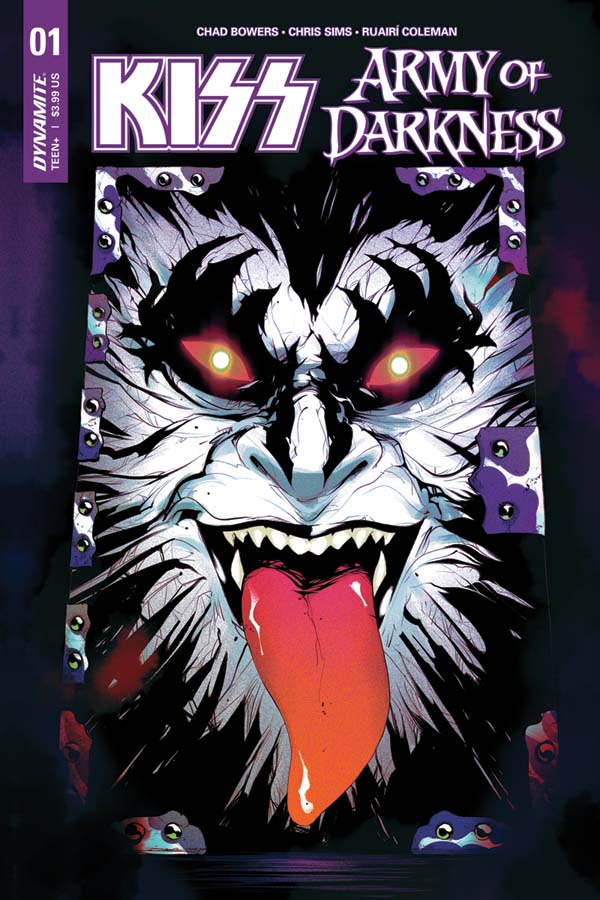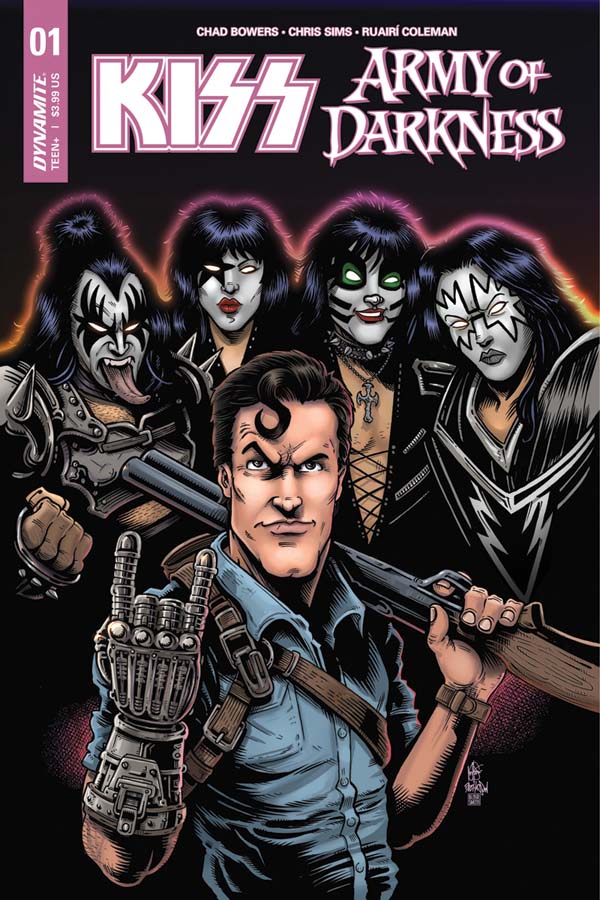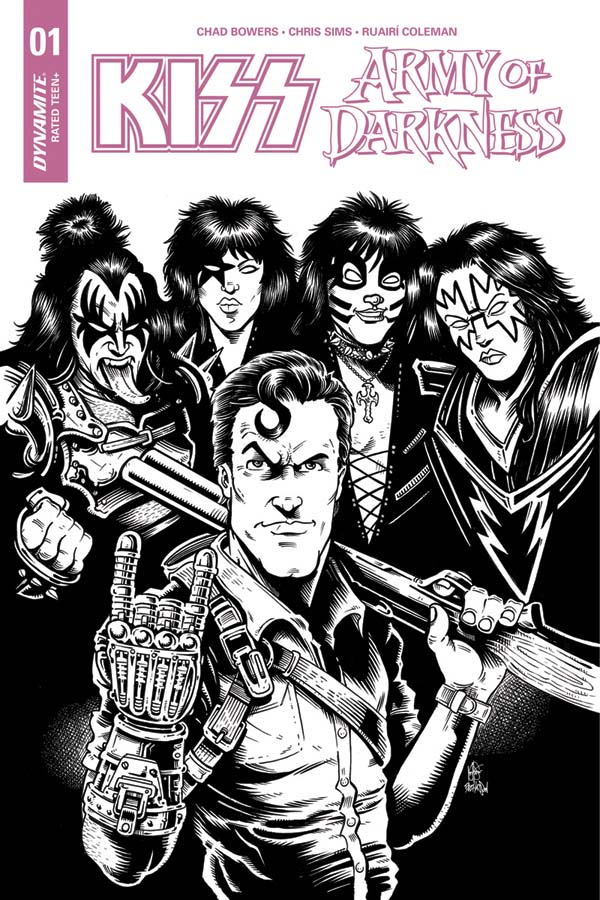 01/23/19 @ 3:11 pm EST
Everyone's favorite pin-up queen and icon of femininity, Bettie Page, continues her classified adventures this April with a new series from Dynamite Entertainment and a deluxe set of Bettie cards for collectors!
Welcome to Bettie Page: Unbound aka the Crisis on Infinite Betties! The Lovecraftian Great Old One Yog-Sothoth has established himself as an inter-dimensional archnemesis for everyone's favorite super model/spy (see the fan favorite Bettie Page Halloween Special!). The monstrous being is opening a dimensional gate to kick off an invasion of Earth, collapsing reality itself in the process. Bettie takes the initiative, as always, to run right into the eye of the storm. Suddenly she finds herself a barbarian queen in the ancient past and will stumble into other multiversal freaky Friday situations. Every Bettie Page issue to this point has been leading to this epic climax.
David Avallone (Elvira, Doc Savage: Ring of Fire) brings the whole gang back for this exciting new chapter. Joining their ingenious writer ringleader are artist Julius Ohta (Sherlock Holmes: Vanishing Man), colorist Ellie Wright (Sherlock Holmes: Vanishing Man) and letterer Taylor Esposito (Batman, Aquaman, Elvira). The team cannot wait to continue uncovering Bettie's secret sagas for fans.
On the cover art front, Bettie is "unbound" from the attitudes of her time and free to express herself in a way she would surely enjoy - cosplay! The Queen of Curves dons a certain Dynamite flagship hero's iconic chainmail armor for a main cover by John Royle (Project Superpowers, G.I. Joe). Fans of Bettie and other Dynamite heroines can look out for a Vampirella variant ...
01/21/19 @ 2:08 pm EST
Dynamite announces a new XENA: WARRIOR PRINCESS ongoing series for April written by Vita Ayala (Black Panther, Shuri, Wonder Woman, The Wilds), illustrated by newcomer Olympia Sweetman, colored by Rebecca Nalty (WWE, Sparrowhawk) and lettered by Ariana Maher (James Bond 007, Nancy Drew).
Journey back to Ancient Greece with the reformed warlord. Take up your swords and chakrams to follow the newest adventures of the cult classic TV phenomenon and her trusted companion Gabrielle. As they will first have to investigate a mysterious village where children are miraculously strong. Could the infamously petty Greek Gods be involved, and if not how long before they stick their meddlesome hands in?

The first issue features a range of stunning covers from today's top talents David Mack (Daredevil, Jessica Jones), Emanuela Lupacchino (Wonder Woman, Supergirl), Erica Henderson (Squirrel Girl), Paulina Ganucheau (Black Panther), as well as Raúl Allén and Patricia Martin (Wonder Woman, Livewire).

Editor Nate Cosby pitches the series in a nutshell to fans new and returning, "Bounding adventures! Amazing episodes that build to a huge overall story! Every action sequence motivated by strong characters and deep emotion! Did you dig the Xena television series? You will ADORE what Vita, Olympia, Rebecca and Ariana are cooking up with this series. And if you don't know what Xena's about? This is the perfect place to start!"
"I am INCREDIBLY excited to be working on Xena! She is my favorite character of all time, and to be able to work on any project ...
01/16/19 @ 8:50 pm EST
As we prepare for our 15th Anniversary celebrations for 2019, Dynamite Entertainment is partnering with Humble Bundle to offer fans unbeatable deals on great series from our extensive library of characters with some of the best creators in the industry. Dynamite has never offered fans a bigger bundle! That's right, this is our biggest bundle ever!
The bundle will only be available for a limited time, so check it out! - Dynamite Fan Faves & New Hits
Not only are these offerings so incredible to reward existing readers and bring in new fans, but proceeds from the promotion will be contributed to the Comic Book Legal Defense Fund. The CBLDF is a non-profit charity with a mission of protecting creators, publishers and more in the comics medium when their rights are threatened.

Humble Bundle's "Pay What You Want" structure allows readers to scale their purchase to their budget or their desired contribution to the charity. Multiple tiers offer the chance for up to 330+ issues - adding up to almost 10,000 pages!! Plus deluxe art books and other goodies. Normally all these goodies could cost readers over $1,270!

Excitingly, the bundle also offers fans previews of the just around the corner releases of RED SONJA #1 from Mark Russell & Mirko Colak and ARMY OF DARKNESS / BUBBA HO-TEP from Scott Duvall & Vincenzo Federici.

Comics included in this bundle feature the absolute greatest writers and artists of this modern era of comic books. The endless list of top tier talents includes Alan Moore, Neil Gaiman, Grant Morrison, Kevin Smith, Mark Millar, Robert Kirkman, Alex Ross, Gail Simone, Warren Ellis, Mark Waid, Garth Ennis, J. Michael Straczynski, Greg Pak, Kurt Busiek, Jim Starlin, Kelly Thompson and SO MANY MORE!

"A ...
01/10/19 @ 10:11 pm EST
Dynamite announces an ongoing set of "Seduction" variants for every issue of the upcoming RED SONJA series from acclaimed artist Bob Q! Each cover will pit Sonja against classic mystical myths...sirens, nymphes, sorceresses, goddesses and more! As illustrated in a deadly yet seductive style, as only an artist as Bob could do it.
"Bob Q is one of the most dynamic and prolific artists in comics," says Red Sonja series editor Nate Cosby. "From THE GREEN HORNET '66 MEETS THE SPIRIT to JAMES BOND ORIGIN to THE LONE RANGER, Bob's unique art and color are a pleasure for the eyes, and his take on Red Sonja covers will be a sight to behold every month!"
Fans should ask their Local Comic Shop whether they ordered copies of Bob's cover for issue #1. Final Order Cutoff for the issue will be Monday, February 14. Fans and retailers can now order RED SONJA #2, by Mark Russell(The Flintstones) and Mirko Colak (Conan), in the March 2019 copy of Diamond's Previews.

The other stunning covers for the first issue include the incomparable works of Amanda Conner (Harley Quinn), Joseph Michael Linsner (Dawn), Christian Ward (Thor), Frank Cho (Wonder Woman) and a cosplay variant featuring model Jesyka Rose.
Read More Here
12/20/18 @ 2:02 pm EST
Dynamite announces a new epic comic based on the hotly anticipated upcoming video game Obey Me. Depicting the adventures of Soul Huntress Vanessa Held and her loyal Hellhound companion Monty, stuck between a war of angels, demons and all those used as pawns or caught up in the crossfire. Obey Me #0 will release March 2019.
The never ending back and forth between Heaven and Hell has been chronicled across all media for centuries upon centuries. Though none have ever captured it quite likeObey Me. The comic book will feature an exciting creative team. Including writer Mario Mentasti, who is also the lead writer of the video game, making this comic an authentic companion experience. Joining him on art is comics legend Ben Herrera (X-Men) and Emmanuel Ordaz Torres. Herrera also drew two marvelous covers for this first issue.
Vanessa Held is a low-ranking lesser demon serving the Archduke of Greed, Ammon. She is tasked with serving his plans and collecting the sold souls of mortals. Join Mentasti, Herrera and Torres in following the occult quest of Vanessa and Monty.

The game is a top-down 3D action brawler, playable by one or two players published by Blowfish Studios and developed by Error 404 Game Studios. Obey Me will be available on PC and consoles. It features a variety of weapons and special abilities linked to an in-depth progression system.

Obey Me #0 will be solicited in Diamond Comic Distributors' January 2019 Previews catalog, the premier source of merchandise for the comic book ...
12/19/18 @ 4:37 pm EST
Dynamite Entertainment announces a full offering of Pathfinder items that will appeal to all kinds of fans. Whether they have been tabletop gaming since 1974, just picked up their first set of dice, or just appreciate stunning statues and high quality comic book storytelling – there is something here for everyone!
First and foremost is the first-ever resin statue for the Pathfinder Roleplaying Game. The next step in the years long strong partnership between Dynamite and Paizo Inc. following years of adapting and expanding the game's lore in comic book form. The limited-edition statue depicts Seoni, one of the most popular heroes in the Pathfinder universe. She is a powerful Varisian spellcaster who was a no-brainer for a statue with her intricate tattoos and distinct clothing, hand-painted for collectors.
Seoni stands approximately a foot tall and is available in multiple variants. The "Spellcasting" version depicts Seoni harnessing her unique magic abilities with a plastic effect. A "Battle Ready" edition alternately gives her a staff and an altered pose. Offered for the first time are special "Diamond Eye" variants for both. Adding real diamonds for her pupils to make Seoni really shine and sparkle on the shelf. Only available in limited quantities, the "Diamond Eye" version is a true grail for collectors.
Also releasing are four
Pathfinder: Worldscape
one-shots previously exclusive to Kickstarter. These fun crossovers bring Dynamite's flagship characters into the cross-dimensional Pathfinder universe. All with covers by Roberto Castro.
Pathfinder: Worldscape - Dejah Thoris
is written by Christopher Paul Carey with art by Roberto Castro. Dejah and Tars Tarkas are investigating a gap in the memory of John Carter when they find themselves hurled across dimensions into a bloody conflict between the Council of Jungle Kings and a Technic League ...
12/19/18 @ 4:35 pm EST
Dynamite Entertainment is proud to announce the upcoming release of The Art of Dejah Thoris and the Worlds of Mars Volume 2. The hardcover collection features 280 pages of full color artwork from some of modern fantasy comics' top illustrators. This highly anticipated follow up to the best-selling first volume includes cover art and pin-ups from Dynamite's hugely popular Warlord of Mars and Dejah Thoris comic series. Featuring a cover by comic book legend Joe Jusko and including the talents of J. Scott Campbell, Frank Cho, Lucio Parillo, Tula Lotay, Mike McKone and many more, this magnificent tome is sure to impress.


Since the first serialized adventures in 1912 of the Martian Princess Dejah Thoris and her beloved hero, John Carter, science fiction and fantasy enthusiasts have dreamed of the faraway Red Planet (known to its inhabitants as Barsoom). Its wonderous sights and monstrous perils. In hundreds of full-color illustrations, the finest artists of modern fantasy have brought the dying world of Mars to life, depicting scenes of brutal conflict with alien beasts, quiet moments overlooking Martian wastes, and enticing visions of an exotic princess at her most intimate.

Dynamite is proud to have contributed to Dejah's century-plus legacy with nearly a decade of fan-favorite comics starring her and John Carter. Including the just finished series by writer Amy Chu and artist Pasquale Qualano and the Barbarella/Dejah Thoris crossover miniseries from Leah Williams and Germán García launching just around the corner in January.

"Dejah Thoris has long been a core and treasured part of our comic book and merchandise lineup. We've been fortunate to work with some of the greatest artists working today on jaw ...
12/18/18 @ 7:00 pm EST
In life, Bettie Page was the undisputed queen of the pin-up. Her legacy has lived on through comic books for decades. In March 2019, Dynamite is celebrating with a special 32-page one-shot showcasing all the beautiful covers from the Dynamite comics.

Bettie Page is an icon and an influence the world over, not only to strong women, but also to creators including the painter Olivia, and in the comics market none so famously as Dave Stevens. Dave's influence for Betty in The Rocketeer is entirely based on Bettie Page. And Dave created a very iconic scene of Betty with a photographer for a pin-up shoot. Before, and moreso since then, Bettie has inspired comic book artists and fans all over. Since 2017, Dynamite Entertainment has brought fans the newly declassified super spy adventures of the globetrotting Bettie. Cleverly written by David Avallone (Elvira Mistress of the Dark) and a talented gang of artists including Julius Ohta (Sherlock Holmes: The Vanishing Man) in the just launched ongoing series available now.

Though the stories and art inside of the comics are always what keep fans coming back to their favorites every month, sometimes you can judge a book by its cover. Fans have been gushing about the gorgeous covers that grace Dynamite's Bettie Page issues. Such as Terry Dodson's "reverse homage" for the first issue of the miniseries, drawing Bettie herself in the same situation as the Dave Stevens classic, ...
12/18/18 @ 7:01 pm EST
Dynamite Entertainment is proud to announce the upcoming release of Jennifer Blood Omnibus. The first four volumes of the happy homemaker by day / violent vigilante by night collected together for the first time. The 760-page tome comes from the brilliant minds of comic icon Garth Ennis and fan-favorite writer Al Ewing and is filled with the pulse-pounding action that made this one of Dynamite's best-selling series.


Meet Jennifer Fellows, your average suburban housewife. Every day she makes breakfast, takes the kids to school, cleans the house, maps for an hour or two, makes dinner, puts the kids to bed, and kisses her husband goodnight then hopes the drugs she gave them in their dinner keep them asleep until morning. Meet Jennifer Blood, ruthless vigilante. Every night she stalks the underworld on a personal vendetta against organized crime, determined to obliterate the parasites and scum who run the city's rackets. But, can she keep her dual life separate?

Besides Jennifer Blood, Ennis is the creator of the hit series Preacher, which is a live-action series for AMC having recently wrapped up it's third season, and The Boyswhich is also being adapted for a television series that will start Karl Urban, Jack Quaid and Elizabeth Shue airing later in the year on Amazon Prime. When Ennis left the series, the baton was passed to The Immortal Hulkwriter, Al Ewing, who continued the characters successful run. Al also wrote the spinoff series The Ninjettes, about three college girls turned into silent killing machines. The collection also includes ...
12/18/18 @ 6:56 pm EST
Dynamite announces artist Ibrahim Moustafa (Mother Panic, The Flash) will be joining writer Jeff Parker (Aquaman, Fantastic Four) on the critically acclaimed James Bond Origin starting with issue #7. The kickoff to the "Russian Ruse" arc and the perfect jumping on point for new readers!

This next era for the series will also feature primary covers by the legendary Dan Panosian (X-Men).


Here are the solicitations details for the issue.

JAMES BOND ORIGIN #7
Price: $3.99
Rating: Teen +
Cover A: Dan Panosian
Cover B: Christian Ward
Cover C: Stephen Mooney
Cover D: Ibrahim Moustafa
Cover E: Bob Q
Writer: Jeff Parker
Artist: Ibrahim Moustafa
Genre: Action/Adventure
Page Count: 32 Pages
On Sale Date: 3/13/2019

A Norwegian supply ship carrying gold mysteriously sinks. A Russian crew claims the Nazis are responsible. Royal Navy Lieutenant James Bond suspects foul play.


Moustafa is a diehard 007 fan, having both written and drawn last year's James Bond: Solstice one-shot. Now he's going way back in time to Bond's early years in World War II with fan-favorite writer Jeff Parker.


"Jeff and I have been friends for years and I'm thrilled that we're finally working together," said Moustafa. "James Bond is my favorite literary character, and to have a hand in the official Fleming canon of Bond's rise through the military ranks toward his destination of Double-0 status is nothing short of a dream come true. Our love for ...
Dynamite, Dynamite Entertainment & The Dynamite Entertainment logo ® 2018 Dynamite. All Rights Reserved.
All books, titles, characters, character names, slogans, logos and related marks are ™ and © their respective owners.
Privacy Policy