Dynamite Entertainment is pleased to announce they have once again partnered with Paizo Publishing for the upcoming launch of their latest
Pathfinder
adventure,
Pathfinder: Spiral of Bones
! Crystal Frasier, best known for her work as writer, developer, and graphic designer on the
Pathfinder
line of roleplaying games, has been tapped to serve as writer, and will be joined by artist Tom Garcia (
Pathfinder: Hollow Mountain, Pathfinder: Origins
) for the upcoming March 2018 release.
As the Pathfinders plunge into the history and mysteries below Kaer Maga-the no-holds-barred 'City of Strangers'-Valeros plunges far deeper into the great beyond, defending his immortal soul in the courts of the dead! From Pathfinder author Crystal Frasier comes this scintillating tale of life, death, and what lingers when we're gone.
Writer Crystal Frasier says, "I'm really excited to write for mainstream comics after writing fiction and gaming material for so long. I've been working with these character for almost a decade, and I'm positively giddy to see them brought to life the way Tom portrays them-lively and expressive and individual. I'm especially excited to get to focus on Valeros. He ends up the butt of jokes pretty often, but he's just a guy trying to do his best for his friends and usually feeling like he's jumped in way over his head. I can relate to that. Now we get a chance to see what makes him tick and what makes him special beyond his sword arm, iron liver, and animal magnetism."
Crystal Frasier is a writer, game developer, and graphic designer with eighteen years' experience, best known for her work on the
Pathfinder
line of roleplaying games and adventures. She strives to make games worlds where everyone can see themselves reflected. She is a survivor of both the Art Institute of Seattle and New College of Florida, and pulls heavy inspiration for her work from European, Central American, and African history as well as the works of L. Frank Baum and Lewis Carroll. In her free time, Crystal reads comics, plays with her dog, and obsessively re-watches old cartoons from the 80s and 90s.
"We have had incredible success publishing the
Pathfinder
series, as it appeals to both comic book and video game fans across the globe," says Nick Barrucci, CEO and Publisher of Dynamite Entertainment. "Paizo Publishing has been an amazing partner to work with these last 5 years, and we're excited to both continue that partnership, as well as provide loyal fans with further tales of mystery and adventure set within the groundbreaking world of
Pathfinder
!"
In 2012, Dynamite Entertainment partnered with video game publisher Paizo Publishing and made headlines across the comic and gaming industries with the news that the New Jersey had secured the rights to produce the first series of
Pathfinder
comics based on the massively popular RPG franchise. The first series, simply entitled
Pathfinder: Dark Waters Rising
launched later that same year to widespread critical-acclaim allowing for further entries into the
Pathfinder
universe. Subsequent story arcs and mini-series include
Of Tooth and Claw
,
Night on the Town
,
City of Secrets
,
Hollow Mountain
,
Runescars
,
Worldscape
,
Goblins
, and
Origins
.
The debut issue of
Pathfinder: Spiral of Bones
features a wide selection of cover variants, providing fans and retailers with the freedom of choice! Four art covers feature the talents of Marco Santucci (
Tekken: Blood Feud, Assassin's Creed: Uprising
), Diego Galindo (
Jim Butcher's Dresden Files: Dog Men
,
Unleash
), Jonathan Lau (
Agent 47: Birth of the Hitman, Pathfinder: Runescars and Worldscape
), and Jen Vaughn (
Cartozia Tales, Adventure Time
), respectively. Limited variant editions in "Black & White" and "Virgin Art" formats are also available as retailer incentives for comic shops that support the launch issue by achieving stocking thresholds.
Pathfinder: Spiral of Bones #1
will be solicited in Diamond Comic Distributors' January 2018
Previews
catalog, the premier source of merchandise for the comic book specialty market, and slated for release in February. Comic book fans are encouraged to reserve copies of
Pathfinder: Spiral of Bones #1
with their local comic book retailers.
Pathfinder: Spiral of Bones #1
will also be available for individual customer purchase through digital platforms courtesy of Comixology, Kindle, iBooks, Google Play, Dynamite Digital, iVerse, Madefire, and Dark Horse Digital.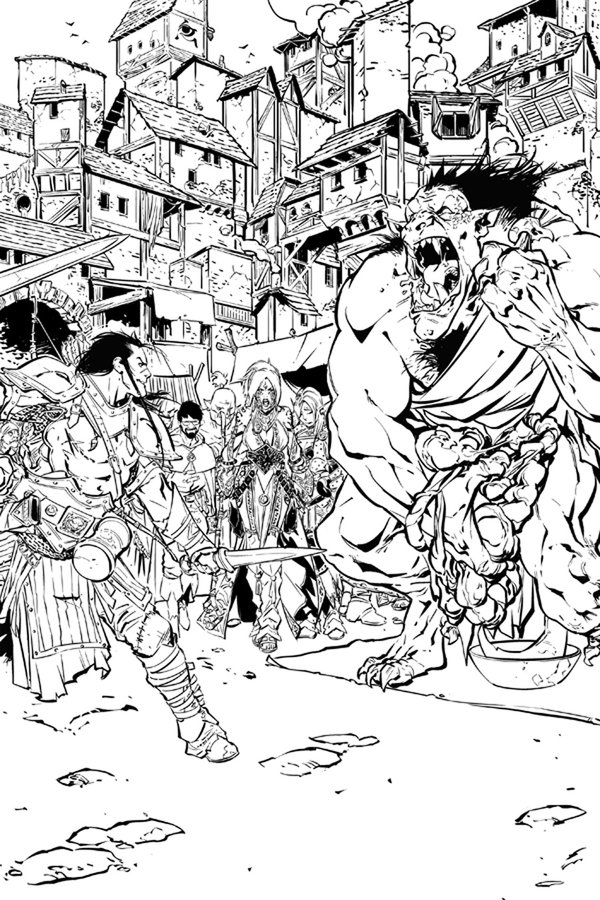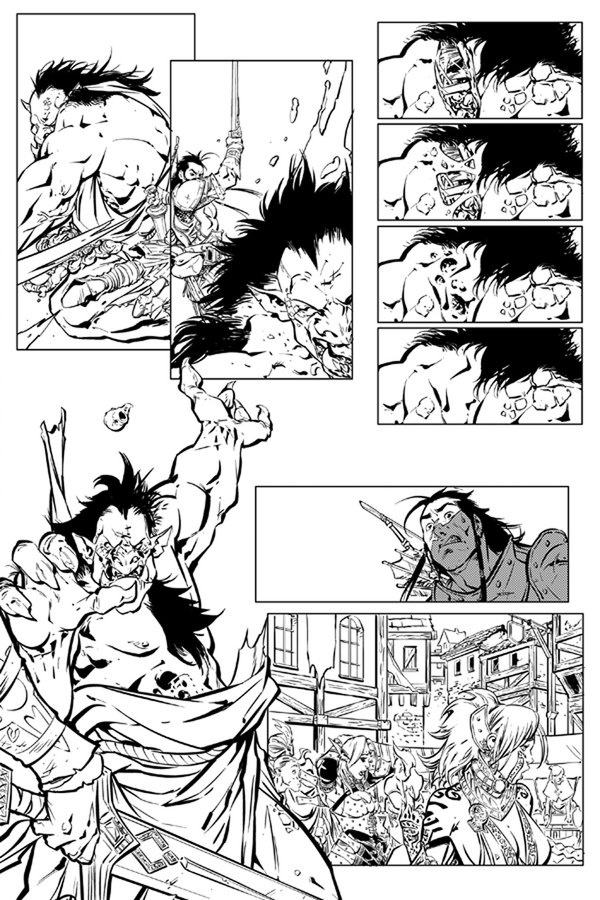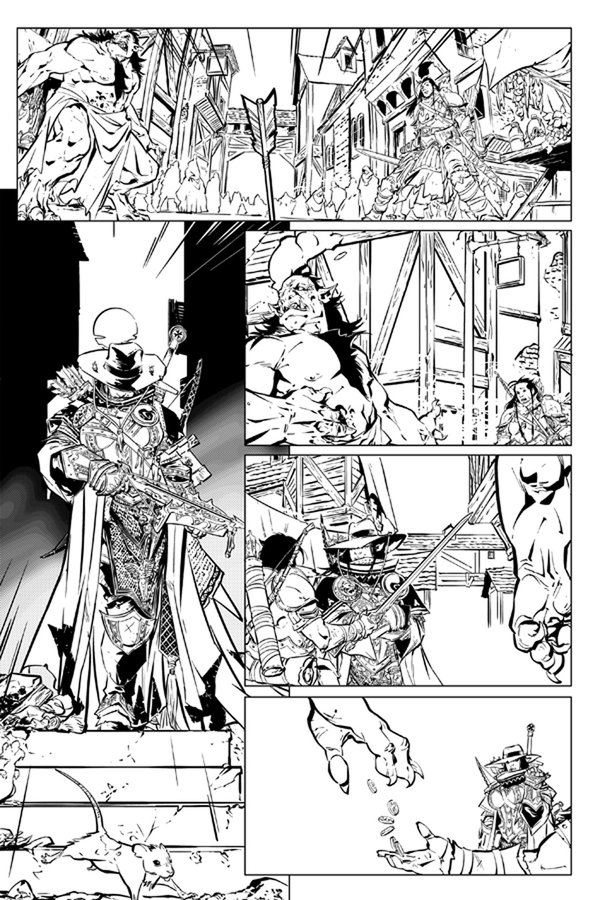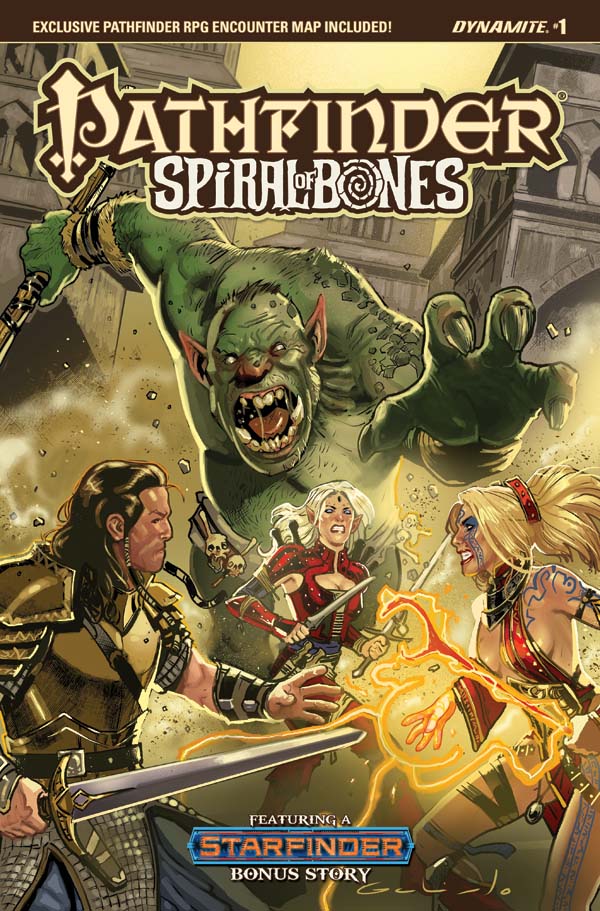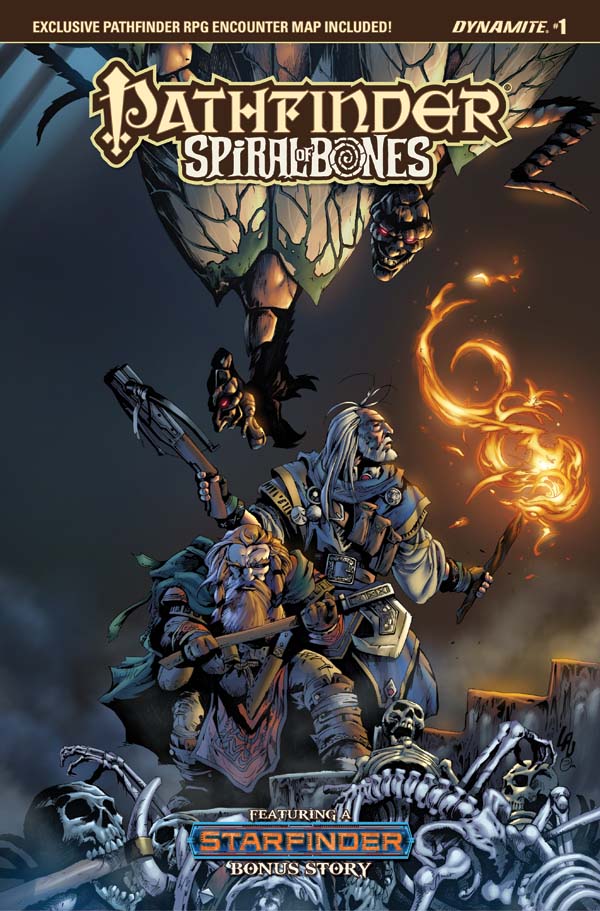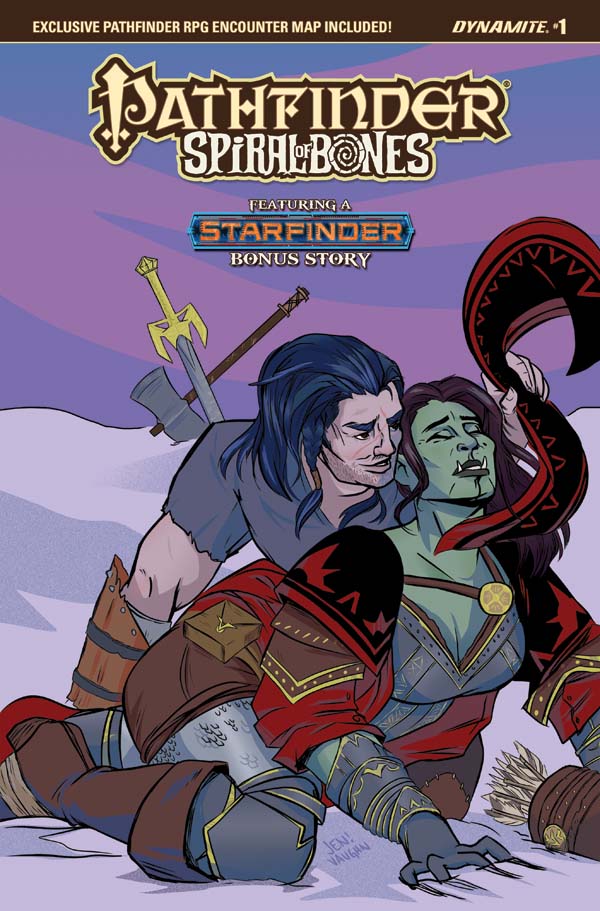 As the summer heats up, Elvira, the legendary Mistress of the Dark is busting out with a brand-new comic book tale for her fiendish fans! THE WRATH OF CON is available right now only on Kickstarter!
Elvira chimed in, "If you're like me, and I know you are exactly like me (wink), you're missing the wonderfully wacky world of San Diego Comic Con this summer. I mean where else can you go dressed like this and feel normal. So since conventions are still DOA, I'm bringing the show to you, my sweeet darlings!"
She has just the treat for everyone! Haven't you always wanted to go to Comic Con with Elvira? Well, with her "Diabolical Double D" creative partners of writer David Avallone (Bettie Page, Drawing Blood) and artist Dave Acosta (Dragon), she's whipped up a fun-filled original story to get everyone through this summer sans San Diego!

In her new story, Elvira is the Guest of Horror at the "San Diego Popculturama" convention. The only problem is, an army of angry maniacs want her head on a platter! In a tale featuring cosplay, celebrity, back issue hunting, and... ritual cult murder - THE WRATH OF CON is not to be missed!

"I've been a regular at San Diego Comic Con since 1989... (I was, um, five years old, let's say...) and it's always a big part of my summer," said writer David Avallone. "Missing it two years in a row has been a bummer, and this comic felt like a great way to honor the wonderful experience we're all missing, and poke a little affectionate fun at it as well. San Diego aside, I hope this story will be a delight for anyone who's ever gone to any ...
Dynamite announces a pair of virtual panels for the 2021 San Diego Comic Con @ Home, featuring an all-star cast of creators spilling the beans on all the biggest upcoming new series and projects in the Dynamite pipeline, that fans won't want to miss!
The legendary convention has delighted everyone for over 50 years, breaking news and providing fans, retailers, publishers, press, and more an annual gathering to indulge and strengthen the community. Once more, this year the convention exists as a "virtual" experience due to ongoing circumstances. Which means that fans everywhere in the world can tune in right from their computers or phones to hear about their favorite comics, movies, shows, games, and more.
On Friday July 23 from 8-9 PM EST, all the secrets of the Daughter of Drakulon are revealed in
VAMPIRELLA: 50 YEARS AND COUNTING
. Exactly two years ago, the curtain was opened on the huge plans for Vampirella's 50th anniversary. Now legendary writer Christopher Priest (
Black Panther, Deathstroke
) discusses the finale of his run, but also his next huge arc and even more teases. Tom Sniegoski and Jeannine Acheson dig into
Vampiverse
and how it completely blows the doors open on the character's lore. Artist Meghan Hetrick discusses how that new series allows her to explore so many diverse styles and portrayals. While Ray Fawkes digs into
Purgatori's
future after her crossover with Vampirella.
Then on Saturday from 5-6 PM, Dynamite is joined by several of its top creators to dig into all of 2021's biggest new ...