DYNAMITE ENTERTAINMENT ANNOUNCES THE SUCCESSFUL FUNDING OF THE AMANDA CONNER RED SONJA STATUE KICKSTARTER CAMPAIGN WITHIN 24-HOURS!


The Publisher Also Surpassed the First Stretch-Goal within 48-Hours,
Unlocking the Dazzling "Bronze Finish" Edition!




November 20, 2017, Mt. Laurel, NJ: Dynamite Entertainment is proud to share the great news that, thanks to the overwhelming support of fans and backers alike, the current Amanda Conner Red Sonja Statue Kickstarter surpassed its original $7,500 goal in under 24-hours, and met the first stretch goal in less than 48! Now, Red Sonja and collectible fans alike will have the ability to receive the dazzling "Bronze Finish" variant of these meticulously sculpted statues!




The two-week Kickstarter campaign celebrates the storied history of one of their most iconic comic book character, Red Sonja, with a set of stunning statue options based on the artwork of comic book artist Amanda Conner from a story from Frank Tieri and Cezar Razek and Amanda's great cover artwork! Expected to ship in mid-December, the Amanda Conner Red Sonja Statue Kickstarter campaign remains active now until November 28th, and can be found by visiting:




The limited-edition, hand-painted resin statue line brings Amanda Conner's vision of the "She-Devil with a Sword" to life in three dimensions! Based on Conner's cover artwork to Red Sonja: The Black Tower #1, the statue line is sculpted by Jason Smith, measures approximately 7.5" high, and stands on a 3" wide base. Options available include the "Full-Color," the noir "Black and White" edition, and the recently unlocked "Bronze Finish" edition.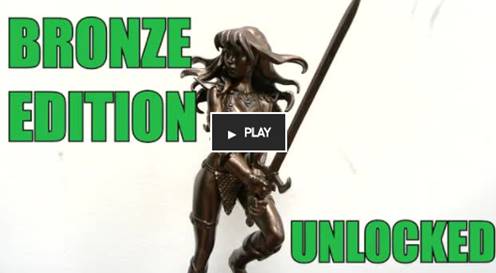 "We can't thank our fans enough for the incredible support they have shown for this Kickstarter campaign," says Nick Barrucci, CEO and Publisher of Dynamite Entertainment. "Without their genuine enthusiasm, we never would have been able to make this campaign such a huge success, so quickly! We're certain our backers will be thrilled with this beautiful line of statues!"
Production on these new offerings are currently under development, with an expected shipping date of mid-December 2017. Backers who support the Dynamite Amanda Conner Red Sonja Statue Kickstarter will have the opportunity to receive rewards, including digital and print graphic novels and beautiful Red Sonja statues! With tiers designed to fit any collector's budget, backers will have the potential to enjoy a number of these great rewards!
About Dynamite Entertainment:

Dynamite was founded in 2004 and is home to several best-selling comic book titles and properties, including The Boys, The Shadow, Red Sonja, Warlord of Mars, Bionic Man, A Game of Thrones, and more. Dynamite owns and controls an extensive library with over 3,000 characters (which includes the Harris Comics and Chaos Comics properties), such as Vampirella, Pantha, Evil Ernie, Smiley the Psychotic Button, Chastity, and Peter Cannon: Thunderbolt. In addition to their critically-acclaimed titles and bestselling comics, Dynamite works with some of the most high-profile creators in comics and entertainment, including Kevin Smith, Alex Ross, Neil Gaiman, Andy Diggle, John Cassaday, Garth Ennis, Jae Lee, Marc Guggenheim, Mike Carey, Jim Krueger, Greg Pak, Brett Matthews, Matt Wagner, Gail Simone, Steve Niles, James Robinson, and a host of up-and-coming new talent. Dynamite is consistently ranked in the upper tiers of comic book publishers and several of their titles - including Alex Ross and Jim Krueger's Project Superpowers - have debuted in the Top Ten lists produced by Diamond Comics Distributors. In 2005, Diamond awarded the company a GEM award for Best New Publisher and another GEM in 2006 for Comics Publisher of the Year (under 5%) and again in 2011. The company has also been nominated for and won several industry awards, including the prestigious Harvey and Eisner Awards.