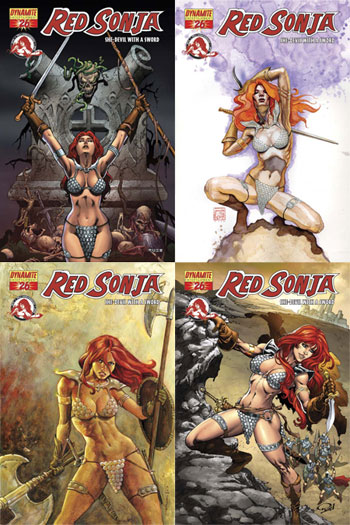 Price: $2.99
Shipping: Sold Out

SKU: C107726
Covers: HOMS, MEL RUBI, JOE PRADO, AND DAVID MACK
Writer: MICHAEL AVON OEMING AND BRIAN REED
Penciller: HOMS
Colorist: Vinicius Andrade
Genre: Sword and Sorcery/Fantasy
Awards: N/A
Publication Date: AUGUST, 2007
Format: Comic Book
Rights: WW
"World on Fire" continues from writers Michael Avon Oeming and Brian Reed, artist Homs and an all-star cast of cover artists including David Mack, Dan Panosian, Homs and Joe Prado!
Sonja has returned to the lands of Hyboria and desperately attempts to assemble an army to battle Kulan Gath and his growing legions. But, will the people follow Sonja or lead her right into Gath's trap to save their own desperate lives!
Retailer Incentives:
#1: FOR EVERY 15 COPIES ORDERED, RETAILERS WILL RECEIVE A VIRGIN EDITION DAVID MACK COVER AT NET COST.