BRANDON JERWA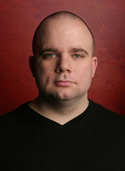 Brandon Jerwa is an American comic book writer and musician. Jerwa is best known for his work on comic tie-ins for several prominent licensed properties, including Battlestar Galactica, Highlander, G.I. Joe and Army of Darkness.
Brandon currently writes Vampirella and Pantha for Dynamite Entertainment.
This article uses material from Wikipedia and is licensed under the GNU Free Documentation License.
All material is compiled from numerous sources and may not be accurate. Dynamite Entertainment cannot guarantee the validity of the content.