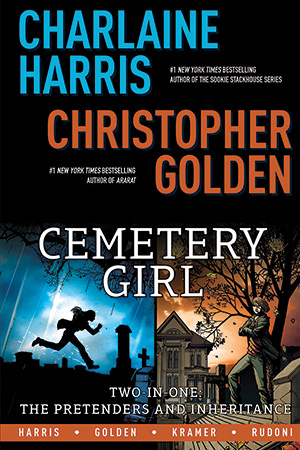 CHARLAINE HARRIS' CEMETERY GIRL OMNIBUS VOLUME 1
Price: $23.99
Add To Cart
Physical Copy on Dynamite.com >
Both volumes are collected here for the very first time and including a special preview of the third and final chapter of this series!
In Book One: The Pretenders: She has made the cemetery her home, living in a crypt and avoiding human contact. But Calexa can't hide from the dead-and because she can see spirits, they can't hide from her. Then one night, Calexa spies a group of teenagers vandalizing a grave-and watches in horror as they commit murder. As the victim's spirit rises from her body, it flows into Calexa, overwhelming her mind with visions and memories not her own. Now Calexa must make a decision: continue to hide to protect herself-or come forward to bring justice to the sad spirit who has reached out to her for help...
In Book Two: The Inheritance: Despite her self-imposed isolation, Calexa's ability to see spirits-and the memories she receives from them-guarantees she'll never be alone, even among the deceased. The only living people she allows herself to interact with are Kelner, the cemetery's cantankerous caretaker, and Lucinda Cameron, an elderly woman who lives in an old Victorian house across the street. With their friendship, Calexa has regained a link to the world beyond tombstones and mausoleums. Until the night she witnesses a murder that shatters her life-a life now under a police microscope-as their investigation threatens to uncover Calexa's true identity...