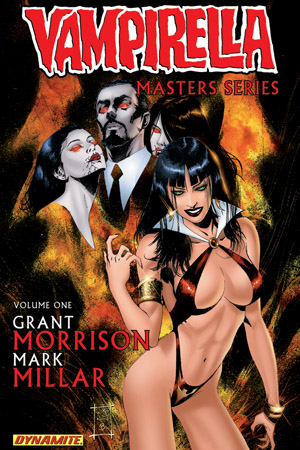 VAMPIRELLA MASTERS SERIES VOL 1: GRANT MORRISON & MARK MILLAR TPB NEW PRINTING!
Price: $11.99
Add To Cart
Physical Copy on Dynamite.com >
Over a decade ago, two of the comic industry's most prolific writers - Grant Morrison and Mark Millar - joined together to craft perhaps the finest run of Vampirella comics in history. Vampirella Masters Vol. 1 collects the wealth of these horror classics, featuring such top artistic talents as Amanda Conner, Jimmy Palmiotti, Brian Haberlin, Michael Bair, Kevin Nowlan, and more! As an added bonus, interviews from Morrison, Millar, Conner, and Palmiotti provide unique insight into the creative process behind Vampirella! Featuring a stunning cover by Jae Lee (Dark Tower).