KURT BUSIEK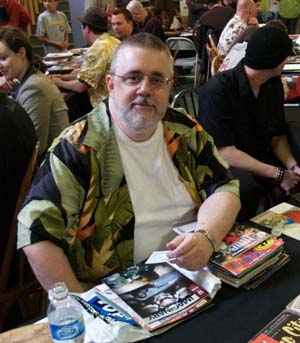 Born in Boston in 1960, Kurt Busiek is a comic book writer most famous for his Marvels series with Alex Ross in 1993. Marvels was a 4-issue mini-series which looked at the superheroic history of the Marvel Universe through the eyes of an ordinary man. Marvels was a commercial and critical smash, the breakthrough project that served as the foundation for Busiek's subsequent career.
Since then, Kurt has divided his time between writing mainstream series, including Avengers, Iron Man, Untold Tales of Spider-Man, Conan, Superman, JLA and Trinity, and creating his own projects, including Thunderbolts, The Power Company, Jonny Demon, The Wizard's Tale, Shockrockets, Arrowsmith and the multiple-award-winning Astro City. He's worked with a variety of talented artists, including Brent Anderson, Mark Bagley, Carlos Pacheco, Stuart Immonen and Cary Nord.
Kurt has won over two dozen industry awards for his work. Among them are multiple Eisner Awards and Harvey Awards for Best Series, Best Single Issue and Best Writer. In 1996, Marvels was named a Best Book for Young Readers by the New York Public Library.