JAE LEE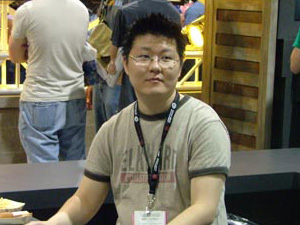 Jae Lee a comic book artist.
Lee first rose to prominence in the industry for his work on Marvel's Namor the Sub-Mariner, Inhumans (for which he won an Eisner Award), and The Sentry, as well as his creator-owned character Hellshock at Image Comics.
Lee is currently working on the Marvel Comics' spin-off of Stephen King's The Dark Tower novels, The Dark Tower: The Gunslinger Born, written by Robin Furth and Peter David.
Selected bibliographyComics
* Marvel Comics Presents #85-92 (Marvel Comics)
* Namor the Sub-Mariner #26-38 (Marvel Comics)
* Uncanny X-Men #304 (Marvel Comics)
* Uncanny X-Men Annual #16 (Marvel Comics)
* Excalibur: XX Crossing Special (Marvel Comics)
* X-Factor #84-86 (Marvel Comics)
* Youngblood: Strikefile #1-3 (Image Comics/Extreme Studios)
* WildC.A.T.s: Trilogy #1-3 (Image Comics/WildStorm)
* Spider-Man #41-43 (Marvel Comics)
* Verotika #3 (Verotik)
* Hellshock vol. 1 #1-4 (Image Comics)
* Hellshock vol. 2 #1-3 (Image Comics)
* Inhumans vol. 2 #1-12 (Marvel Comics)
* The Sentry #1-5 (Marvel Comics)
* Sentry vs. The Void #1 (Marvel Comics)
* Fantastic Four: 1234 #1-4 (Marvel Comics)
* Captain America vol. 4 #10-16 (Marvel Comics)
* The Darkness: Prelude (Top Cow Productions)
* Witchblade: Demon (Top Cow Productions)
* Transformers/G.I. Joe #1-6 (Dreamwave)
* Hulk & Thing: Hard Knocks #1-4 (Marvel Comics)
* Batman: Jekyll & Hyde #1-3 (DC Comics)
* Ultimate Fantastic Four #19-20 (Marvel Comics)
* Ultimate Fantastic Four Annual #1 (Marvel Comics)
* Incredible Hulk vol. 3 #82 (Marvel Comics)
* Young Avengers Special #1 (Marvel Comics)
* Hellshock: The Definitive Edition (Image Comics/Dynamic Forces)
* Stephen King's The Dark Tower: The Gunslinger Born (Marvel Comics)
* Stephen King's The Dark Tower: The Long Road Home (Marvel Comics)
* Stephen King's The Dark Tower: Treachery (Marvel Comics)
Books
* The Illustrated Dracula, by Bram Stoker (Viking Studio)