JIM STARLIN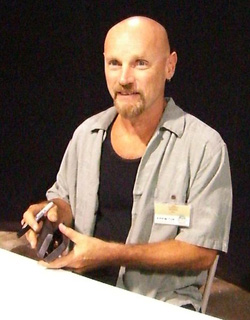 James P. "Jim" Starlin (born October 9, 1949, in Detroit, Michigan) is an American comic book writer and artist, who has worked for Marvel Comics, DC Comics and others since the early 1970s. He is best known for "cosmic" tales and space opera and as the creator of the villain Thanos.
BIOGRAPHY - Early work and success
After writing and drawing stories for a number of amateur fan publications, Starlin got his break into comics working for Roy Thomas and John Romita at Marvel Comics in 1972.
Starlin was part of the generation of artists and writers who already grew up as fans of Stan Lee, Jack Kirby, Steve Ditko, Gil Kane, Neal Adams, and Jim Steranko, and came into the field hoping to build on Marvel Comics' decade of success. His work was heavily influenced by the art of Kirby, Steve Ditko and Gil Kane (especially in terms of anatomy and character posing). At the Ditko-focused panel at the 2008 Comic-Con International he said, "Everything I learned about storytelling was [due to] him or Kirby. [Ditko] did the best layouts."
Starlin's first job was as a finisher on pages of Spider-Man. He then drew three issues of Iron Man, which introduced the character Thanos, a homage to Kirby's character Darkseid. He was then given the chance to draw an issue of the marginal title, Captain Marvel (issue #25). Gil Kane had been the prior penciller, and Kane had already helped redevelope the character, with a new costume, hair style and powers, but when Starlin took over as plotter with the next issue he developed an elaborate story centered on his villain, Thanos, and spread across a number of Marvel titles (much in the way Kirby conceived his Fourth World concept for DC Comics a couple of years earlier). Eventually, out of this Thanos arc, Starlin founded a complex cosmology for the Marvel Universe, which was built upon Lee & Kirby's overall Marvel conception, and Roy Thomas' Kree/Skrull War history, and thus became the company's generally accepted mythology. Starlin left the title one issue after the conclusion of his Thanos saga.
Early on, Starlin also co-created the Shang-Chi, Master of Kung Fu character, trying to cash in on the recent Bruce Lee and martial arts craze, although Starlin only worked on a few issues himself. Starlin then began his most celebrated work. Expanding on what he did with Captain Marvel and Thanos, Starlin took over a minor title, which had also been illustrated previously by Gil Kane, Adam Warlock. Originally a Lee & Kirby bad guy (for Thor), in his own comic, he was re-imagined to be an existential character in the vein of the philosophical Silver Surfer. But as the comic suffered from weak sales, Starlin was given carte blanche over the strip in the mid 1970's. Starlin proceeded to script and draw a complex space opera with theological and pyschological themes, with Adam Warlock confronting the militaristic Universal Church of Truth, which was eventually revealed to be created and led by none other than an evil evolution of his future/past self, now known as Magus. Ultimately, Thanos was also incorporated into this story, emphasizing for the first time, that character's overall importance to the Marvel universe, beyond his initial Captain Marvel appearances. It was felt Starlin's work on Warlock was his finest to date, and elevated him to the higher level of Silver Age superhero creative artists.
When Marvel Comics wished to use the name of Captain Marvel for an entirely new character, Starlin was given the rare - for the time - opportunity to produce a one-shot story in which to kill off a main character. The Death of Captain Marvel became the first graphic novel published by the company itself (Lee & Kirby's reunion for a Silver Surfer graphic novel a few years earlier was published by Simon and Schuster). It was very well-received both critically and commercially, and was felt at the time to bring some depth to the superhero genre, as the hero was slain not by a super villain, but by cancer (which it was revealed Capt. Marvel developed after exposure to a toxic gas, an incident that occurred in Starlin's last issue of Captain Marvel). If Starlin had been established before, this graphic novel really cemented his place among fans of the medium.
In addition to his superhero work for Marvel (and later DC), Starlin contributed a cache of stories to the science-fiction anthology Star Reach (1974). The magazine's independent status allowed Starlin to further developed his ideas of God, death, and infinity, free of the restrictions of the Comics Code. Once again, the influence of his Marvel predecessors was evident: Starlin's depiction of God was clearly derived from Ditko's character Eternity, from the comic book Doctor Strange
Death and suicide are recurring themes in Starlin's work: personifications of Death appeared in his Captain Marvel series and in a fill-in story for Ghost Rider; Warlock commits suicide by killing his future self; and suicide is a theme in a story he plotted and drew for The Rampaging Hulk magazine.
Starlin also drew "The Secret of Skull River," inked by Al Milgrom, for Savage Tales featuring Conan the Barbarian #5, published in July, 1974.
1980s
Starlin occasionlly worked for Marvel's competitors, DC Comics and drew fill-in stories for the Legion of Super-Heroes and Bat Man in the late 1970s, but the new decade found him creating his most expansive story yet, entitled "Metamorphosis Odyssey". Originally running in Epic Illustrated, Marvel Comics' version of the popular fantasy anthology magazine Heavy Metal, the initial story was painted in monochromatic greys, eventually added to with some other tones, and finally becoming full color. "Metamorphosis Odyssey" featured many of Starlin's hallmarks: a cosmic scope, death, sacrifice, politics, religion. The storyline was further developed in a couple of graphic novels, and eventually the long-running Dreadstar comic book, published by Epic Comics, and then First Comics.
In the late 1980s he began working more for DC Comics, writing a number of Batman stories including Batman: The Cult, and more successfully, A Death in the Family, in which the second Robin was killed. The death was decided by fans, as DC Comics set up a hotline for readers to vote on as to whether or not Jason Todd should survive a potentially fatal situation.
1990s
Returning to Marvel after his successful Batman run, Starlin took over the writing chores on a revived Silver Surfer series. As had become his Marvel norm, the story arc featured the return of his best-known creation, Thanos, and this led to the Infinity Gauntlet crossover series. Here, Starlin brought back Adam Warlock, whom he had killed years earlier in his concluding Warlock story (in an Avengers Annual, after the Warlock comic itself had been cancelled). In this story, Thanos uses the Infinity Gauntlet to kill half the Marvel Universe as a sacrifice to Mistress Death. Warlock tries to stop Thanos by building an army, consisting of characters ranging from Spider-Man to Galactus.
Infinity Gauntlet was a big sales success for Marvel, and, following the series, other cosmic heroes were teamed with Warlock in a series named Infinity Watch. There were several follow-ups to that story, including Infinity War and Infinity Crusade. By this point, however, many believed that Starlin's current work paled in comparison to his prior achievements in the field, and that Thanos had become a tired cliche for Marvel (whether being used by his creator, or not).
For DC he created Hardcore Station.
Starlin has also written, with his wife Daina Graziunas (whom he married in October 1980), novels such as Thinning the Predators, Among Madmen, and Lady El.
2000s
In 2003 Starlin wrote and drew the Marvel limited series Marvel: The End. The series starred Thanos and a multitude of Marvel characters, and subsequently, Starlin was given a new book, starring Thanos his own title. Unfortunately Starlin left the book after only a few issues, citing "irreconcilable creative differences," and it was cancelled shortly thereafter. In 2006 he stated "At this point in time I do not see myself working for Marvel on any project."
Starlin worked for independent companies, creating Cosmic Guard (later renamed Kid Cosmos) which was published by Dynamite Entertainment.
Starlin returned to DC comics and, along with artist Shane Davis, wrote a limited series called Mystery in Space (vol. 2) featuring Captain Comet, and his earlier creation, The Weird, and revisiting Hardcore Station. More recently, Starlin has worked on DC's Death of the New Gods limited series and Rann-Thanagar Holy War, as well as a Hawkman tie-in which is the latest of many stories which have altered the character's origins over the last two decades. He has written the upcoming eight issue limited series Strange Adventures.
Awards1973:
* Won the "Outstanding New Talent" Shazam Award, tied with Walt Simonson
1977:
* Nominated for the "Favourite Comicbook Artist" Eagle Award
1978:
* Won the "Favourite Single Story" Eagle Award, for Avengers Annual #7: The Final Threat
* Won the "Favourite Continued Story" Eagle Award, for Avengers Annual #7 / Marvel Two-in-One Annual #2
* Nominated for the "Favourite Artist" Eagle Award
1992:
* Won the "Best Script" Haxtur Award, for Silver Surfer #1-5
* Nominated for the "Best Long Story" Haxtur Award, for Silver Surfer #1-5, with Ron Lim
1993:
* Nominated for the "Best Script" Haxtur Award, for Silver Surfer #12
* Nominated for the "Best Short Story" Haxtur Award, for Silver Surfer #2
1995:
* Nominated for the "Best Short Story" Haxtur Award, for Daredevil/Black Widow: Abattoir, with Joe Chiodo
* Nominated for the "Best Cover" Haxtur Award, for Breed #6
BibliographyComics work includes:
As artist only - Marvel Comics
* Journey into Mystery #1: "You Show Me Your Dream - I'll Show You Mine" (with writer Steve Skeates and inker Mike Ploog, (October 1972)
As writer only - DC Comics
* Batman: The Cult (art by Bernie Wrightson, 4-issue mini-series, August-November 1988)
* Batman #414-430 (pencils by Jim Aparo, Dick Giordano and Mark Bright, December 1987 - February 1989)
* Cosmic Odyssey (pencils by Mike Mignola and inks by Carlos Garzon, December 1988 - March 1989)
* New Gods (vol. 3) #2-4 (with co-author and penciller Paris Cullins, March-May, 1989)
* Rann-Thanagar Holy War (art by Ron Lim, July 2008 - February 2009, tpb, 168 pages, May 2009, ISBN 1-4012-2254-4)
* The Weird (pencils by Bernie Wrightson, 4-issue mini-series, April-July, 1988)
Marvel Comics
* Adam Warlock and the Infinity Watch #1-31 (February 1992 - August 1994)
* The Infinity Gauntlet (pencils by George Pérez and Ron Lim, 6-issue limited series, July-December, 1991)
* The Infinity War (pencils by Ron Lim and inks by Al Milgrom, 6-issue limited series, June-November 1992)
* The Infinity Crusade (pencils by Ron Lim and inks by Al Milgrom, 6-issue limited series, June-November, 1993)
* The Punisher P.O.V (writer, with art by Bernie Wrightson, 4-issue mini-series, Marvel Comics, 1991)
* The Thanos Quest (writer, with pencils by Ron Lim and inks by Al Milgrom, 2-issue mini-series, Marvel Comics, August-November, 1990)
* Silver Surfer (vol. 2) #34-48, 50 (with pencils by Ron Lim and inks by Tom Christopher (February 1990 - June 1991)
As writer and artistDC Comics
* DC Comics Presents #26, 36-37 (with co-authors Marv Wolfman and Paul Levitz and inks by Starlin, Romeo Tanghal and Dave Hunt) (1980-81)
* Death of the New Gods (8-issue limited series, December 2007 - June 2008, hardcover, 256 pages, ISBN 1-4012-1839-3)
* Gilgamesh II (4-issue mini-series, February-June 1989)
* Hardcore Station (inks by Joe Rubinstein, July-December, 1998)
* Mystery in Space (vol. 2) (with other pencils and inks by various artists, 8-issue limited series, November 2006 - June 2007) collected as:
* Volume 1 (collects Mystery in Space (vol. 2) #1-5, 208 pages, October 2007, ISBN 1-4012-1558-0)
* Volume 2 (collects Mystery in Space (vol. 2) #6-8 and The Weird mini-series, 288 pages, May 2008, ISBN 1-4012-1692-7)
* Strange Adventures (art by Manuel Garcia and Starlin, and inks by Al Milgrom and Rob Hunter, 8-issue limited series, May 2009 - ongoing)
* Superboy (Legion of Super-Heroes stories) #239, 250-251 as Steve Apollo (with co-author Paul Levitz and inks by Joe Rubinstein and Dave Hunt) (1978-79)
Dynamite Entertainment
* Cosmic Guard/Kid Kosmos (5-issue limited series, July 2004 - December 2005)
Epic Comics
* Dreadstar #1-40 (November 1982 - January 1989)
* Metamorphosis Odyssey (script and art, in Epic Illustrated #1-9, Spring 1980 - December 1981)
Malibu Comics
* Breed: Book of Genesis (6-issue limited series, 1994)
* Breed: Book of Revelation (6-issue limited series, 1994-1995)
Marvel Comics
* Warlock #9-15 (some extra inks by Steve Leialoha, Marvel Comics, October 1975 - November 1976)
* Captain Marvel #26-34 (inks by Dave Cockrum and Jack Abel, May 1973 - September 1974)
* Daredevil/Black Widow: Abattoir (inks by Joe Chiodo, graphic novel, July 1993, ISBN 0871357836)
* Thanos: Infinity Abyss (inks by Al Milgrom, 6-issue limited series, August-October, 2002)
* Marvel: The End (inks by Al Milgrom, 6-issue limited series, July-August, 2003)
* Thanos #1-6 (inks by Al Milgrom, December 2003 - April 2004)