PETER CANNON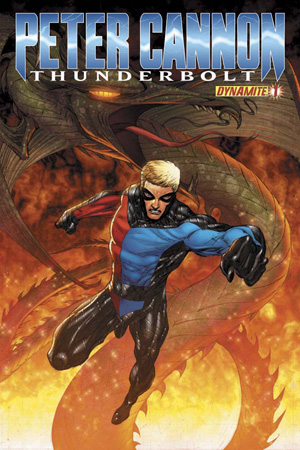 Peter Cannon: Thunderbolt is a superhero originally published by Charlton Comics, notable for containing some of the earliest respectful invocations of Eastern mysticism in American pop culture. The character debuted in Peter Cannon: Thunderbolt #1 in January of 1966, part of Charlton Editor Dick Giordano's "Action Heroes" superhero line. After Charlton Comics sold its superhero properties to DC Comics in 1983, Thunderbolt reappeared after almost two decades in the Crisis on Infinite Earths crossover series (April 1985 - March 1986, Thunderbolt appearing in #6, 7, and 10) when he joined the heroes of the Multiverse in their crusade against the Anti-Monitor. Introducing him into the new DC Universe, DC published Peter Cannon - Thunderbolt, by writer-penciler Mike Collins and inker Jose Marzan Jr.. The series ran for 12 issues from (Sept. 1992 - Aug. 1993). During the series' run, his recurring foils were the criminal terrorists-for-hire known as Scorpio. He later discovers that his girlfriend Cairo DeFrey was actually in charge of the organization. The character also appeared briefly with the Justice League.
This article uses material from Wikipedia and is licensed under the GNU Free Documentation License.
All material is compiled from numerous sources and may not be accurate. Dynamite Entertainment cannot guarantee the validity of the content.