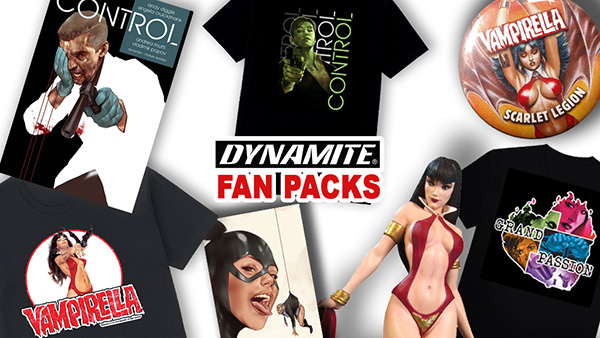 We're down to the wire with only
48-hours
remaining to back Dynamite's first ever fan gear Kickstarter, featuring "fan packs" with designer graphic t-shirts, plus other fun items that will help show
YOUR
grand passion for all things Dynamite! Highlighting the incredible work of James Robinson, John Cassady, and Andy Diggle, as well as some of Dynamite's most iconic characters like
Vampirella
, fans will be able to show their support for their most beloved creators and characters!
Fan Gear - consisting of acclaimed graphic novel projects plus a plethora of never-before-released merchandise (designer graphic t-shirts, art prints, trading cards, buttons, and more) - give Kickstarter supporters the freedom to tailor their fan experience to personal interests. For the first-ever Fan Gear campaign, Dynamite has curated a fine selection of comics reading - their signature heroine
Vampirella
and the thrill-a-minute crime capers
Grand Passion
and
Control
- with collectible add-ons that will appeal to longtime fans and curious newcomers alike.A brief look at the projects:
Vampirella
, the supernatural superheroine, has been a consistent lead character at Dynamite for years. As part of the Fan Gear promotion, Dynamite celebrates her origins with a "vintage-style" t-shirt design. Each
Vampirella
pack includes the t-shirt, an original vintage
Vampirella
Fan Club button, and the
Vampirella and the Scarlet Legion
graphic novel in digital form.
Control
- a bloody political crime thriller exploring the seedy underbelly of Washington - is a creator-driven stories from Andy Diggle (
Hellblazer
,
Daredevil
,
The Losers
), Angela Cruickshank, and Andrea Mutti. Multiversity Comics, in their review of the series, described it as "a strong piece of genre fiction that showcases the talents of a creative team in complete 'control' of the situation." Featuring a powerful t-shirt as illustrated by superstar Ben Oliver (
The Authority
,
Ultimate X-Men
), the Control pack contains also includes two 6" x 9" prints and the
Control
graphic novel in digital form.
Grand Passion
is a hard-boiled crime drama by way of Harlequin romance (featuring a cop and killer who fall deliriously in love), courtesy of writer James Robinson (
Squadron Supreme
,
Nick Fury
) and artist Tom Feister. The media site Capeless Crusader applauded the project, stating, "If you're a fan of movies like
True Romance
or
The Getaway
, you'll have no trouble embracing the heightened passions and hard-boiled action of this (series)." Each
Grand Passion
pack includes a t-shirt spotlighting the gorgeous artwork of John Cassaday (
Astonishing X-Men
,
Uncanny Avengers
), a set of five trading cards, and the
Grand Passion
graphic novel in digital form.For those that pledge at the higher tiers of support for the Dynamite Fan Gear promotion, they can qualify to receive such coveted rewards as the
Vampirella
Art Adams Bust and the 12"
Vampirella
statue inspired by J. Scott Campbell.
The Dynamite Fan Gear Kickstarter campaign is currently live, and can be found by visiting:
https://www.kickstarter.com/projects/dynamiteent/254273121?ref=432887&token=d05c13e1
James Robinson says, "I'm super proud of my series,
Grand Passion
, and I love seeing the spirit of it captured here in this t-shirt. It was always a thrill seeing each new cover for the series as amazing artist John Cassaday did them. This art, now on a t-shirt, is equally exciting, knowing
Grand Passion
could be out there on the street for all to see."
Andy Diggle says, "
Control
is a story about the exploitation of women and women's bodies. It's rare that you get to write a mainstream crime thriller in comics, and I'm grateful to Dynamite for giving us the opportunity. I'm proud of our work and, as ever, knocked sideways by Ben Oliver's extraordinary cover art."
Nick Barrucci, CEO and Publisher of Dynamite, says, "With our first-ever foray into Dynamite Fan Gear, we're giving comic fans a boutique experience featuring items based on new characters from some of the most respected creators in the industry today - James Robinson and Andy Diggle - as well as one of the most iconic characters in comics today - Vampirella, whom we've had the pleasure of publishing for the last few years (and leading to her upcoming 50th Anniversary). We have hand-selected some of the finest stories from the Dynamite vault, building upon their impactful storytelling with the development of very desirable collectible merchandise, and granted the backers an opportunity to customize the Fan Gear package to their liking. Come and get it!"
Remember, the Dynamite Fan Gear Kickstarter is only available as a limited time promotion. To take advantage before time runs out, backers should visit:
https://www.kickstarter.com/projects/dynamiteent/254273121?ref=432887&token=d05c13e1
today.
Dynamite Entertainment has some awesome announcements just in time for Toy Fair 2019!

Dynamite is producing their first ever crossover enamel pins in collaboration with Archie Comics. Due for release in May to coincide with the launch of the bombastic Red Sonja and Vampirella Meet Betty and Veronica crossover, the four limited edition pins feature the eponymous stars of the comic in iconic headshot form. Each 1.5" diameter pin is designed by award-winning artist Francesco Francavilla, based on his amazing cover artwork from the first issue.

Enamel pins have blown up in popularity the last several years, fueled by unique inspiring artists like Francavilla and collectors sharing their finds on social media. Dynamite has fulfilled rabid fans so far with pins featuring Red Sonja, Vampirella and the Chaos! Universe. The pins will be available as a discounted set as well as separately for super fans of the characters. Dynamite encourages everyone to collect them all!
"I've been working for both Dynamite and Archie Comics for a decade now, so when I was approached with the first crossover between these two favorite publishers of mine, I was ecstatic," said Francesco Francavilla. "Not only was I asked to do a cover featuring four of the best, strongest female characters in comics, but I also got to do pins for each character. Best. Crossover. Ever!"
"Francesco's vision of Archie is iconic and legendary, so when it came time to bring this crossover to life in pin form, having his take made perfect sense," said Archie Comics Co-President Alex Segura. "Dynamite did a fantastic job putting these together and we're happy to be a part of it.
"I can't express how happy I am to not only have a great crossover with our friends at Archie, but also to take it ...