---
Most Recent Item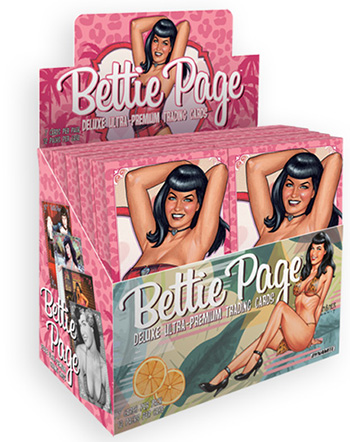 BETTIE PAGE ULTRA-PREMIUM TRADING CARDS - BOX OF 12 FOIL PACKS
---
Rating: Teen +
Art: Various
Genre: Pin-Up, Pop Culture
Publication Date: April 2019
UPC: 725130279750
ON SALE DATE: April 2019
She is the ultimate pinup queen, and the sexiest girl-next-door who ever posed for a photographer. Bettie Page, with her all-American smile, cute bangs and ever cuter curves was the epitome of 1950s womanhood - and the cheerfulness she exuded even when dressed in leather, playfully beckoning "naughty" men, made her an enduring symbol of easygoing sensuality. Bettie is eternal ... and this new series of trading cards with glorious archival Bettie Page photography and art by Joseph Michael Linsner, David Williams, John Royle, Scott Chantler and others showcases her continuing 21st-century appeal. This set includes an 18-card base set, PLUS Dynamite chase cards that include: 6 autographed cards, 3 B&W "Peek-a-Boo" cards, 9-card puzzle cards, and hand drawn original art signed sketch cards.
Every autographed card featuring a color ink or ultra-rare, gold ink signature!
Every individual foil pack includes 2 Base Cards, 2 sketch cards, 1 B&W art card, 1 puzzle card, and 1 autographed card.
Every specially designed, 4-color box includes 12 foil packs.