---
Most Recent Item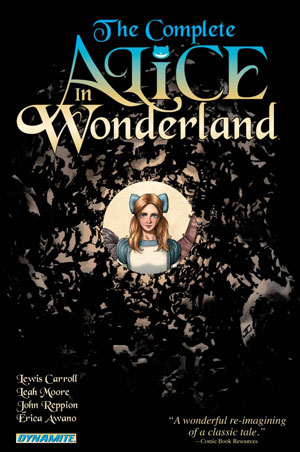 THE COMPLETE ALICE IN WONDERLAND VOLUME 1: ALICE'S ADVENTURES HARDCOVER
---
Rating: ALL AGES
Cover: Arica Awano
Writer: Lewis Carroll, Leah Moore & John Reppion
Penciller/Inker: ?rica Awano
Colorist: PC Siquiera
Genre: adaptation, fantasy
Awards:
Publication Date: March 2010
Format: Hardcover

Retailer Incentive:
Page Count: 88
Dimensions: Approx. 10.2"W x 6.875"H
ISBN-10: 1-60690-136-2
ISBN-13: 978-1-60690-136-6
"What is the use of a book," thought Alice, "without pictures or conversations!"
Following up on the success of The Complete Dracula, and Sherlock Holmes, Dynamite presents The Complete Alice In Wonderland. In this All Ages adaptation, writers John Reppion and Leah Moore are joined by Erica Awano for an adventure down the rabbit hole as the present the complete opening chapter: Alice's Adventures in Wonderland! Features issues 1 and 2 of the Dynamite series!