---
Most Recent Item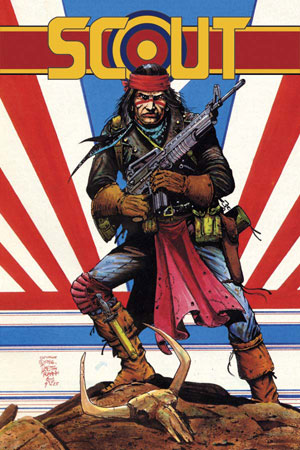 SCOUT VOLUME II TPB
---
Covers: TIMOTHY TRUMAN
Writer: TIMOTHY TRUMAN
Penciller: TIMOTHY TRUMAN
Colorist: TBD
Genre: TBD
Awards: N/A
Publication Date: JANUARY, 2008
Format: Comic Book
Rights: WW
Scout, originally published in 1987 and created by Timothy Truman features the Native American hero, Emanuel Santana, and his one-man war against oppressive governmental forces in a post-apocalyptic United States. Now, this revered and powerful series is re-mastered and presented to a new generation! This volume features issues 7-15 of the series, remastered and recolored for this volume!
Plus, Truman provides a new, original cover! Bonus features include a gallery of original covers.