---
Most Recent Item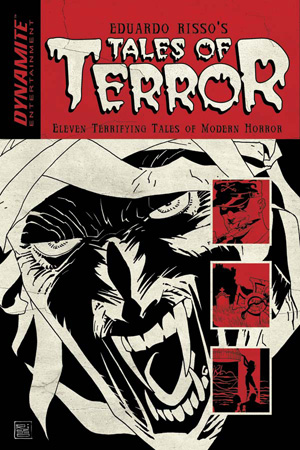 EDUARDO RISSO'S TALES OF TERROR TPB
---
Covers: Eduardo Risso
Writer: Carlos Trillo
Penciller: Eduardo Risso
Colorist: N/A
Genre: HORROR
Awards: 2008 Harvey Award, Best American Edition Of Foreign Material
Publication Date: NOVEMBER, 2007
Format: TRADE PAPERBACK
Rights: WW
123456789
ISBN-10: 0123456789
ISBN-13: 012345678912
Retailer Incentives:

Dynamite Entertainment continues to present the Eduardo Risso library of long-lost material, presented in English fore the very first time!
This time, we're featuring EDUARDO RISSO'S TALES OF TERROR, featuring 11 of the most gruesome, horrifying, chilling and downright scary tales of horror fiction ever produced!
Translated into English for the very first time, each tale features the stunning artwork of Risso, the terrifying scripting of Carlos (BORDERLINE) Trillo and is a must for all fans of graphic (and we mean graphic!) fiction!
Recommended for Mature Readers.