---
Most Recent Item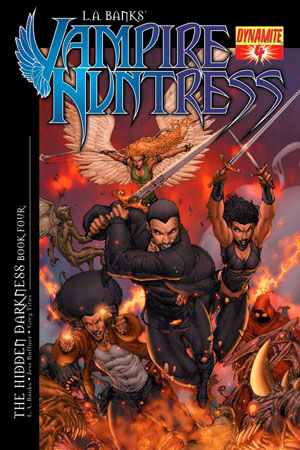 L.A. BANK'S VAMPIRE HUNTRESS #4
---
Rating: TEEN+
Cover: Brett Booth
Writer: LA BANKS w/ JESS RUFFNER
Penciller/Inker: Greg Tit's
Genre: Paranormal Fantasy
Publication Date: OCT 2010
Format: Comic Book
Page Count: 32 pages
UPC: 725130153111
There's an old saying that, "The Devil is always busy." Well this time the Dark Lord has outdone himself and has created a new entity that has the full Guardian team and both Neterus completely baffled. THAT is what's been going after the teams and infecting them. It has the essence of evil distilled down from his fallen Vampire Council, a little topspin from his exterminated favorite demon, The Thirteenth, with general regulation nastiness just for good measure. The problem the team has now is, how do they track something that can morph at will? Perhaps the bigger question is, once they find it, how the hell do they kill it? LA Banks brings the series to a shattering conclusion!