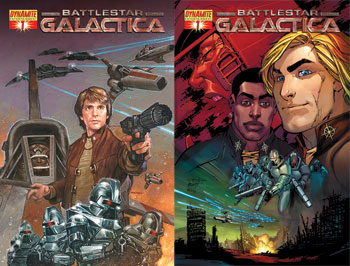 Price: $2.99
Shipping: Sold Out

SKU: C105310
WRITTEN BY RICK REMENDER; ART BY CARLOS RAFAEL, COVERS BY DAVE DORMAN (50%) AND "SPECIAL GUEST COVER" BY TALENT CALDWELL w/MATT BANNING and DEAN WHITE (50%).

Dynamite Entertainment launches their ongoing CLASSIC BATTLESTAR GALACTICA series from writer Rick Remender, artist Carlos Rafael along with series cover artist Dave Dorman -a fully painted piece from Dorman - and issue #1 special guest alternate cover artist Talent Caldwell (joined by inker extraordinaire Batt and colorist Dean ("Punisher") White!

Thought dead, left behind by Galactica and stranded on a planet over run by Cylons, Starbuck and Boomer must make a harrowing journey into the heart of a Cylon strong hold in hopes of stealing a ship large enough to carry themselves and the planets remaining human population and return to Galactica... if they can find it.

Classic Battlestar Galactica #1 will be heavily promoted in Dynamite Entertainment House Ads, through prominent online sit's such as Newsarama.com, ComicBookResources.com and others, as well as interviews and ads in consumer publications such as Comic Shop News (and a feature cover story)!

FANS, ASK YOUR LOCAL RETAILER ABOUT THE CLASSIC BSG #1 VIRGIN DORMAN COVER!

FANS, ASK YOUR LOCAL RETAILER ABOUT THE CLASSIC BSG #1 NEGATIVE ART EDITION OF THE TALENT CALDWELL COVER!