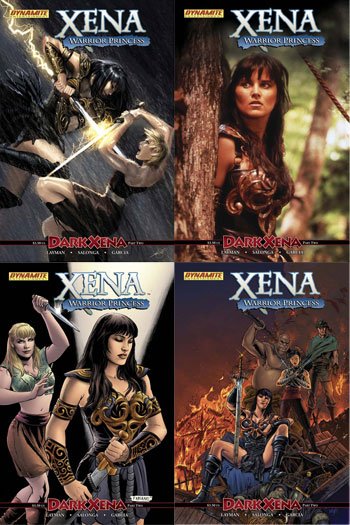 | | |
| --- | --- |
| | Available on Dynamite Digital > |
Price: $3.50
Shipping: Sold Out

SKU: C107321
Covers: FABIANO (MARVEL ZOMBIES) NEVES (25%), STJEPAN SEJIC (25%) AND PHOTO (25%)!
Writer: JOHN LAYMAN
Penciller: NOAH SALONGA
Colorist: CHRIS GARCIA
Genre: Fantasy/Adventure
Awards: N/A
Publication Date: June, 2007
Format: Comic Book
Rights: WW
Taking place some time after the series finale of Xena: Warrior Princess and before the events of the "Contest of Pantheons." - featured in DYNAMITE'S XENA #'S 1 - 4 - "Dark Xena" finds Gabrielle making a request of the Gods and learning that you must be very, very careful, what you wish for, and how you wish for it!
In this issue: Gabrielle and Joxer concoct a plan! A plan to infiltrate Xena and her her ruthless criminal companions. Can Gabby and Joxer find their way in, convert Xena and not lose their heads in the process? Plus the return of Ares!
Featuring a trio of art Covers: Stjepan Sejic, Jonathan Lau and Fabiano Neves along with another Xena photo cover!
Retailer Incentives:
#1: FOR EVERY 12 COPIES ORDERED, RECEIVE ONE BLACK AND WHITE NEVES COVER!