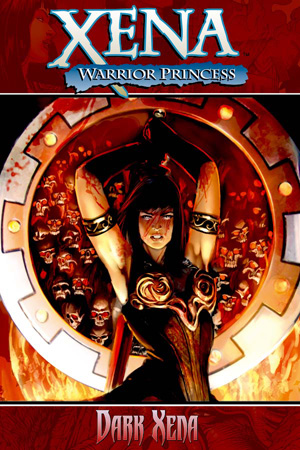 Price: $14.99
Shipping: Sold Out

SKU: C108677
Covers: AARON LOPRESTI
Writer: JOHN LAYMAN
Penciller: NOAH SALONGA
Colorist: TBD
Genre: TBD
Awards: N/A
Publication Date: FEBRUARY, 2008
Format: Comic Book
Rights: WW
Taking place some time after the series finale of Xena: Warrior Princess and before the events of the "Contest of Pantheons." - featured in DYNAMITE'S Xena #'s 1-4 - "Dark Xena" finds Gabriele making a request of the Gods and learning that you must be very, very careful, what you wish for, and how you wish for it! Xena is Dead, Long Live Xena.. er.. Dark Xena that is, and by Dark, we mean just plain Nasty...Mean... and Evil...
Plus: The Xena Annual by writer Keith ("Arena") Champagne and artist Noah Salonga!