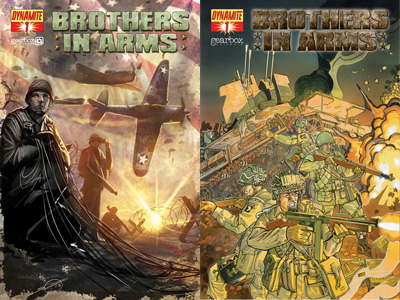 Price: $3.99
Shipping: In-Stock!

SKU: C109493
Rating: TEEN+
Covers: DAVIDE FABBRI (50%) and STJEPAN SEJIC (50%)
Writer: DAVID WOHL and MIKE NEUMANN
Penciller/Inker: DAVIDE FABBRI
Colorist: inLight Studio
Genre: War
Awards: N/A
Publication Date: APRIL, 2008
Format: Comic Book
Rights: WW
UPC: 725130084538
Dynamite goes to War as they partner with Ubisoft to debut the all-new Brothers in Arms comic book series!
With its unprecedented combination of authenticity, compelling story and squad-based action, Brothers in Arms has established itself as a benchmark for military action games, quickly becoming the highest rated WWII action franchise to date. Based on the true stories of the men who served their country so valiantly in World War 2, Dynamite's all-new comic book series is being developed with game writers David Wohl and Mike Neumann, along with artist Davide (Star Wars) Fabbri!
Issue #1 will be 40 big pages (with 32 pages of story and art) of non-stop action as we pick up with our squad in the events leading up to D-Day! Our story centers around Sergeant Matthew Baker and the role that he plays in "Operation: Overlord," a.k.a. D-Day. Originally assigned to lead his squad on a mission to recapture the French village of Carentan, Baker's plans unexpectedly change when his C-47 transport plane is hit by anti-aircraft fire and he's forced to jump prematurely, along with the rest of his men, who are now scattered across the landing zone. Now Baker must battle fatigue, the elements, and the overwhelming German army, to find his compatriots and continue on his mission to defeat the enemy and help win the war. Featuring two covers, one from interior artist Davide Fabbri and the other from Stjepan Sejic!
40pgs
Retailer Incentives: FOR EVERY 25 COPIES ORDERED, RETAILER WILL RECEIVE 1 "VIRGIN" FABBRI COVER AT NET COST.