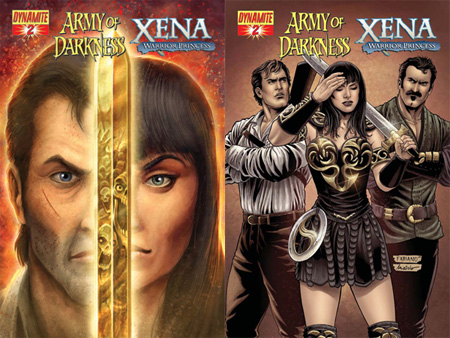 Price: $3.50
Shipping: Sold Out

SKU: C109500
Rating: TEEN+
Covers: UDON STUDIOS (50%) and FABIANO NEVES (50%)
Writer: JOHN LAYMAN
Penciller/Inker: MIGUEL MONTENEGRO
Colorist: JAY DAVID RAMOS FOR ZONA I
Genre: Fantasy, Horror, Action/Adventure
Awards: N/A
Publication Date: APRIL, 2008
Format: Comic Book
Rights: WW
UPC: 725130095008
The cross-over no one asked for -- or expected -- is finally here! Too big for the movie of television screen, Dynamite presents the ultimate "Why Not? tale as Ash and Army of Darkness meets Xena, the Warrior Princess in the second issue of this 4-part mini series event!
When you have a guy that looks like Ash already wandering around (Xena's pal Autolycus and then the main man himself drops in? What you've got there is one helluva case of mistaken identity. Throw in some little Ash's and a kingdom of fairies and what you know have now is one romp the likes of which Xena and Gabrielle have never, EVER, seen...
Writer John (Marvel Zombies vs. the Army of Darkness) is joined by artist Miguel Montenegro and cover artists UDON Studios and Fabiano Neves!