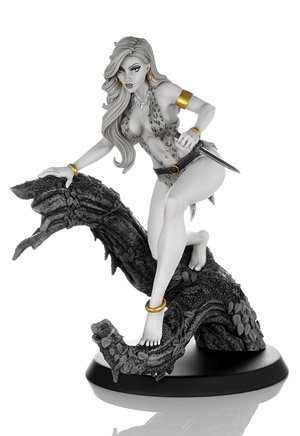 Price: $225.00
Shipping: November, 2021

SKU: C128334
Rating: Teen+
Art: Steve Kiwus & J. Scott Campbell
Genre: Adventure
Dimensions: 10.25" H x 7.25" W
Publication Date: November
UPC: 725130283344
ON SALE DATE: November
There's something thrilling emerging from the jungle! For years, Dynamite has been the "home" of Sheena, publishing her greatest adventures to date, and now, the "Queen of the Jungle" makes a new home on collectors' shelves. Inspired by the legendary artwork of superstar artist, J. Scott Campbell, Sheena comes to life in 3-D with her very first limited-edition statue developed by Dynamite Entertainment and sculpted by Steve Kiwus. This 1/6 Scale statue, standing approximately 10" tall and featuring a beautifully detailed jungle environment, is Campbell's unique interpretation of Sheena and a one-of-a-kind piece. It makes a striking addition to Dynamite's collection of other, amazing J. Scott Campbell statues.
Limited to 405.