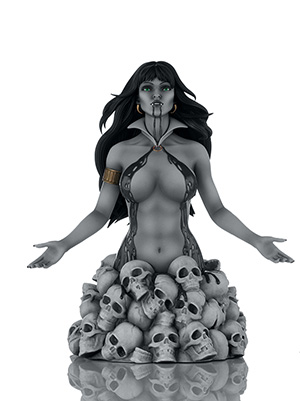 Price: $149.99 SALE! $189.99
Shipping: December, 2019

SKU: C128714
Rating: Teen +
Art: Steve Kiwus (sculptor) Artgerm (inspiration)
Genre: Horror
Dimensions: 7.5" H, 2.75" W base
Publication Date: December 2019
UPC: 725130287144
ON SALE DATE: December 2019
There will be blood when Artgerm gets a hold of Vampirella! Based on his haunting cover to Vampirella #2, this 7.5" tall resin bust is Dynamite's most unique rendering of Vampi to date, provided by veteran sculptor, Steve Kiwus. This very limited edition bust is meticulously hand-painted right down to the bloody "outfit" and sits upon a chilling and detailed bed of three-dimensional skulls all the way around. This will be one of the most exceptionally striking Vampirella collectibles you'll ever own but get it now before she vanishes into the darkness for good! Vampirella goes to hell and back with the "UNDERWORLD" variant. With an alternative black theme, and soul-piercing eyes, this is Vampi's darkest look yet.