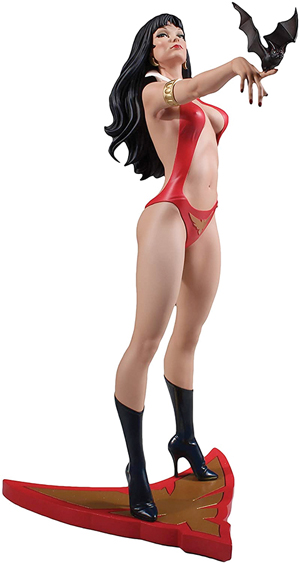 Price: $299.99
Shipping: September, 2021

SKU: C128852
Rating: Teen+
Art: Sculpt: Steve Kiwus, Art: Jose Gonzalez
Genre: Horror
Dimensions: 12.5" tall
Publication Date: September
UPC: 725130288523
ON SALE DATE: 9/29/2021
"Limited to 299 units. Few artists have managed to capture the iconic look of Vampirella like Jose Gonzalez could. 2019 marks the 50th anniversary of comics' most memorable vampire, and Dynamite celebrates the occasion with a 1/6 scale tribute to her most memorable illustration! The classic "Warren era" of Vampirella is finally exemplified in this highly-detailed resin, the way it was meant to be. Vampirella stands over 12"" high, from heel to bat, and rooted on a base modeled after her ""bat"" logo. This limited-edition statue will be a major collectible in Vampirella's long history, but it will only available for a short time! The extremely limited "Diamond Eye" edition features the same great detail of the original statue, but with real diamonds added to Vampirella's pupils to make her really sparkle on the shelf! This classic "Diamond Eye" edition is strictly limited to just 299 units. Allocations may occur.