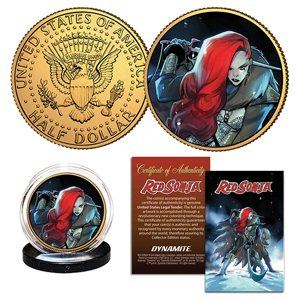 Price: $29.99
Shipping: In-Stock!

SKU: C131193
Rating: n/a
Art: Mirka Andolfo
Genre: Art Collectible
Dimensions: 1 3/8" circumference
Publication Date: September 2021
UPC: 725130311931
ON SALE DATE: September
Featuring superbly crafted Red Sonja art by fan favorite super-star, Mirka Andolfo! Produced using a revolutionary, highest-quality colorization technique on an authentic U.S. John F. Kennedy Half-Dollar, each plated in genuine 24-karat gold, these commemorative coins each come with a full-color Certificate of Authenticity and a protective acrylic coin capsule.
Mirka Andolfo is a Neapolitan artist and writer, and she is one of the most complete and eclectic Italian creators in the international field. She is a highly regarded and prolific illustrator with work appearing in Marvel, DC, Valiant, Aspen, Boom!, Zenoscope and DYNAMITE ENTERTAINMENT.