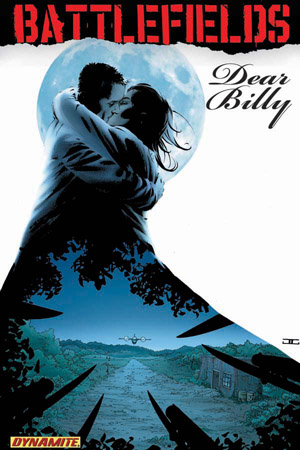 Price: $12.99
Shipping: In-Stock!

SKU: C1606900579
ISBN-10: 1-60690-057-9
ISBN-13: 978-1-60690-057-4
More incredible stories from Garth Ennis as his "BATTLEFIELDS" series continues exclusively from DYNAMITE ENTERTAINMENT!
For this second mini-series - DEAR BILLY - Garth is joined by artist Peter Snejbjerg and cover artist John Cassaday for a haunting tale of wartime in 1942...
1942: In the tropical splendour of the South China sea, as the Second World War spreads across the far east, a young woman finds herself in paradise... and then in hell. Nurse Carrie Sutton is caught up in the Japanese invasion of Singapore, suffering horrors beyond her wildest nightmares- and survives. Now she attempts to start her life anew, buoyed up by a growing friendship with a wounded pilot- only for fate to deliver up the last thing she ever expected. Carrie at last has a chance for revenge... but should she take it? In the midst of a world torn apart by war, you can fight and you can win- but you still might not get the things you truly want.
Featuring the entire three issue series, a complete cover gallery, and a look at the layouts and pencil art of Peter Snejbjerg! 80 pages.