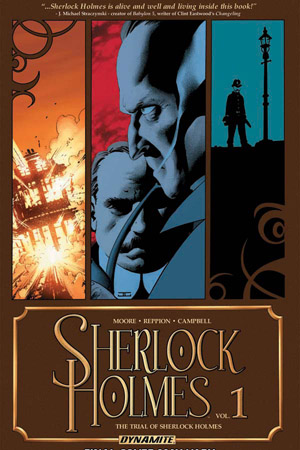 Price: $24.99
Shipping: In-Stock!

SKU: C1606900587
ISBN-10: 1606900587
ISBN-13: 9781606900581
Rating: Teen +
Cover: John Cassaday
Writer: Leah Moore, John Reppion
Penciller: Aaron Campbell
Colorist: Tony Avina
Genre: Mystery
Awards: n/a
Publication Date: OCTOBER, 2009
Format: Hardcover

Retailer Incentive: TBD
Page Count: 120+
Dimensions: Approx. 10.2"H x 6.875"W
Arthur Conan Doyle's classic detective Sherlock Holmes returns in all-new adventures! Sherlock finds himself involved in a mystery that has him fighting for his very life and Watson putting the pieces together to either save his friend or condemn him! Written by Leah Moore and John Reppion with reverence and a modern edge, artist Aaron Douglas completes the Victorian mood under the striking and iconic John Cassaday covers. Also contains bonus material such as script pages, annotations, a cover gallery, and a complete Sherlock Holmes short story by Arthur Conan Doyle with new illustrations.