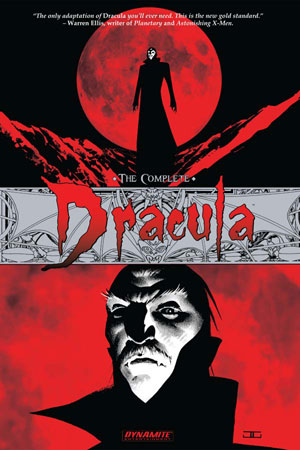 Price: $24.99
Shipping: In-Stock!

SKU: C1606900609
ISBN-10: 1606900609
ISBN-13: 9781606900604
Rating: Teen +
Cover: John Cassaday
Writer: Bram Stoker, (original), Leah Moore, John Reppion (adaptaion)
Penciller: Colton Worley
Colorist: Colton Worley
Genre: Horror
Awards: n/a
Publication Date: OCTOBER, 2009
Format: Hardcover

Retailer Incentive: TBD
Page Count: 160+
Dimensions: Approx. 10.2"H x 6.875"W
Dynamite presents the complete story of the Lord of the Undead--Dracula! For the first time in 112 years the original masterpiece from Bram Stoker is fully restored in this sensational graphic collection. If you thought you knew how it all began or how it ends, you were wrong! Open this book and enjoy the real story of Dracula as Bram Stoker had originally imagined it. Writers John Reppion and Leah Moore are joined by painter Colton Worley for an odyssey of life, death, and the blood that flows within us all!
This adaptation features fully-painted art, done in a rich, moody style by Worley, all under covers by modern master John Cassaday! Also contains bonus material such as script pages, annotations, a cover gallery, and samplings of the original text by Bram Stoker including the lost chapter "Dracula's Guest!